Who is Georg Baselitz?
ArtWizard 17.11.2021
The Pompidou Center in Paris is currently hosting the largest Georg Baselitz exhibition in the world. It represents the largest retrospective exhibition, displaying over six decades of the artist's works creation by such an essential contemporary artist. The exhibition will be open until 7 March 2022.
Who is Georg Baselitz?
Georg Baselitz is a contemporary artist, a German painter that was born on 23 January 1938, in Deutschbaselitz, Germany under the name of Hans-Georg Kern. His father was an elementary school teacher, and the family lived in the local school building.
Baselitz attended the local school in Kamenz, Germany, where, in its assembly hall hung a reproduction of the painting Wermsdorfer Wald, 1859 by Louis Ferdinand von Rayski, an artist that had great influence on the young Baselitz. Besides the fact that Baselitz was influenced by von Rayski who was an artist working in the Realism art movement, by the age of 15, he had already painted portraits, religious subjects, still lifes, and landscapes, some in a more futuristic than realistic style, as he became also interested in the writings of Jacob Böhme.
In 1955, he unsuccessfully applied to study at the Kunstakademie in Dresden and enrolled in the next year successfully at the Hochschule für Bildende und Angewandte Kunst in Est Berlin. After two semesters, however, he was expelled for "sociopolitical immaturity" because he did not comply with the socialist ideas of the former communist regime in Germany. He therefore belongs to the generation of post-war German artists dubbed the New Fauves, a generation whose work referred to the trauma of war in an aesthetic that completely ignored academic considerations. From its early days this aesthetic was brutal, populated by raw, violent, sexual subjects which at first provoked indignation (quite deliberately) before being later consecrated for their essential contribution to art history.
In 1957, Baselitz resumed his studies, settled down and met his future wife, Johanna Elke Kretzschmar. At the Hochschule der Künste, he was largely influenced by the theories Ernst Wilhelm Nay, Wassily Kandinsky and Kazimir Malevich.
In 1961, he adopted the name Georg Baselitz as a tribute to his home town. The name change corresponded to the moment when Baselitz set out his artistic intentions in the so-called "Pandemonic Manifestos" along with Eugen Schönebeck. Based on Lautréamont's "Chants de Maldoror" he notably asserted that "the artist has no responsibility towards anyone. His social role is to be anti-social. His only responsibility lies in the message that his work projects to the outside world."
Georg Baselitz, Die große Nacht im Eimer, 1962/3
Baselitz never liked overly "classical" artists. He prefered Soutine, Picasso, Duchamp, Otto Dix or the African statues that he has collected passionately for half a century. A painter, drawer, engraver, sculptor, Baselitz became a major figure in German painting during the second half of the 20th century. According to Bernard Blistène, co-curator of the Pompidou Center retrospective, he has "fought, throughout his life, against ideologies by seeking accomplices in the history of art and literature".
Georg Baselitz, Da. Porträt - Franz Dahlem, 1969
Wilfully anti-conformist, Baselitz has defined himself as "a monstrous painter". It is true that his works often have the impact of a sharp punch: voluntarily unfinished sculptures, deformed or even torn bodies, images of sex and masturbation (1960s), finger paintings (1970s), his Frakturbildern, meaning someone who is breaking the paintings, as he depicts upside-down people as a sign of his to rebel against academicism. Baselitz painted his first upside-down painting in 1969, named Der Wald auf dem Kopf / The forest on its Head. Thereafter, painting upside-down people became the artist special style, a leitmotif to which he has submitted all the subjects in his repertoire – characters, landscapes, birds, etc. It has become the most salient aspect of his work and therefore of his identity as an artist.
Georg Baselitz, Der Wald auf dem Kopf, 1969
Consistently ranked among the 100 top-performing artists in the world, Georg Baselitz is on the verge of exceeding the $10 with his painting Die rote Fahne / The Red Flag, 1965, achieved an auction price of $9.1 million at a Sotheby's auction sale in London in 2017.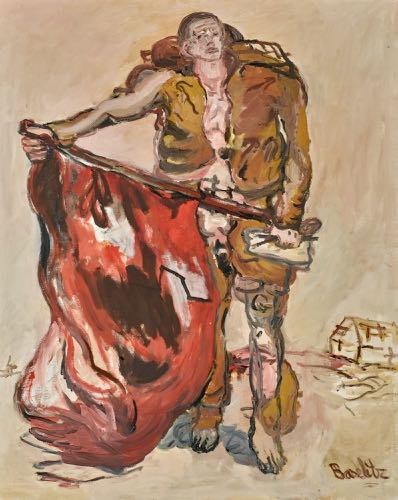 Georg Baselitz, Die rote Fahne, 1965
The series pf paintings named "Heroes", painted between the years 1965 and 1966 that symbolize the political situation during the Cold War are part of eminent museum's collections such as the Gallery Tate in London.