ArtWizard presents Gallery Ernst Hilger
ArtWizard 29.10.2021
In the past few months, ArtWizard started offering a new service for galleries, a representation and showcase service for carefully selected galleries to display their works, advertise them and organize exhibitions of the artists represented by them on the ArtWizard's Platform Virtual Art Space (VAS).
ArtWizard has the pleasure to present the first such gallery represented on the platform – the Gallery Ernst Hilger.
The Gallery Ernst Hilger is one of the most eminent galleries in Vienna, created in 1971 at the heart of Vienna at Dorotheergasse 5 (first floor) in Vienna's 1st district. The founder of the Gallery, Mr. Ernst Hilger is a prominent figure not only on the Viennese art scene, but globally, being the head of the FEAGA (The Federation of European Galleries Association) for several years and member of numerous art fair committees including Art Basel. He acted as the longest-serving president of the Austrian Gallery Association and was instrumental in establishing the present conception of the role of galleries as partners of museums, collectors and representatives of the state.
The roster of represented artists reflects the long history of the gallery, representing the works of artists such as Erró and Mel Ramos, along with exponents of Austrian modernism from the 1960s onward and the main exponents of the most important international art movements of the 20th century – from Pablo Picasso and Jean Dubuffet to Pop Art artists like Andy Warhol and Keith Haring through to Narrative Figuration (Jacques Monory).
Besides its main representative gallery space, the Gallery Ernst Hilger has a special space for extending and strengthening the cooperation with international exhibition venues and museums. For this purpose, the space of 800m², representing the HilgerBROTKunsthalle was inaugurated in 2009. In this experimental space, the gallery made its laboratory for curatorial projects, designed to support and influence all Involved partners. This special experimental gallery space also contains three guest apartments for visiting and working of artists and curators, that have been instrumental in bringing the Gallery exhibition projects to other institutional locations, while also attracting international collectors who have visited and acquired works. These are, among others, Harald Falkenberg, Jorge Perez, the Photography Collection of the Qatar Museum Authority, Darga Jais (Bali), Sutomo Suprajito (Indonesia), the Collection NADOUR.
This autumn season, the Gallery Ernst Hilger presented two eminent exhibitions.
The first one of them took place from September 2 – October 15 2021 at the gallery's main representation space at Dorotheergasse 5 and presented the artist Anton Henning. Anton Henning, 1964 is a self-taught artist born and raised in West Berlin, who lives and works in Manker, Germany.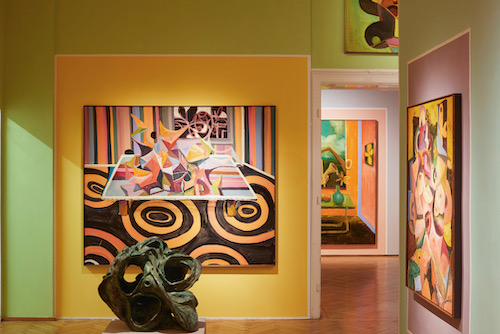 Exhibition of Anton Henning in Gallery Ernst Hilger
About the artist Anton Henning, George Robertson says the following:
"If we do imagine the history of art as an ongoing conversation, Anton Henning is a "master conversationist," who speaks several languages at the table and always opens up new conversations. The topic does not change. Henning remains conscious of the seemingly yesterday's visual themes such as the nude, interior, still life and the landscape.
Henning works like a top chef. He has a tremendous appetite for both the new and the old, raw and braised, the peculiar and the conventional, for sharpness, harmony and irritation, irony, sensuality and romance. Almost cheekily, he mixes his ingredients with a dash of lemon and invents completely new types of images that seem like old acquaintances (from another star). The viewer finds himself again in interplay of familiar and disturbing, comfort and crankiness.
If it really was about food, you would enjoy the whole menu with your eyes closed with pleasure. Almost like a blink of an eye is an unreasonable break during your eye candy. However, a horror story for dry theorists, Anton Henning's art does not seek consensus. It challenges us. It challenges us to rethink our visual memory and our previous aesthetic experience.
All of this, with seemingly great ease. It is a pleasure for him to unite contradictions in composition, the composition goes beyond the individual work into the room, the different rooms stand in a finely tuned compositional relationship to one another, so that the viewer of an exhibition finds himself in his own cosmos, in which Henning with his own furniture, carpets, lamps, tables, sculptures, drawings, paintings and even music, seems to prescribe the concept of the total work of art without being committed to it.
All of this has to be digested first. Henning is aware of that fact and somehow still serves the right digestif ...
Anton Henning's independence and playful handling of the apparently incompatible makes him the source of inspiration for numerous younger artists, and probably soon for chefs too."
The second exhibition is taking place from Sep 23 – Nov 20 2021 at the second space of the Gallery Ernst Hilger - Hilger Next in Vienna's 10th district, where is the experimental gallery space. There, the gallery presents an exhibition of selected Australian artists, curated by Simon Mordant AO and supported by the Australian Embassy in Vienna.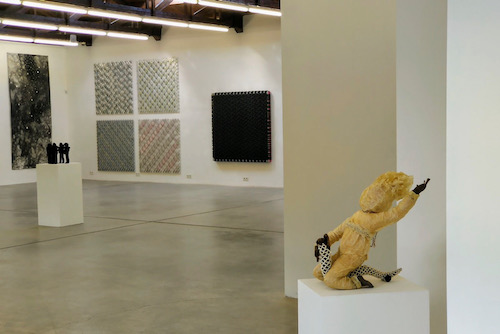 Exhibition TERRA AUSTRALIS REVISITED at the Gallery Hilger Next
The exhibition is named TERRA AUSTRALIS REVISITED and features some young contemporary Australian artists:
Tamara Dean
Tamara Dean, 1976 , Australian is a photographer, installation, and performance artist whose works explore the relationship between humans and the natural world, and the role of ritual in daily life. Dean studied at the College of Fine Arts and the University of Western Sydney in Australia. Her works have been shown around the world, including at the Brussels Art Fair, the Pingyao Photography Festival in China, and the Australian Centre for Photography.
Dean lives and works in Sydney, Australia, where, in addition to being an artist, she works as a photographer for the Sydney Morning Herald. Her intention with these works is to change the narrative, show that in an age of mass extinction humanity is as vulnerable as every other living creature, to make the point that this is personal.
Linde Ivimey
Linde Ivimey was born in Sydney, Australia and obtained a Diploma of Fine Art in both printmaking and sculpture at the Claremont School of Art in Perth. She taught at the school from 1993 to 1995 and also lectured at the West Australian School of Art from 1996 to 1998. In 2003, her debut exhibition at Melbourne's Heide Museum of Modern Art proved financially successful.
Since her debut, Ivimey has participated in notable exhibitions around the world including Bone Idol in Berlin, Germany (2014), the Blake Prize for Religious art (2000), in Sydney; and Materiality at Royal Melbourne Institute of Technology Gallery (1999), to name a few. Prizes received include Gomboc Sculpture Award (1992), the SECWA Fremantle Art Award (1991), and Friends of Dorothy Award for Sculpture, Perth. Her collections can be seen in many galleries including: National Gallery of Victoria, National Gallery of Australia, and Hugo Collection.
Ivimey considers herself as a visual artist. She is well known for her use of recycled materials, often incorporating bone and skin, primarily that of bird, sheep and fish, into large scale statues and small detailed figures. She draws upon many skills from welding to cooking, weaving, wood-sculpture, and sewing. to some her work is considered macabre. Her reaction to this was recorded as saying "I can accept they're a little bit macabre and confronting," she states. "But when people say 'oh, that's weird, I couldn't stand that in my home', I gently remind them that I'm not that keen on floral couches, but if they've invited me to sit on one, I'm not going to tell them."
Janet Laurence
Laurence is an environmental artist. Over more than 35 years she has made public artworks and site- specific installations. A recent project, Deep Breathing: Resuscitation for the Reef for both the Paris Climate Change Conference (2015), presented one of Australia's greatest natural wonders to an international audience gathered in Paris for the United Nations Climate Change Conference in November 2015. Laurence's artwork includes photos, videos and natural material like bleached corals and shells. It also features fish and turtle specimens borrowed from the Australian Museum and Paris's Museum national d'Histoire naturelle, where it was displayed
Laurence's work explores a relationship to the natural world, often from an architectural context. She has exhibited in galleries and outside in site-specific projects, often involving collaborations with ar chitects, landscape architects and environmental scientists.
Laurence lives and works in Sydney. A recipient of both a Rockefeller and Churchill Fellowship, she was a Trustee of the Art Gallery of NSW from 1995 to 2005, on the VAB Board of the Australia Council and is currently a Visiting Fellow at COFA NSW University. She is also a council member of Voiceless, the animal protection institute.
Laurence was the subject of John Beard's winning entry for the 2007 Archibald Prize. The portrait features Laurence in a moment of reflection, captured in black and white, but textured with light and shade. The pair are close friends and the collaboration lends itself to a sense of double portraiture with the artist-as-subject. Her work has been included in major survey exhibitions, nationally and internationally and is regularly exhibited in Sydney, Melbourne and Japan.
Lindy Lee
From its beginnings, Lindy Lee's work has been about questions of belonging and identity, about the reconciliation of opposites. These questions originated from profound sense of "unbelonging" in Australia - Lindy was born in Australia but her ancestry is Chinese. Lindy grew up in the period of the White Australia policy - a policy designed to discriminate against Asians.
Lindy Lee's practice explores her Chinese roots through the philosophies of Taoism and Buddhism which emphasizes humanity's close relationship to nature and the universe. The drawings in this exhibition are concerned with the elemental particularly the energies of fire and rain. These two elements are seemly opposites - rain quenches fire, fire evaporates water. But curiously when they come together they are also generative – their combination/interaction is volatile but dynamic and productive of new forms.
In these drawings, the paper is pierced with fire to make 10th of 1000s of perforations. Sometimes Lindy flings ink onto the paper as the rain comes down. The practice of Flung Ink painting is an ancient form of Chinese calligraphy. After a period of meditation, Buddhist monks would take up a flask of ink and splash it onto to paper. The resulting mark was understood to be the calligraphy of the universe - meaning that it takes all the forces of the universe to come together to make that mark. Similarly it takes all the forces of the universe to create each individual life.
Her work investigates the interdependence between the material and the immaterial. The use of materials, images and processes in her work can be seen as a metaphor for the porous nature of "being in the world", where the boundaries between humanity and nature;"'self' and "other", "individual" and "society" are permeable.
Dani Marti
A quote by the artist: "Since the beginning of my practice in 2000, my works have been distinguished by an obsessive, un- flinchingly honest preoccupation with the messy business of being human. Questions of sexuality, intimacy, the body and identity have been its lifeblood. My abstract 'paintings' are made up of tightly-woven everyday materials like rope, road reflectors or or costume jewellery. Each action of warp and weft leaves gestural traces that form portraits, playing into the tension between the possibility and simultaneous hopelessness of creating a true representation. The formal polarity that exists between these ways of working is the terrain upon which I am able to examine how alternate readings are generated by the viewer.
Danie Mellor
Danie Mellor is a contemporary Australian artist of Ngadjon and Mamu Aboriginal rainforest heritage who lives and works in Bowral, New South Wales. His multidisciplinary practice explores intersections of Indigenous and Western cultures, with revaluations of colonial and contemporary histories. His work has received major awards, acquisitions, and commissions including the MCA Australia's Sculpture Commission (2019), the National Gallery of Australia Member's Acquisition Fund (2018) and the National Aboriginal and Torres Strait Islander Art Award (2009).
Mellor's work is held in significant national collections and internationally, including the National Gallery of Canada, The British Museum and National Museums Scotland. He previously held positions of lecturer and senior lecturer at the Australian National University and University of Sydney. In 2010 he was appointed to the Visual Arts Board of the Australia Council for the Arts, serving as Chair of Artform until 2015. In 2020 he was appointed to the Board of MCA Australia. His works explore themes that are critically linked to cultural histories and concepts of the landscape.
The exhibition TERRA AUSTRALIS REVISITED can be seen at the Gallery Hilger Next at Absberggasse 27, 1010 Vienna until the 20th of November 2021.