Who is Picasso, the legendary master of Cubism!
ArtWizard 09.09.2019
"I deal with paintings, as I deal with things, I paint a window just as I look out of a window. If an open window looks wrong in a picture, I draw the curtain and shut it, just as I would do in my own room. In painting, as in life, you must act directly."
Pablo Picasso
When we talk about the art of the twentieth century, there is one figure that emerges with undoubtful and amazing success and fame. This is Pablo Picasso. Although he has been named at the creator of the Cubist style, he was along with other artists as well, such as Georges Braque, but they have not come close to his fame. Before he turned fifty, Picasso was already the most eminent art figure of his century as he had the most fans and critics compared to any other artist of his time and subsequently, of its time as his influence on the art world only continues to grow after his death. He had a very long artistic career, spending most of his life and work in France, and he died at the age of 91. During his long career as an artist, he made over 20 000 paintings and art objects, including ceramics and even theatre costumes.
It is no easy task to become a monument of oneself during one's lifetime. For many artists who experience this, it leads to ossification and decline in their creative powers. If there was one painter of our times who was the exception of the rules, this is Pablo Picasso. Even far into his eighties, this small, great man, with the blazing eyes continued to excite controversy. It is common knowledge, that at an advanced age, Picasso married the beautiful young lady Jaqueline Roque, who later was unable to get over his death, and before and between his two marriages he has several mistresses. It is also common knowledge that Picasso distorted the human anatomy in his work, occasionally, deforming the human image to the point of monstrosity. That, he was able to paint and draw quite realistically and even classically, and yet seldom chose to. In the meantime, art experts have declared Picasso a Proteus, comparing him to the ever self-transforming oracular "sea-ancient" of antiquity.
It is truly exciting to watch the aging Picasso, entirely oblivious of avant-garde ambitions, in full control of his incomparable painterly means, doing what he will with colors and forms. As if providing a running commentary of his own career, the old painter spreads before our eyes his decades of expertise with a dazzling abundance matched by no other artist of the era. The best of these late and latest works possesses a freshness of invention, a precision of execution, and a with a dazzling abundance matched by no other artist. Compelling evidence is found in paintings such as "Le Déjeuner sur l'herbe" after Manet, (1961, Paris, Musée Picasso) "Great Profile" (1963, Dusseldorf), "Portrait of Jacqueline" (1964, heirs of Jacqueline Picasso), "Musketeer and Cupid" (1969, Cologne).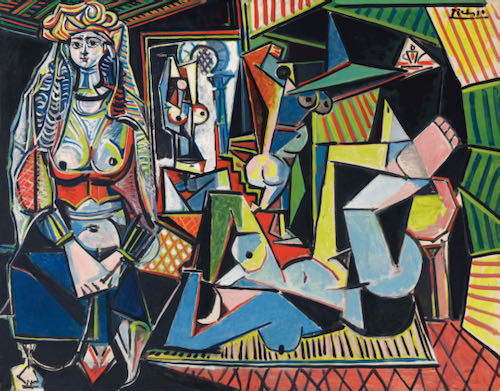 Pablo Picasso, Woman of Algiers, 1955
Picasso was an innovator as artist, founding the Cubist art movement, and also for the creation of the collage art style. Picasso is also regarded as one of three artists in the twentieth century credited with defining the elements of plastic arts. This revolutionary art form led society toward societal advances in painting, sculpture, printmaking and ceramics by physically manipulating materials that had not previously been carved or shaped. These materials were not just plastic, they were things that could be molded in some way, usually into three dimensions. Artists used clay, plaster, precious metals, and wood to create revolutionary sculptural art work the world had never seen before. Before becoming famous and successful, he has been though several periods.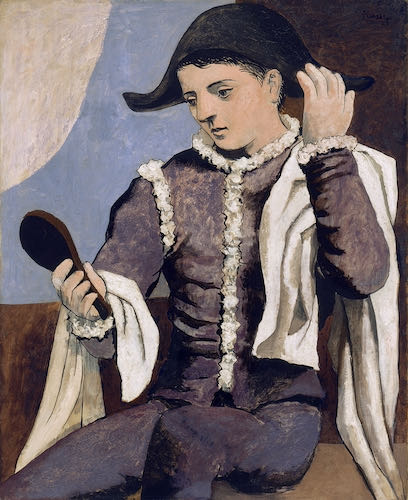 Pablo Picasso, Harlequin with aa Mirror, 1923
His so called "Blue Period", was marked by extreme poverty he lived in and was focused on painting in somber blue and green colors. However, one of his masterpieces the Autoportrait of Picasso dates from exactly this period in his life. The subjects of this period were also of very dark nature, and the culmination of this was the gloomy allegorical painting La Vie (1903) portrayed his friend's inner torment in the face of a lover he tried to murder. Some years later, Picasso met a lady, a bohemian artist, named Fernande Olivier, who marked a way out of depression for Picasso, and in this period, he started to use brighter colors, depicting joyful objects such as citrus and harlequins. One of the most remarkable meetings of his life was with the American collectors of art and mecenats Gertrud and Leo Stain, who became great supporters of Picasso and his ardor fans. Picasso made a Portrait of Gertrud Stain, one of his most famous paintings.
Picasso's first word was "pencil". His father Ruiz, an artist and art professor, gave him a formal education in art starting from the age of seven. By the age of thirteen, Ruiz vowed to give up painting as he felt that Pablo had surpassed him.
Picasso's first academic artwork was made at the age of fifteen and was a portrait of his family and is named "First Communion". In 1909, Picasso and the French artist Georges Braque both co-founded Cubism, and it was the French art critic Louis Vauxcelles who first named this movement, saying that those were "bizarre cubiques", after noting that Picasso and Braque's paintings are "full of little cubes."
It is one of the most curious facts that when Mona Lisa was stolen from the Louvre in 1911, the police suspected the French poet Guillaume Apollinaire as a suspect, but he pointed out to Picasso, who was also interrogated at the time.
One of his most famous paintings is "Les Demoiselles d' Avignon". The history of this paintings is most curious. The first original title of the painting was "Le Bordel d' Avignon" meaning the Brothel Avignon.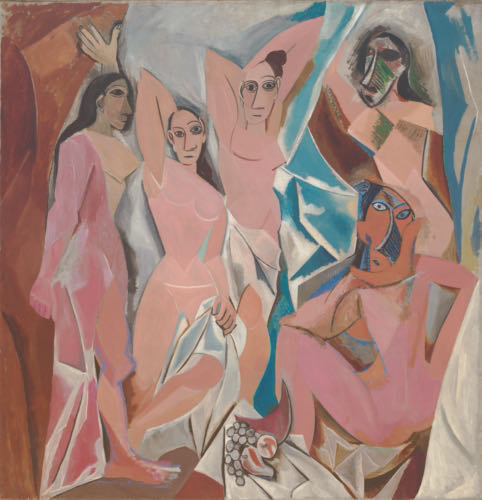 Pablo Picasso, Les Demoiselles d'Avignon, 1907
Pablo Picasso completed "Les Demoiselles Avignon" in 1907. At the time, he was dividing his time between the Bohemian scenes in Paris and several locations in Spain, including Barcelona, where the painting is set. Specifically, it depicts five nude prostitutes from a brothel on Carrer d'Avinyó, or "Avignon Street", in the Gothic quarter in Barcelona. Picasso started to prepare this painting, producing hundreds of preparatory sketches, that were later on kept as water colours or drawings.
Like El Greco and Van Gogh his illustrious predecessors in the genre, Picasso seems to have had a focus for the self-portrait, where the external image of the man becomes infused with the subjective projection of the artist. Throughout his long career he painted various portraits of himself that reveal his progress in life and art.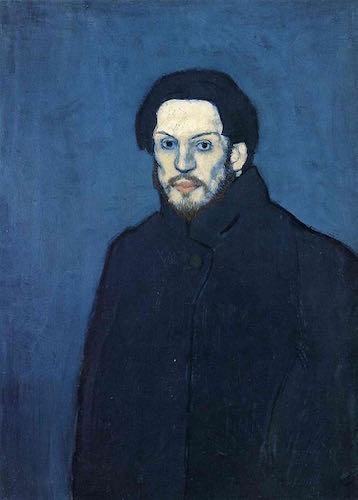 Pablo Picasso, Autoportrait, 1901
The "Blue Self-Portrait", his first, painted during his second stay in Paris in the winter of 1901, was the end of a series and marked the beginning of the Blue Period. He returned to Barcelona in January 1902. Picasso was only twenty years old at the time, but he appears considerably older in this portrait. His face is drawn and gaunt from the hardships of the Parisian winter. The livid pallor of the face, relieved only by the orange tint of the lips, the scraggy beard, and the high-collared greatcoat that enshrouds the body, all heighten the feeling of sadness and solitude that emanates from the canvas. The use of cool tones, especially the deep purple of the coat, and the light, almost "anaemic" brushwork overall - except in the face - are completely in keeping with the stark, ascetic image.
Although Picasso never had a private student, he did unwillingly found a school that has incomparably affected art in our century, whether by acceptance or rejection of his work. Even the violence with which many painters attacked their father-figure after 1945, especially during the 1950s, only goes to show how difficult they found it to emerge from his shadow. The greatness of Picasso could be measured by the number of debates he was capable of triggering. Most of the doubters, though, have long since turned from Sauls to Pauls, a conversation that was encouraged by the gradual revelation of the scope and diversity of Picasso's oeuvre, in sculpture, as well as in graphic art.
Pablo Picasso's "Women of Algiers," fetched USD 179.4 million in 2015, was, at that time, the most expensive painting ever to be sold at auction.
Picasso was buried in the grounds of a château that he bought on a whim in 1958 in the village of Vauvenargues in the south of France.