Nude Ladies on ArtWizard
"Engraving or Drawing? It is all the same, what I think important is invisible it had never existed, it had been born at the dawn of humanity, brought to light and inspired by the godly spark of the creature. It has taken forms which create beauty with its own unique simplicity and curtness of the expression. In one word, this is the line. I'd run after her a whole eternity with love and without being worn out and after her wordlessness, which tells us so much."
Lyuben Dimanov
This is how the artist describes his feelings about the 23 Ladies figures represented in this unique collector's edition. ArtWizard presents one of its rare collections of lithographs of Lyuben Dimanov for special collectors this season. Twenty-three fine lithographs representing different aspects of women figures.
It is spring now and we are celebrating the International Women's day, the 8th of March. This is why on ArtWizard it is all about Ladies. Ladies are interesting visually as subjects. Ladies have more curves. There is something about that… the lyrical quality of curved lines. The swooping action of pencil or brush as you come around past the ribcage and around the hips and meet with legs or buttocks. Swoop, swish… Organic shapes… less geometric. Like a gentle winding trail or river. Less straight lines.
If you look at art history… most famous painters were male up until recently… so likely there is also the voyeur factor as well. Men like to paint Ladies and Ladies seem to like being painted. There are always more female models than male in figure drawing classes because there were more of them available than males. In the nineteenth century, Jean-Auguste-Dominique Ingres established the female academic nude for public exhibition with his Venus Anadyomene (1808) and Grande Odalisque (1814), which served as the prototypes for the standing and reclining nude, respectively. In his paintings, Ingres emphasises the smooth, sensuousness of the female form, at times manipulating the figure's anatomy, altering or omitting certain elements to enhance their aesthetic beauty.
Jean-Auguste-Dominique Ingres, La Grande Odalisque, 1814
For example, he famously added at least three vertebrate to the spine to produce a more alluring S-curve in the Grande Odalisque. He also removed unseemly hair and genitalia from Venuses, nymphs, or odalisques (Ladies whose natural state is to be unclothed and therefore acceptable) to create images suitable for public display.
Jean-Auguste-Dominique Ingres, Venus Anadyomène, 1825 - 1850
Following in Ingres' wake, academic nudes became increasingly popular throughout the nineteenth century. By 1863, the "Salon" was so full of female nudes that the art critic Théophile Gautier mockingly dubbed it the "Salon of the Venuses." In response to this overabundance of idealised nudes—as well as the recent call for artists to depict subjects of their own time—Édouard Manet exhibited his Olympia (1863) at the Salon of 1865.
Édouard Manet, Olympia, 1863
Clearly inspired by a famous Renaissance painting, Titian's Venus of Urbino, Olympia turns the female academic nude on its head by presenting, not a mythological or exotic figure, but a contemporary French prostitute for public display. Unlike the nudes of Ingres and Titian, Olympia is confrontational and not nude, but naked, and was therefore extremely controversial.
Tiziano, Venere di Urbino, 1538
The series of lithographs ArtWizard presents is a special edition of 23 lithographs on luxury paper and as part of a special collection, all gathered in a beautiful leather cover. The edition of the collection is 30, ten copies of it are owned by the artist and this is one of them.
As Lyuben Dimanov is an art master depicting this unique series of nude females with mild curves, this collection is worth having in its entirety, so that its owner can see all aspects of the woman's body as presented by the artist.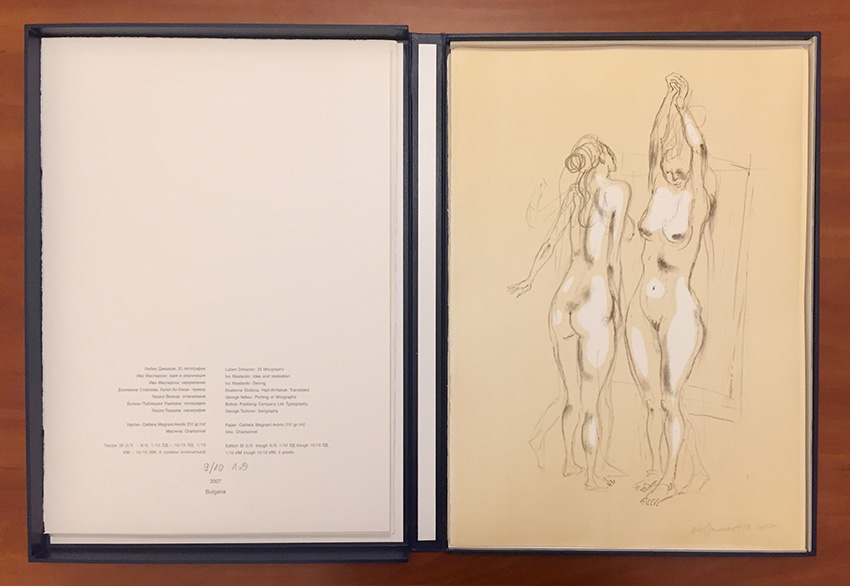 The price for each individual artwork is 340 EUR. ArtWizard sells the whole collection as it is presented by the artist. It includes 23 lithographs in a leather cover, signed by Lyuben Dimanov.
Art Wizard offers the collection at the attractive price of 4'480 EUR (195 EUR for each of the 23 artworks), thus allowing the art collectors to acquire it with more than 40% discount.
In case you would like to buy the collection, please make a request using the request form on the right-hand side of each artwork or contact us.