Brice Marden's exploration of colors
ArtWizard 30.03.2020
"A painting, you know, it's all dirty material. But it's about transformation, taking that earth, that heavy earthen kind of thing, turning it into air and light."
Brice Marden is a contemporary American painter known for his subtle explorations of color and gestural lines. He is a painter whose work is difficult to classify into only one movement, though he is often deemed part of the school of minimalism. Born in 1938, Marden earned his BFA at Boston University and his MFA from Yale School of Art and Architecture, where he was taught by both Alex Katz and John Shueler. During this time, he also became involved in the world of folk and lived at Joan Baez's house for a time, ultimately marrying her sister, Pauline. Jasper Johns is often cited as one of Marden's biggest influences.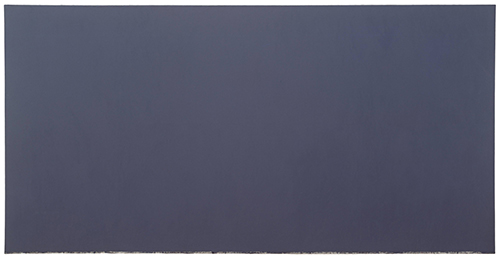 Brice Marden, The Dylan Painting,1966
Like Robert Ryman, Robert Mangold and Agnes Martin, Marden's canvases are the product of an ongoing investigation into the nature of abstraction and the medium of painting itself. Marden's early Minimalist works, such as The Dylan Painting (1966), gave way to the influence of Chinese calligraphy and during the late 1980s and 1990s, the creation of his first gestural works, the Cold Mountain paintings.
Brice Marden, Cold Mountain Series, Zen Study 3', 1991
Marden relocated to live in New York in 1963, where he came into contact with the works of Jasper Johns while he was working as a guard at the Jewish Museum, during Johns's 1964 retrospective exhibition at the museum. During the summer of the same year, Marden travelled to Paris where he began to make compressed charcoal and graphite grid-patterned drawings. The graphic works made by the artist are even more interesting than his paintings, and he would continue transferring ideas from them into his most recent paintings and drawings. In Paris, in the winter of 1964, Marden had the chance to admire to works of Alberto Giacometti and Jean Fautrier and made his first monochromatic single-panel painting. During his period in Paris, masters such as Francisco de Zubaran, Diego Velasquez and Edouard Manet have also influenced his artistic style.
In 1966, Marden was hired by Robert Rauschenberg to work as his assistant in New York. Prior to that he had worked at Chiron Press as an assistant to Steve Poleskie. From 1963 to 1968, Chiron Press was the ground-zero of the fledgling Pop Art scene. Founded in a tiny storefront on 614 East 11th Street in New York City, it was the first print atelier in New York City, indeed in the country, devoted to screen printing for artists. Andy Warhol, Roy Lichtenstein, Larry Rivers, James Rosenquist, and Claes Oldenburg were just a handful of the artists who made silkscreen prints at Chiron. That same year he had his first solo show in New York at the Bykert Gallery, which exhibited the first of his classic oil-and-beeswax paintings.
In the late 1960s and early 70s, Marden gained international fame as the master of the monochrome panel. In 1971, the artist and his wife, Helen Harrington, visited the isolated and very exotic Greek island of Hydra, to which they have returned every year since. The couple bought their first home there in 1973. The light and landscape or Hydra have greatly influenced Marden's work and he produced series of works there, such as the five Grove Group paintings, 1972–1980 and the Souvenir de Greece works on paper, 1974–1996. Between 1981-87, Marden made a total of 31 paintings on marble, all of them produced in this isolated Greek Island Hydra.
Where Marden started making monochromatic paintings, the earliest of them exist as single panels, diptychs and triptychs. In each of the four Red Yellow Blue paintings (1974), the artist painted slabs of dense yet nuanced color on three adjoined canvas panels, using oil paint mixed on the spot with melted beeswax and turpentine and applied with a knife and spatula. He gradually increased the number of panels, arranging them into configurations of canvases. After preparing designs for stained-glass windows for Basle Cathedral in 1977, he became interested in expressing in his paintings the conditions of color and light in architecture.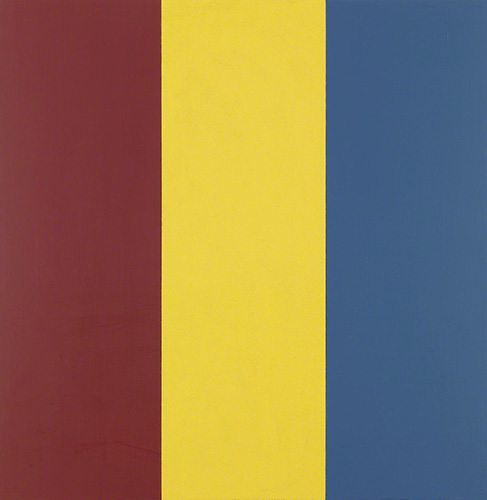 Brice Marden, Red, Yellow, Blue, 1974
In 1977, Marden traveled to Rome and Pompeii, where he strengthened his interest in Roman and Greek art and architecture, which would influence his work of the late 1970s and early 1980s. In 1983, Marden and his family traveled to Thailand, Sri Lanka, and India, where the artist became fascinated also by the art, landscape, and the culture of Asia. After these trips, the artist incorporated numerous elements of certain Asian traditions into his work, making them one key to his process, such as the Shell Drawings, 1985–87. A visit in 1984 to the exhibition Masters of Japanese Calligraphy, 8th-19th Century, encouraged Marden to use form, a predominant influence in his recent work, that can be seen in his acclaimed Cold Mountain series, both paintings and works on paper, 1989-1991. At this period, starting to combine airy, calligraphic sketches of line with whitish or palely tinted backgrounds, the artist made larger and larger works, some of them as large as 9 - by - 12 feet.
Brice Marden Cold Mountain 6 (Bridge), 1989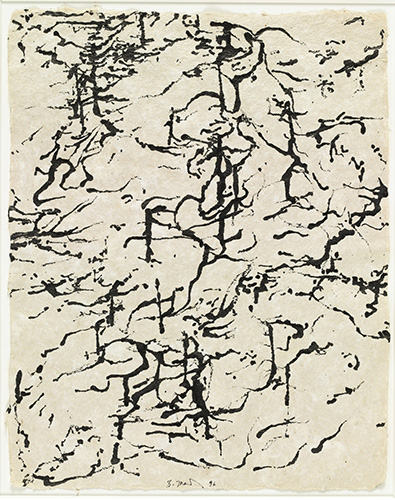 Brice Marden, Phuket, 1996
Brice Marden, Drawing for Conjunctions III, 1996
In 2000, Marden made The Propitious Garden of Plane Image, the longest two of which measure 24 feet. Having seen that, in 2006, the New Yorker Magazine critic Peter Schjeldahl described Marden as "the most profound abstract painter of the past four decades".


Brice Marden, The Propitious Garden of Plane, Third version
In the same year of 2006, New York Museum of Modern Art mounted the large-scale exhibition "Plane Image: A Brice Marden Retrospective," which travelled on to the San Francisco Museum of Modern Art and Berlin's Hamburger Bahnhof Museum for Contemporary Art. One of the later paintings of Marden The Attended earned USD 10.9 million at auction in 2013. Today, Marden is renowned for helping to re-popularize the classic medium of painting within the contemporary scene.
Brice Marden, The Attended, 1999
The artist currently lives and works between Hydra, Greece and New York, NY. His works are held in the collections of the Art Institute of Chicago, the National Gallery of Art in Washington, D.C., the Tate Gallery in London, and the Kunstmuseum Basel, among others.