Rene Magritte. The talented Surrealist forger...
ArtWizard, 26.08.2019
"The mind loves the unknown. It loves images whose meaning is unknown, since the meaning of the mind itself is unknown."
Rene Magritte
As one of the most famous Surrealists, Magritte became well known for creating a number of witty and thought-provoking images, often depicting ordinary objects in an unusual context. Magritte's witty and thought-provoking artworks have made him a central figure in Surrealism and an inspiration to later movements, especially later in Pop Art. Even after his death, his influence lived on in popular culture, including songs, books, and films. He is undoubtedly one of the most successful artists in the modern art history. His paintings have been known for challenging the observer's perceptions of reality. The artist was born in a family of a wealthy manufacturer and studied at the Academie des Beaux-Art in Brussels. As most of the artists of his time, he was influenced first by the cubism and Picasso in particular.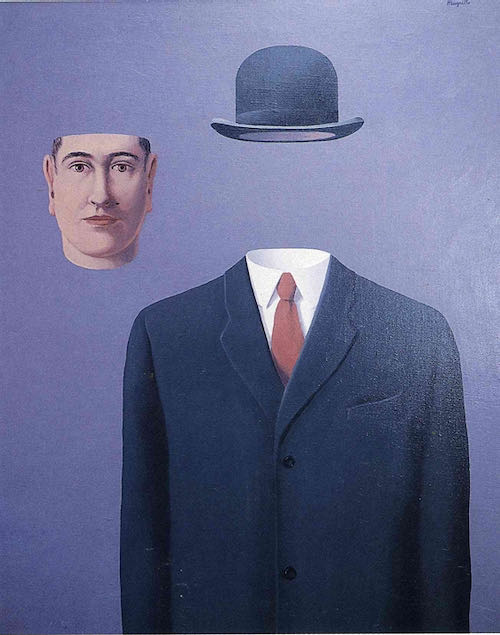 Rene Magritte, Pilgrim, 1966
After Magritte served in the Belgian infantry for one year of mandatory service, he worked as a draftsman at a wallpaper factory and as a freelance designer for advertising posters.
His brothers supported him before he could become a full-time painter. His businessman brother bought his paintings, while Magritte and the youngest brother ran an advertising agency together.
One of the most interesting facts about his art is that he, apart from images, used words to make his viewers question their perception. One of his most famous paintings, "La Trahison des Images" (The Treachery of Images), depicts a pipe with the words, "Ceci n'est pas un pipe" (This is not a pipe). In the early period of his career, Magritte spent a lot of time creating art forms and worked on a number of pieces and during this time, he realised that Surrealism was the art style he liked most. One of his earliest pieces that showed his Surrealist style were The Lost Jockey, in 1925 and The Threatened Assasin, in 1926. Over the course of his career, he produced a number of variants on The Lost Jockey, changing the formats and recreate what was presented to the viewers.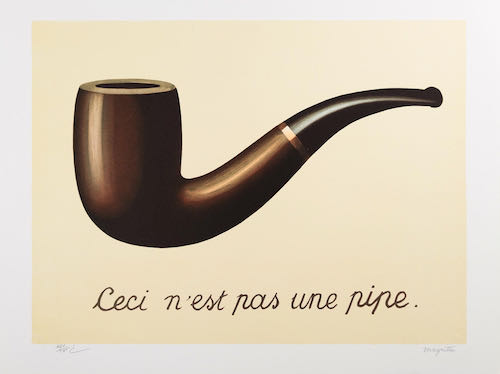 Rene Magritte, La Trahison des Images, 1929
The Treachery of Images is painted when Magritte was 30 years old. The picture shows a pipe. Below it, Magritte painted, "Ceci n'est pas une pipe" French for "This is not a pipe." The painting is not a pipe, but rather an image of a pipe. This masterpiece of Surrealism creates a three-way paradox out of the conventional notion that objects correspond to words and images. The Treachery of Images belongs to a series of word-image paintings by Magritte from the late 1920s. He combined images and text in a style suggested both by children''s books, and by Magritte''s early career in advertising. The artist laid out his rationale for word-image paintings in an illustrated text called Words and Images.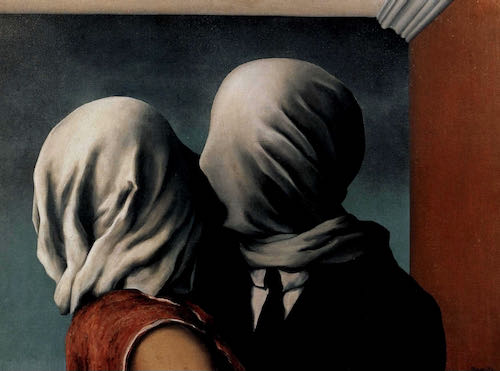 Rene Magritte, The Lovers, 1928
His first official exhibition was a critical failure. Having tapped into his innate fascination with familiar objects – bowler hats, pipes and the like – through his oneiric images, Magritte was quickly absorbed into Belgium's growing surrealist movement, along with fellow artists Paul Nougé, Camille Goemans, and Louis Scutenaire. All the same, his first official exhibition, which took place in Brussels in 1927, was badly received by critics. This negative feedback was to be the making of the young artist; frustrated, Magritte moved to Paris, where he fell in with the founder of Surrealism, André Breton, meeting contemporaries in literature and music, and participating in the creation of a manifesto entitled Surrealism in Full Sunlight. It took him some years, and a move back to Belgium, to find financial success, but by the early 1930s sales of Magritte's work were gathering momentum.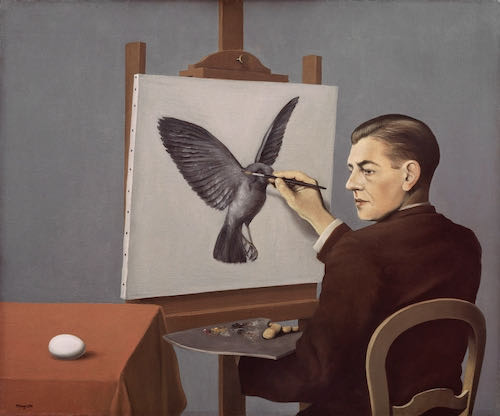 Rene Magritte, Clairvoyance, 1936
Besides being found of Surrealism, the artist found also great pleasure in dallying with other genres, spending some time experimenting with impressionism, seemingly as much to confuse his critics as anything else. Most curious of all was his toying with a style he called Vache, or Cow – an extreme fauve-inspired moment which used brash colours and simplified shapes. The works were deliberately misdated so as to remove them from the overarching progression of his oeuvre, and Magritte later referred to these pieces as having been made "in his doomed period".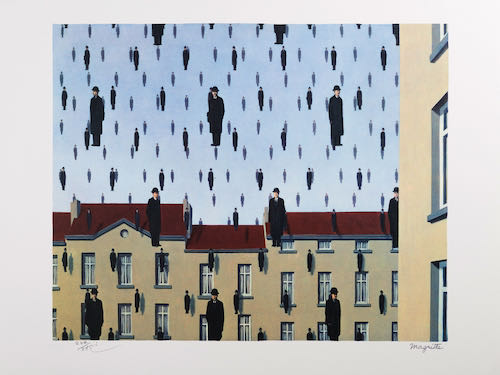 Rene Magritte, Golconda, 1953
Magritte was experienced in creating forgeries. He left home to study, although his career did not begin immediately and instead, the artist spent some time working at a wallpaper company and producing advertising posters – aesthetic and commercial pursuits which no doubt influenced his later output. In a scandalous subtext, alongside his professional line of work, Magritte is believed to have created forgeries of pieces by the likes of Picasso, Titian, Ernst and Chirico – as well as reproducing his own works, in what some critics consider a "subversive strategy against his official oeuvre". His copycat abilities were to benefit the artist in the long run, as when Second World War led to the German occupation of Belgium between 1940 and 1944, he forged banknotes, creating his means of survival in the face of poverty.
It is interesting to know that his most famous works were self-portraits. Undoubtedly his most famous work is the The Son of Man, which depicts the face of its bowler-hatted subject obscured by a hovering green apple, was actually created as a self-portrait. "At least it hides the face partly," Magritte once said, quizzically. "Well, so you have the apparent face, the apple, hiding the visible but hidden, the face of the person. It's something that happens constantly. Everything we see hides another thing, we always want to see what is hidden by what we see. There is an interest in that which is hidden and which the visible does not show us. This interest can take the form of a quite intense feeling, a sort of conflict, one might say, between the visible that is hidden and the visible that is present." This conflict between the visible and that which it conceals played a vital role in Magritte's work throughout his career.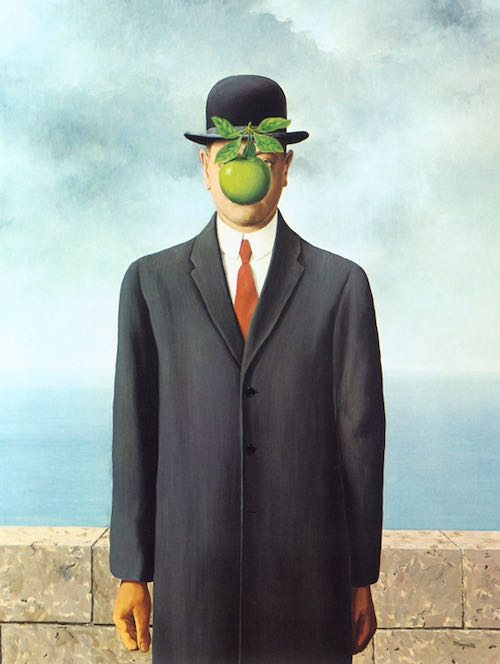 Rene Magritte, Son of Man, 1964