Art Basel Miami 2019
ArtWizard 16.12.2019
Overall, 269 galleries were present in the Miami Beach Convention Center, from all types of places as far as Tokyo and Toronto. The new sector at the Convention Center had around 33 projects arranged in the center's Grand Ballroom and one outside the convention center.
Last year, the Ballroom had only been recently completed at the time of the fair, after a three-year renovation of the center, and it held a special multidisciplinary work.
The scale of the room was over 60,000 square meters with-high ceiling that allow organizers to increase their ambitions about what they show, in an era when artworks seem to be growing ever bigger.
Tom Friedman, Installation, Art Basel Miami 2019
Art Basel in Miami was about… bananas this year. The story of the week, for better or worse, was Maurizio Cattelan's "Comedian", the banana duck-taped to the wall that sold for USD 120,000 and eventually became so popular it had to be prematurely removed. Stampeding billionaires took over Miami Beach for the annual art fair where everybody is V.I.P. The maverick Italian artist Maurizio Cattelan showed his new "sculpture" at Art Basel Miami Beach—the first new piece he has offered at a fair in more than 15 years—comprising just a banana attached to the wall with grey duct tape. The work "offers insight into how we assign worth and what kind of objects we value", according to a statement from Perrotin gallery, which is showing the found object assemblage.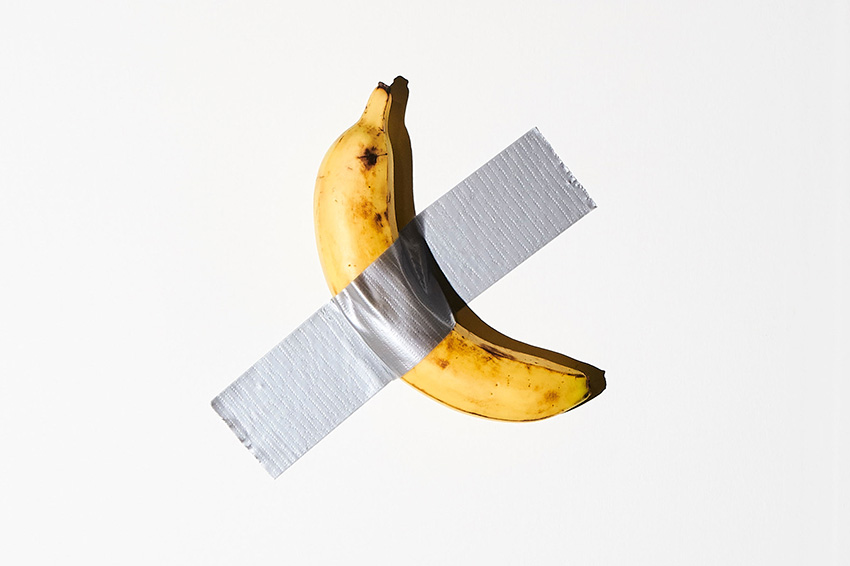 Maurizio Cattelan, Comedian (The Banana), Art Basel Miami 2019
Cattelan developed the idea a year ago when he began thinking of creating a sculpture shaped like a banana. "He made several models: first in resin, then in bronze and in painted bronze before finally coming back to the initial idea of real banana," the gallery says. It added that the fruit on display was "locally sourced" from a grocery store in Miami. The work, an edition of three with two artist's proofs, is aptly titled Comedian and is priced at USD 120,000.
Interested collectors should note, however, that there are no precise instructions for the work's long-term care. "If the banana molds, a decision on that will be made on site," the gallery says.
In a gesture straight out of the Duchamp playbook, Mr. Cattelan emerged from productive hibernation with his first sculpture created for an art fair in 15 years. The piece, titled "Comedian,'' was the endpoint in a creative process that saw him cycling through renditions of the fruit in resin and bronze, before settling on the real thing.
Now more than ever at this fair, art dealers ship in their choicest inventory; Mr. Cattelan's competition included Picasso, Basquiat and Georg Baselitz. Still, minutes, after the gun went off for a V.I.P. preview on Wednesday morning (the fair would not open to the public for another day) collectors, were already making a beeline for the Galerie Perrotin booth and Mr. Cattelan's banana, offered in a limited edition of three with one artist's proof, at a cost of USD 120,000 apiece.
The Banana, Art Basel Miami 2019

Regarding the rest of the fair, it is interesting to note that some of the experts at Art Basel Miami say, that digital media, social media and the rise of the fairs changed the market narrative, but that "The art world in the late 20th century was still conditioned or determined by a gallery as the primary place of encounter. In the fashion world, things are now live-screened contemporaneously and sold immediately and there is an idea that you don't need to see these things in person.''
Still, some critics said, no experience beats experiencing art for yourself, in person, in analog space. And that belief was borne out by the buzzy atmosphere that prevailed in the main hall at the Miami Convention Center during Wednesday's V.I.P. showing.
The big shark collectors — each guided by a personal remora, or art adviser — stalked works like a USD8.5 million Calder mobile (Helly Nahmad Gallery), a USD 1 million oil on lead by Günther Förg (Galerie Max Hetzler) and a USD 5 million landscape by Georgia O'Keeffe (Menconi and Schoelkopf). One forlorn couple stood in front of a set of Julie Mehretu monotypes (White Cube) they had missed buying by seconds for the relatively bargain price of USD 40,000 apiece.
"Sure, there are those who come with a list,'' said Angela Westwater, a seasoned gallery owner, referring to showy "wall power'' works by the brand-name artists that are favored by hedge fund investors. "Mark Grotjahn is on the list obviously, and Christopher Wool and Rashid Johnson,'' Ms. Westwater said of three artists whose work has recently set auction records and remains in hot demand.
"Bruce Nauman is not a trophy name,'' Ms. Westwater added, referring to the multimedia artist that her gallery, Sperone Westwater, represents and whom many consider the greatest American artist alive. "There are imbalances there, shall we say? Maybe it's your moment and maybe it's not. If you've been doing this long enough, you learn that it always cycles around over time.''
Another part of Art Basel Miami is the part related to the "Surrealist treasures", exhibited at Art Basel Miami.
Galleries often go to great lengths to track down the very best works for fairs. Their quest for exceptional pieces is without a doubt a complex one, but it makes the stories behind them all the more fascinating. Here, gallerists give insight into the trajectories of four rare Surrealist treasures they will be showing at Art Basel Miami Beach.
'When you see it, you'll understand why I wanted to buy it' gallerist Robert Landau, says of René Magritte's La corde sensible (1960). 'I've known the painting for many years; it hung in the Magritte Museum in Brussels for a long time. It's one of the very best Magrittes I ever saw,' he continues, adding that both the scale and the year of production of the painting make it particularly special. Having shown the work previously, the Montreal-based gallerist has witnessed its effect on viewers: 'People gravitate towards it. Everyone wants to photograph it. It just creates an instant impression.' But how does one end up able to offer a work such as this one? No doubt that patience is required. Nowadays, galleries specialized in Modern art offer works consigned to them by collectors in most cases. Landau, however, purchases the works he offers directly, in a long-held secondary market tradition. After many years of wanting to do so, he was finally able to acquire La corde sensible, having convinced the family who originally owned it and had lent it to the museum.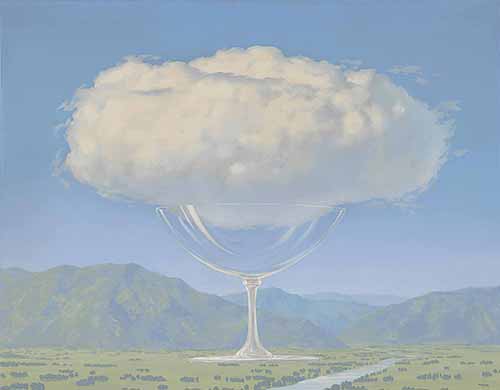 René Magritte, La corde sensible, 1960
At New York City's Hirschl & Adler Modern, the staff also recently discovered an exceptional Surrealist work they will show at the fair. The piece, an 18-ft long, 7-ft high mural by American Surrealist James Guy (1910-1983), executed in 1939 on six panels, is 'a bit of a mystery' says the gallery's Tom Parker. 'This is an incredibly rare mural by an artist known for smaller works,' he adds. What has ensued, says Parker, is akin to detective work. 'We have some clues to go by and we hope that they will bear fruit. We are trying to find out more about it and where it had been all the time, reaching out to family members and doing our due diligence.'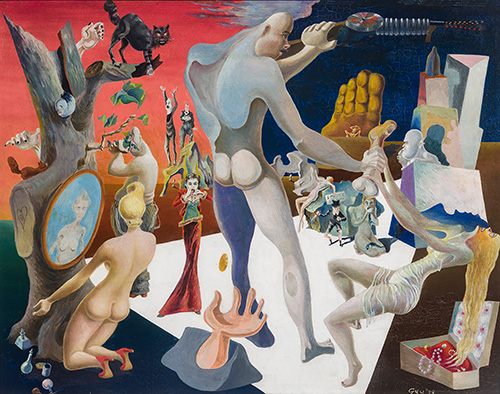 James Guy, Capital Minus Labor, 1939
New York City gallery Di Donna (C6) also exhibited work from the late 1930s in Miami Beach: Roberto Matta's Esa Guerra Desnuda (1937). Jeremiah Evarts, one of the gallery's directors, highlights the historically significant context in which the work was produced. 'In 1937, Matta is in Paris, working in dialog with the Surrealists of that time in a very difficult moment. Picasso was working on Guernica, of which you can see echoes in Esa Guerra Desnuda. It's a figure in a landscape of war. Miro is looking at that motif as well during that period.'
Roberto Matta, Esa Guerra Desnuda, 1937
Beyond the antics, sales at Basel were relatively fast-paced, despite the fact that some big international collectors stayed home. The fair reported an overall attendance of 81,000—2,000 fewer than in 2018. Even in a less frantic atmosphere, however, the business began on with a VIP pre-sale and continued during the weekend.
To capture a snapshot of all this commerce, there are reported sales from some of the participating galleries that show some of the highest-paid prices for artwork in Miami.
From paintings, the highest price was over USD 2 million: A painting by Marc Chagall at Hammer Galleries.
From Sculptures, the highest price was USD 3.8 million: Georg Baselitz, Sing Sang Zero (2011) at Thaddaeus Ropac.