The inspirations of Edward Hopper - Jo Hopper, the Theater and the Movies
ArtWizard 24.05.2021
"No amount of skillful invention can replace the essential element of imagination."
Edward Hopper
Edward Hopper is an American painter whose realistic depictions of everyday urban scenes shock the viewer into recognition of the strangeness of familiar surroundings. He strongly influenced the Pop art and New Realist painters of the 1960s and 1970s. He was particularly famous for two types of paintings: some of them are focused on the common features of American life, such as gas stations, motels, restaurants, theaters, railroads, and others are depicting seascapes and rural landscapes.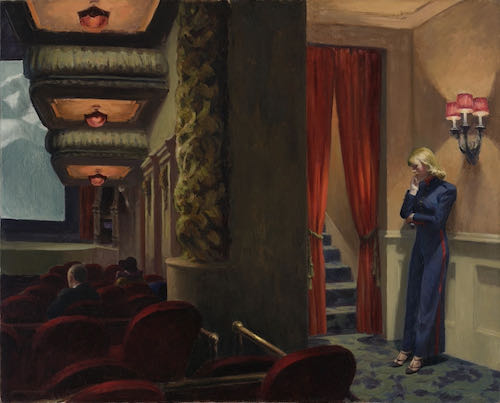 Edward Hopper, New York Movie, 1939
Edward Hopper is born July 22, 1882 in Nyack, N.Y., U.S. and passed away on May 15, 1967 in New York City. Hopper received initially and education as an illustrator, but, between 1901 and 1906, he studied painting having as his tutor Robert Henri, a member of a group of painters called the "Ashcan School". The artist travelled to Europe three times between 1906 and 1910, but he remained untouched by the experimental work then blossoming in France and continued throughout his career to follow his own artistic course.
Hopper devoted most of his time to advertising art and illustrative etchings until 1924, when he started working on watercolours, such as Model Reading (1925), as well as oil paintings. Like the painters of the Ashcan School, Hopper painted the commonplaces of urban life. But, unlike their loosely organized, very bright paintings, his House by the Railroad (1925) and Room in Brooklyn (1932) show anonymous figures and stern geometric forms with a compelling accurateness and atmosphere of loneliness and stillness.
This isolation of subjects in his paintings was heightened by Hopper's characteristic use of light to insulate persons and objects in space, whether in the harsh morning light as in Early Sunday Morning, 1930 or the eerie light of an all-night coffee stand as in Nighthawks, 1942.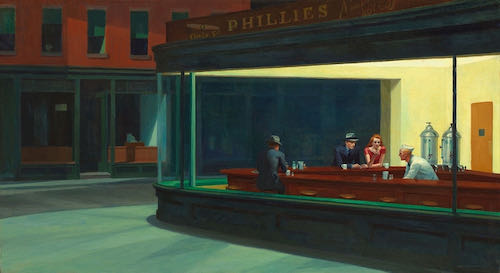 Edward Hopper, Nightwalks, 1942
Hopper was a big fan of movies and theaters. His unmistakably cinematic use of light seems to have influenced poster illustrators after "Psycho", including the designer of "Days of Heaven", depicting a different view on the same house as the one in Psycho, and Wim Wenders "Don't Come Knocking" showing a deserted Western street corner, very much like the streets in the paintings of Hopper.
The clear, almost cinematic, light of Hopper's paintings, the long shadows, and oftener-than-not, intriguing solitary figure helped the painter achieve his unique style of painting, the stillness and the sharp realistic depiction of figures and objects. His paintings are clearly influenced by the way people and objects appear on the cinematic screen. But not only that. In fact, Hopper was a real fan of theaters, where the light and sharpness of scenes and people also responded to his taste as an artist.
The earliest Hopper painting to feature one seems to be A Solitary Figure in a Theater (1903), while the painting Intermission (1963) was conceived while Hopper watched a movie. Jo Hopper, his wife, subsequently arranged for him to work on the painting in an empty theater. An original sketch includes "half another person" as Hopper named it, but in the end, the moviegoer is alone in the painting. However, another similar painting, the First Row Orchestra, 1951 involves five, possibly six, people, which is a real crowd for Hopper, who was in most cases depicting only one or two human figures in his works. The six persons in this painting are shown in the first two rows of an elegant live house. Curtain down (blue velvet) in either intermission or pre-performance and the primary figure, is a fur-coated woman reading her program.
Taking a great inspiration in theater, both being present and working or observing what is happening there, Hopper painted The Circle Theater, 1936, where the painting features the theater building from outside, this being maybe the only painting where the artist depicts not the inside but the outside part of the theater, as a form of a landscape. Another theater that he painted is The Sheridan Theatre, 1937, which depicts a solitary figure waiting in a large lobby.
Edward Hopper, The Sheridan Theatre, 1937
In a review of a show featuring this painting in the The New York Times, Hopper says: "When I don't feel in the mood for painting, I go to the movies for a week or more. I go on a regular movie binge... ". According to some of his friends, the Sheridan theater has been one of his favorite places. The theater was situated in NYC's West Village, not far from Washington Square where he and his wife, Josephine (Jo) Nivison, unfolded their lives together.
In another painting again inspired by the theater, Two on the Aisle shows a seemingly simple composition: three figures in an otherwise empty theater. It was Hopper's first major painting of a theater scene, a theme to which he subsequently returned frequently. Typically for him as a master of solitude, instead of capturing the action on the stage or bustle of a crowd, Hopper chooses to focus on the quiet moment before the performance. The painting is replete with details that invite the viewer into the narrative, as if Hopper had removed a single frame from a reel of film. Hopper's compositional structure places the viewer as an additional theater patron, succinctly noting his or her surroundings, and perhaps also quietly taking a seat.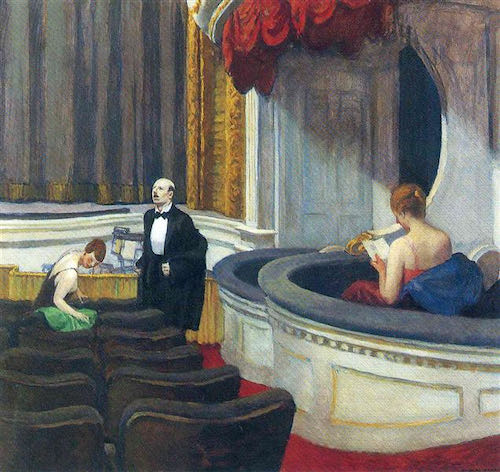 Edward Hopper, Two on the Aisle, 1927
The painting New York Movie, 1939 features the artist wife Jo Nivison Hopper, smoking a cigarette in the aisle. Jo was also a painter in her own way, didn't entirely get her recognition as an artist. Hopper depicted her in many various positions and scenes - in the lobby of the Sheridan Theatre, smoking a cigarette in an unnamed movie palace (probably an amalgam of several theaters), and sitting all by herself, her feet crossed discretely in Intermission.
Edward Hopper, Intermission, 1963
In First Row Orchestra, she extends a curved white leg, and seems to be flirting with the man who accompanies her. Jo was Hopper's everything: wife, model, procurer of empty movie houses to paint in, secretary, librarian, you name it. If you try to find her works on the Net, you'll be surprised at how many trails end up at Edward Hopper. In that, she is a little like Christopher Milne, the son of A.A. Milne, the model for "Christopher Robin," who fought all his life to be himself and not a fictional character. But Jo had it harder. She was a wife, not a son. She was a muse, and that's a very difficult role to play and remain human.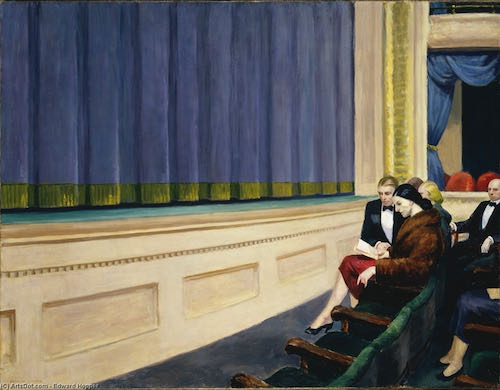 Edward Hopper, First Row Orchestra, 1951
Most of the female figures in Hopper's paintings are his wife as a model. Jo, who posed standing under a lamp in the hall of their apartment. Hopper drew his wife in various different poses for New York Movie and also precisely designed the auditorium decor, down to the pattern of the carpet. Again and again, he sketched the foyers, stairways, and auditoriums of his favorite movie houses, the Palace, Globe, Republic, and Strand.
The usherette is a 20th-century counterpart to the bored waitress in A Bar at the Folies-Bergère of Edouard Manet. Similar to Manet, Hopper was genius in making the illusory world of the theater so enticing, so glamorous, and so completely empty.
*Courtesy for the images to MOMA and WikiArt