Paul Klee, the creator of color theory…
ArtWizard, 04.11.2019
"Color is the place where our brain and the Universe meet."
Paul Klee
Paul Klee (1879 - 1940) was a German and Swiss painter. His very individual style is influenced by several art movements, that included cubism, expressionism and surrealism. Klee was very fond of color theory and experimented largely with it, and also had some publications about it. He developed a highly individual style and his lectures Writings on Form and Design Theory that have been published in English as the "Paul Klee Notebooks", have been compared as importance for modern art to those of Leonardo Da Vinci for the Renaissance art. He was a friend of the Russian painter Wassily Kandinsky and they both taught at the German Bauhaus school of art, design and architecture. His paintings contain some humour and reflect his passion for music.
Paul Klee was born as the second child of the German music teacher Hans Wilhelm Klee (1849-1940) and the Swiss singer Ida Marie Klee. His father came from Tann and studied at the Stuttgart Conservatory singing, piano, organ and violin, where he met his future wife Ida Frick. Until 1931 the father of Klee was active as a music teacher at the Bern State Seminary in Hofwil near Bern. Due to these circumstances, Paul Klee was able to develop his music skills through his parental home. Klee visited the primary school and received, at the age of seven, violin classes at the Municipal Music School. He was so talented on violin that when he was eleven years old, he received an invitation to play as an exceptional member of the Bern Music Association.
In his early years, following his parent's advice, he focused on becoming a musician, however later on Klee decided to be an artist, partly out of rebellion and partly because of a belief that modern music lacked meaning for him. He stated, "I didn't find the idea of going in for music creatively particularly attractive in view of the decline in the history of musical achievement." As a musician, he played and felt emotionally bound to traditional works of the eighteenth and nineteenth century, but as an artist he craved the freedom to explore radical ideas and styles. At sixteen, Klee's landscape drawings already show considerable skill.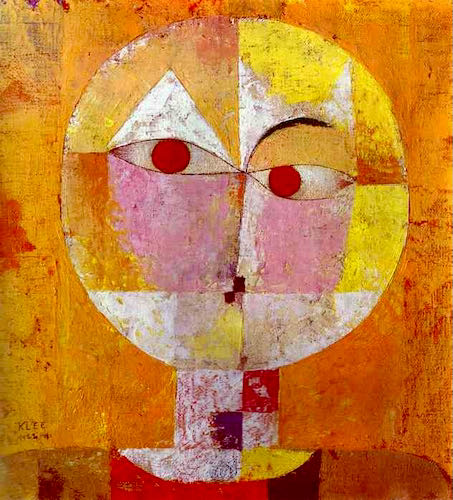 Paul Klee, Senecio, 1922

Around 1897, Klee started a diary, which he kept until 1918, and which has provided scholars with valuable insight into his life and thinking. With his characteristic dry wit, he wrote, "After all, it's rather difficult to achieve the exact minimum, and it involves risks." On his own time, in addition to his deep interests in music and art, Klee was a great reader of literature, and later a writer on art theory and aesthetics.
Klee married the Bavarian pianist Lily Stumpf in 1906 and they had one son named Felix Paul in the following year. They lived in a suburb of Munich, and while she gave piano lessons and occasional performances, he kept house and tended to his art work. His attempt to be a magazine illustrator failed. Klee's art work progressed slowly for the next five years, partly from having to divide his time with domestic matters, and partly as he tried to find a new approach to his art. In 1910, he had his first solo exhibition in Bern, which then has been showed in three galleries in Switzerland.
In January 1911 Alfred Kubin met Klee in Munich encouraging him to illustrate Voltaires Candide. Around this time, Klee's graphical work saw an increase, and his early inclination towards the absurd and the sarcastic was well received by Kubin. He did not only befriend Klee but he was also one of his first significant collectors. Klee met, through Kubin, the art critic Wilhelm Hausenstein in 1911, and was in the summer that year foundation member and manager of the Munich artists' union "Sema".
Later on, Klee made one of his most important acquaintances, as he met August Macke and Wassily Kandinsky, and in winter he joined the editorial team of the Almanach "Der Blaue Reiter", founded by Franz Marc and Kandinsky.
When he met Kandinsky, Paul Klee remembers: "I came to feel a deep trust in him. He is somebody, and has an exceptionally beautiful and lucid mind."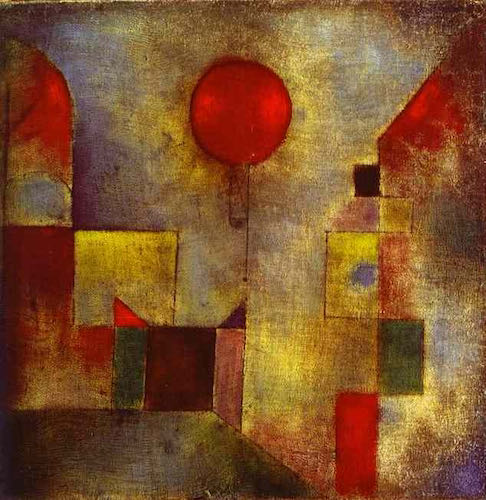 Paul Klee, Red-Balloon, 1922
The release of the Almanac was delayed for the benefit of an exhibition. The first "Blaue Reiter" exhibition took place from 18 December 1911 to 1 January 1912 in the Modern Galerie Heinrich Than Hauser in Munich. Klee did not attend it, but in the second exhibition, occurred from 12 February to 18 March 1912 in the Galerie Goltz and 17 of his graphical works were showed.
The name of this art exhibition was "Black & White", as it only regarded graphic painting. Initially planned to be released in 1911, the release date of the Der Blau Reiter Almanach by Kandinsky and Marc was delayed in May 1912, including the reproduced ink drawing Stein Hauer by Klee. At the same time, Kandinsky published his art history writing Uber das Geistige in der Kunst.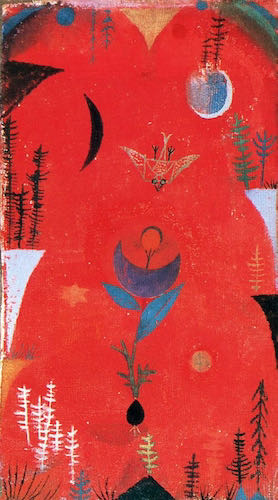 Paul Klee, Flower-Myth, 1918
When the World War I began, Klee was somewhat detached from it, as he wrote ironically, "I have long had this war in me. That is why, inwardly, it is none of my concern." Soon, however, it began to affect him. His friends Macke and Marc both died in battle. Venting his distress, he created several pen and ink lithographs on war themes including "Death for the Idea "(1915). He also continued with abstracts and semi-abstracts. In 1916, he joined the German war effort, but with behind the scenes manoeuvring by his father, Klee was spared serving at the front and ended up painting camouflage on airplanes and working as a clerk.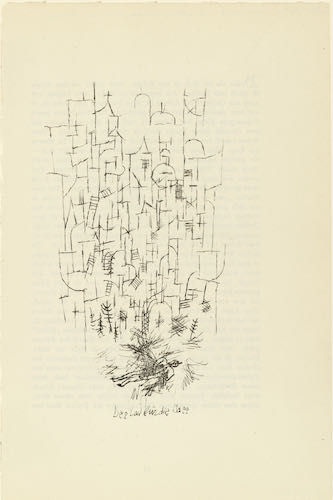 Paul Klee, Death for the Idea 1915
He continued to paint during the entire war and managed to exhibit in several shows. By 1917, Klee's work was selling well and art critics acclaimed him as the best of the new German artists. Paul Klee used a particularly noteworthy and sophisticated technique. The artist use water color on gauze and paper with a chalk ground, which produced a rich texture of triangular, circular, and crescent patterns. Demonstrating his range of exploration, mixing color and line, the painting "Warning of the Ships" (1918) is a colored drawing filled with symbolic images on a field of suppressed color.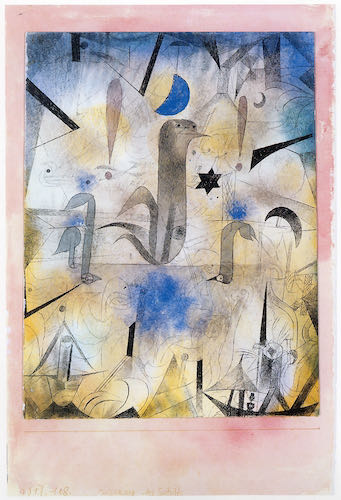 Warning of the Ships, Paul Klee, 1918


In 1919, Paul Klee had a major success in securing a three-year contract with the art dealer Hans Goltz, whose influential gallery gave Klee major exposure, and some commercial success. Back in Germany in 1937, when Nazis took control of the government, seventeen of Klee's pictures, along with other works of contemporary avant-garde artists, such as Marc Chagall, Max Ernst, Piet Mondrian, and Wassily Kandinsky, were included in an exhibition of "Degenerate art" and 102 of his works in public collections were seized by the Nazis.