Kenneth Noland, the Color Field Painter
ArtWizard 11.08.2021
"I think of painting without subject matter as music without words…"
Kenneth Noland
Kenneth Noland (April 10, 1924 – January 5, 2010) was an American painter, one of the most recognized abstract painters and one of the founders of the Washington Color School. Often named as a minimalist painter, Noland was finally described as a Color Field painter as his works are centered around the presentation of colors. His works have been clearly influenced by the Bauhaus, the neoplasticism and the theory of colors of Paul Klee. Some of these influenced Noland experienced during his studies at the Black Mountain College, an experimental art school where Noland took his studies. The father of Noland was an amateur artist and introduced him to art and painting. At the Black Mountain College the remarkable faculty of artists exposed him to a broad array of artistic methods and modes; through Ilya Bolotowsky, Noland was introduced to geometric abstraction and Neo-Placticism, and through Josef Albers he discovered the work of Paul Klee.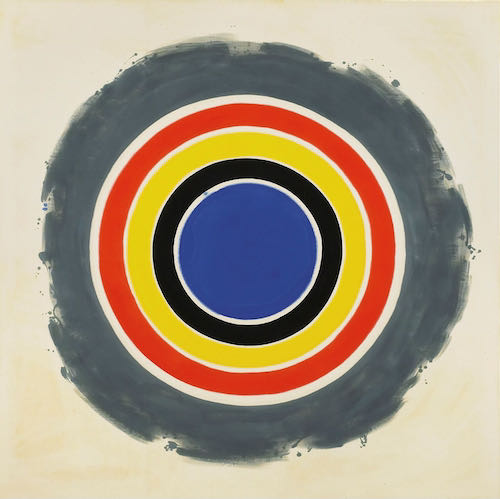 Kenneth Noland, That, 1958-1959
In 1948, Noland traveled to Paris, France, to study with the sculptor Ossip Zadkine - though Zadkine's strict adherence to Cubism would ultimately alienate Noland. In reaction, Noland began focusing on color and form, influenced by his previous teachings from Albers. Upon his return to the US, he supported himself in the late 1940s and 1950s by teaching at various institutions in the Washington, DC area, and through his involvement in the arts scene of the city he met and befriended like-minded artists such as Morris Louis and David Smith. In 1953 Noland and Louis visited the New York studio of Helen Frankenthaler, escorted by Clement Greenberg. The day had a profound impact on the artist; Frankenthaler's method of applying thin layers of pigment to raw, unprimed canvas would inspire Noland (and Louis) to later adopt this color-staining technique. This had in fact created the foundations of the Color Field art movement, and the two artists have been recognized as the first founders of the Washington Color School.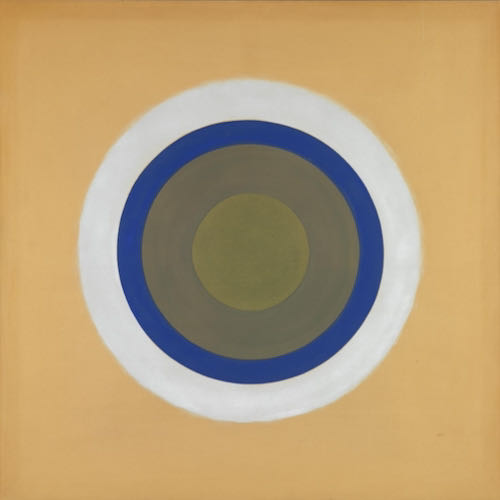 Kenneth Noland, Gift, 1961-2
The experience with these various techniques and artists soon encouraged Noland to exhibit his first canvases that later made him famous, composed of concentric circles of various colors. His preoccupation with the relationship of the image to the containing edge of the picture led him to a series of studies of concentric rings or bullseyes, commonly referred to as targets, which, like the one reproduced here called Beginning from 1958, used unlikely color combinations.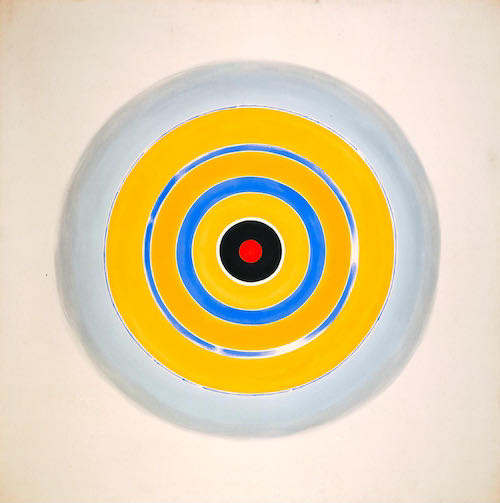 Kenneth Noland, Draught, 1962
In the early 1960s, feeling that the Circle painting motif had been exhausted, he began expanding his formal composition to include abstracted chevrons.
In the same year, Noland participated at the Venice Biennale, where he showed both his Circle and Chevron paintings alongside work by Louis, Jasper Johns and Robert Rauschenberg. In 1977, he was honored by a major retrospective at the Guggenheim Museum in New York In 2006, Noland's Stripe Paintings were exhibited at the Tate Gallery in London.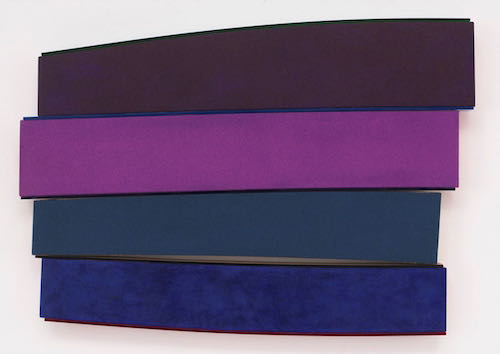 Kenneth Noland, Flares- A Secret, 1990
A selection of his works, alongside those by Louis, Frankenthaler, Ellsworth Kelly, Frank Stella, and others, were included by Greenberg in the seminal group exhibition Post-Painterly Abstraction at the Los Angeles County Museum of Art.