Female Impressionism by Berthe Morisot
ArtWizard 04.05.2020
"Real painters understand with a brush in their hand."
Berthe Morisot was born to the father Edmé Tiburce Morisot and the mather Marie-Josephine-Cornélie Thomas in Bourges, France, in 1841. The family was wealthy as her father worked as a senior administrator for the local government and her had as her ancestor the Rococo painter Jean – Honore Fragonard. Her family moved to Paris in 1852, where Morisot lived for the rest of her life.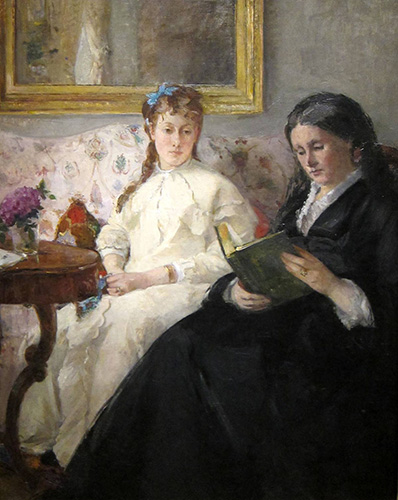 Berthe Morisot, The Mother and Sister of the Artist, 1870
Berthe and her sisters received an artistic education, as coming from a bourgeoise family. The painter Joseph Guichard, being one of their private tutors, took them to the Louvre, where he taught them to learn painting by copying the paintings on the walls. Guichard notably warned the girls' parents that continuing their artistic education could be problematic, as they appeared to be very talented and that was revolutionary at the time for women coming from the haute bourgeoisie milieu. However, Edma and Berthe continued to be taught even after this warning. After a while, Edma married a naval officer and moved away to have children, meaning she gave up her serious artistic pursuits. But, she did continue to encourage Berthe (with whom she was very close) to continue working.
Berthe Morisot, The Artist's sister at aa Window, 1869
In 1868, Morisot met the effective leader of avant-garde painting in Paris, Edouard Manet, who was delighted by the talent and the beauty of the Morisot sisters. Manet and Morisot immediately became quite close, and began to provide feedback on each other's work. Professionally however, Morisot was upset when Manet made his own additions to one of her Salon paintings submitted, more nonchalantly than Morisot desired, suggesting that Manet didn't consider their collaboration as wholly reciprocal. Nonetheless, Manet evidently respected Morisot's opinion and work as an artist. Even more so that Morisot prompted Manet to take up en plein air painting, which was a significant move in his artistic practice. Manet painted Morisot more than twelve times, making her his most frequent painting subject. He completed a particularly famous portrait of Morisot in 1872, where he depicted her wearing a black dress, with a confident, intelligent gaze. According to critic Sue Roe, Manet's 1868 work The Balcony depicts Morisot and "focused on her air of compelling beauty, her mystery and the complex inner struggle reflected in her face." It has been suggested that the pair were romantically involved, but couldn't pursue a relationship as Manet was already married by the time they met. However, Manet was quite the playboy of his time, regularly attending brothels and reportedly keeping company with many women outside of his marriage. Whether the two had a passionate affair, or Morisot was the exception to Manet's supposed habits, is unknown. Through the letters left by Morisot it can be seen that she cared deeply for the charismatic Manet.
Berthe Morisot, Summer's Day, 1879
Being a female artist, Morisot's paintings were often labeled as being full of "feminine charm" by male critics, for their elegance and lightness. In 1890, Morisot wrote in a notebook about her struggles to be taken seriously as an artist: "I don't think there has ever been a man who treated a woman as an equal and that's all I would have asked for, for I know I'm worth as much as they." Her light brushstrokes often led to critics using the verb "effleurer" (to touch lightly, brush against) to describe her technique. In her early life, Morisot painted in the open air as other Impressionists to look for truths in observation
Berthe Morisot, Hanging the laundry out to dry, 1875
In 1872, Morisot sold 22 paintings to the private dealer Durand-Ruel, marking the start of her career as an established artist. Through her connection with Manet, Morisot was drawn into his circle of painters who were later known as the Impressionists. Manet himself refused to leave his more traditional art career and encouraged Morisot not to join the avant garde group of the Impressionists. However, Morisot didn't take his advice and her work was included in the first ever exhibition of Impressionist painting in 1874, and thus establishing her as a prominent and important for this movement artist.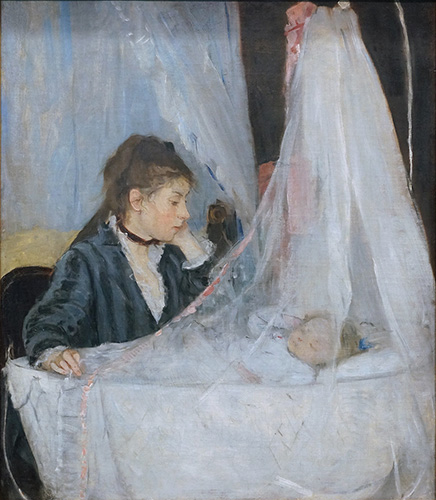 Berthe Morisot, The Cradle,1872
During her career, however, based on her gender, Morisot was barred due to her gender from accessing the full range of subject matter otherwise available to her male Impressionist colleagues, particularly the seedier aspects of urban life - cabarets, cafés, bars, and brothels. However, her paintings reveal her access to virtually all aspects of feminine life in the late-19th century, even private, intimate ones that were generally closed to her male counterparts. The painter made canvases that depicted a wide variety of subjects including landscapes, street and urban scenes, nudes, still life's, and portraits. Like her male colleagues, she too developed favorite models, including her own daughter, Julie, and participated in the artistic exchanges of the period due to her connections within the Impressionist circle and beyond, remaining an innovator in painting up until her death.
Berthe Morisot, Woman at Her Toilette, 1875-1880
Berthe Morisot had the good fortune to not only marry into an artistic family, but also to be wholeheartedly supported by her husband, Eugène Manet (Édouard Manet's younger brother), who sacrificed his own ambition in order to manage her artistic career. She exhibited a keen appreciation of public taste and as a result her works sold well during her lifetime and afterwards. Her talents and skill won her the public respect of her male colleagues as their equal, making this an achievement that was very uncommon for the times.
Berthe Morisot, Eugene Manet on the Isle Wight, 1875