Barbara Kruger, the feminist contemporary artist of the 20th century
ArtWizard 16.03.2020
"Women's art, political art - those categorisations perpetuate a certain kind of marginality which I'm resistant to. But I absolutely define myself as a feminist."
Barbara Kruger
Barbara Kruger is an American conceptual artist influenced by the feminist movement of her time. Most of her work consists of black-and-white photographs, overlaid with a declarative caption. The phrases in her works often include pronouns such as "you", "your", "I", "we", and "they", addressing cultural constructions of power, identity, and sexuality. Kruger lives and works in New York and Los Angeles and is a Professor at the UCLA School of the Arts and Architecture.
The artist is born in 1945, in Newark, New Jersey. She spent a year at Syracuse University in 1964 and a semester at Parsons School of Design in New York in 1965, where she studied with Diane Arbus and the graphic designer Marvin Israel. In 1966 she worked in the design department at Mademoiselle magazine as head designer. For the next decade, Kruger supported herself in doing graphic design for magazines, book jacket designs, and freelance picture editing. In the late 1960s, she developed an interest in poetry, attending readings and writing.
Kruger's earliest artworks date to 1969. Large woven wall hangings of yarn, beads, sequins, feathers, and ribbons, they exemplify the feminist recuperation of craft during this period. Among her most famous pieces are "I shop, therefore I am" 1987 and "Your body is a battleground" 1985. Informed by feminism, Kruger's work critiques consumerism and desire and has appeared on billboards, posters and in public parks, train station platforms, and other public spaces.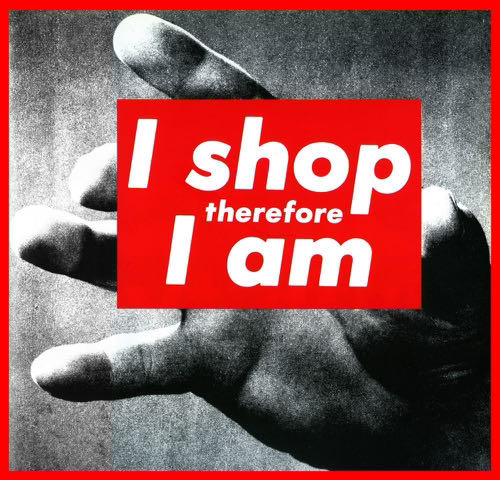 Barbara Kruger, Untitled (I shop therefore I am), 1987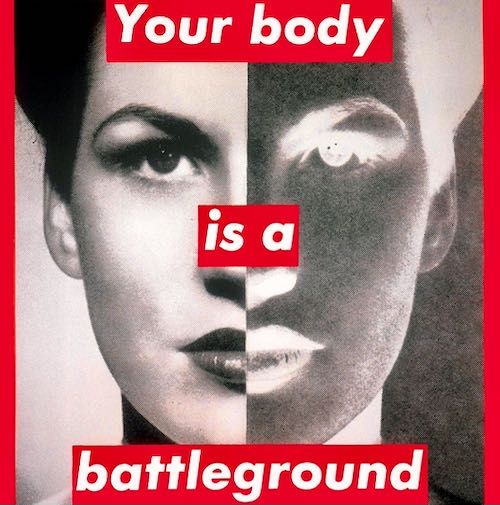 Barbara Kruger, Untitled (Your body is a battleground), 1989
The artist also worked on specific installations comprised of video, film, audio, and projection. Despite her inclusion in the Whitney Biennial in 1973 and solo exhibitions in 1974 and 1975 at Artists Space and Fischbach Gallery in New York, she was dissatisfied with her present as an artist and its detachment from her growing social and political concerns. In the fall of 1976, Kruger abandoned art-making and moved to Berkeley, California, where she taught at the University of California for four years and steeped herself in the writings of Walter Benjamin and Roland Barthes.
Later on, the artist developed an interest in photography and in 1977 she produced several series of black-and-white details of architectural exteriors paired with her own textual expressions of feminism.
By the year 1979, Kruger stopped taking photographs and began to employ found images in her art, mostly from mid-century American print-media sources, with words used as collage and placed over the images. Some examples of such collages are the "Untitled (Perfect)" 1980, depicting portrays the torso of a woman, hands clasped in prayer, evoking the Virgin Mary, and symbolizing the embodiment of submissive femininity. These early collages, in which Kruger deployed techniques she had perfected as a graphic designer, inaugurated the artist's ongoing political, social, and especially feminist provocations and commentaries on religion, sexuality, racial and gender stereotypes, consumer society, and culture.
During the early 1980s, Kruger perfected a signature propaganda style, as she used cropped, large-scale, black-and-white photographic images with red text bars. The inclusion of personal pronouns in works like "Untitled (Your Gaze Hits the Side of My Face)" 1981 implicates viewers by confounding any clear notion of who is speaking. These rigorously composed mature works function successfully on any scale. Their wide distribution (under the artist's supervision), in the form of umbrellas, tote bags, postcards, mugs, T-shirts, posters, and so on, confuses the boundaries between art and commerce and calls attention to the role of advertising in public debate.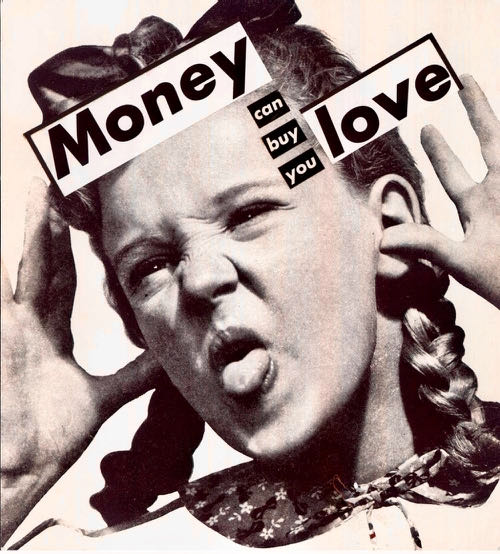 Barbara Kruger, Untitled (Money can buy you love), 1985
In 1990, Barbara Kruger scandalised the Japanese American community of Los Angeles, with her proposal to paint a part of the US National Flag, accompanied by some provocative questions.
After this project, she extended her aesthetic pursuits in art, by the creation of public installations of her work in galleries, museums, municipal buildings, train stations, and parks, as well as on buses and billboards around the world. Walls, floors, and ceilings she covered with images and texts, provoking the viewer. Since the late 1990s, Kruger has incorporated sculpture into her ongoing critique of modern American culture.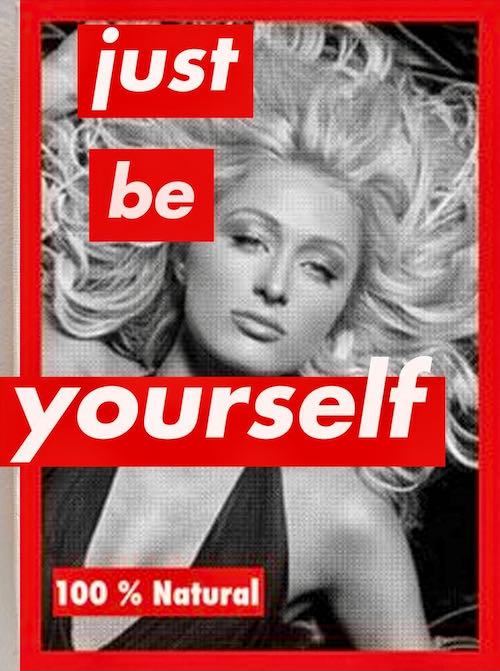 Barbara Kruger, Untitled (Just be yourself), 1999-2000
The sculpture "Justice", 1997, in white-painted fiberglass, depicts J. Edgar Hoover and Roy Cohn (two right-wing public figures who were believed to be homosexuals) kissing one another.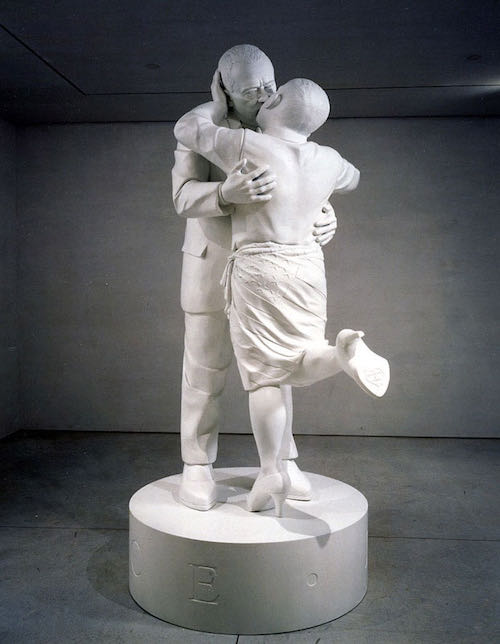 Barbara Kruger, Justice, 1997
In 1994, Kruger's "L'empathie peut changer le monde" (Empathy can change the world) was installed on a train station platform in Strasbourg, France. One year later, with architects Henry Smith-Miller and Laurie Hawkinson and landscape architect Nicholas Quennell, she designed the 60 m long sculptural letters "Picture This" for a stage and outdoor amphitheater at the North Carolina Museum of Art.
On another project for a site-specific piece she produced at the Parrish Art Museum in 1998, Kruger placed across the upper range of the museum's Romanesque facade stark red letters that read, "You belong here".
One of her most interesting installations Kruger made as part of the Venice Biennale in 2005. She installed a digitally printed vinyl mural across the entire facade of the Italian pavilion, thereby dividing it into three parts: green at the left, red at the right, white in between. In English and Italian, the words "money" and "power" climbed the portico's columns; the left wall said: "Pretend things are going as planned," and "God is on my side; he told me so" was on the right.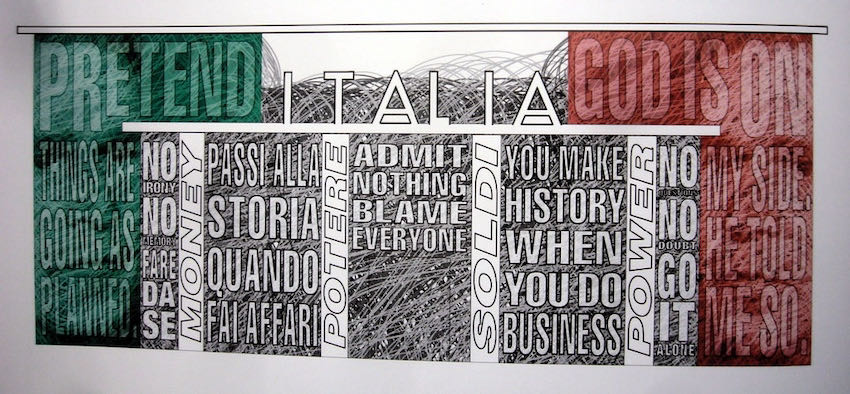 Barbara Kruger, Drawing for Untitled (Facade), Venice Biennale, 2005
In more recent years Kruger also used films to make her artistic statement. Her video "Plenty" 2008, used advertisements to remark on consumerism, and ran on a continuous loop on billboards on the Sunset Strip, that has been part of the Los Angeles County Museum of Art's viral public art exhibition "Women in the City" 2008.
One of the recent emblematic installations of the artist was made in 2012, named "Belief+Doubt". It covered 6,700 square feet (620 m²) of surface area, printed onto wallpaper-like sheets in the artist's signature colors of red, black and white. The installation was exhibited at the Hirshhorn Museum and Sculpture Garden in Washington.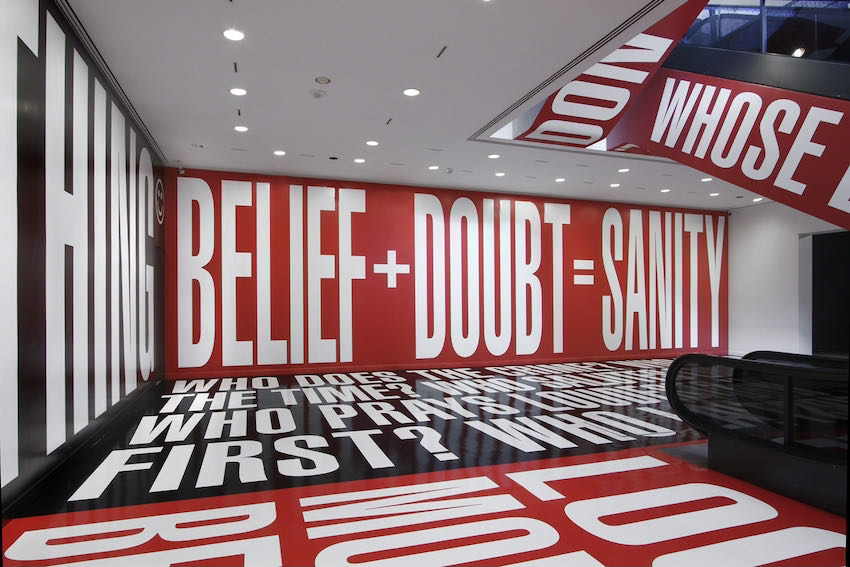 Barbara Kruger, Belief+Doubt, 2012