American Impressionists painters – Cecilia Beaux
ArtWizard 18.05.2020
"The artist grips his idea and will not let it go until it has blessed him, as the angel blessed Jacob."
Cecilia Beaux, was one of the most successful Impressionist portrait painters in America. Her ambition and dedication to her art, saw her reject all domestic duty of marriage and motherhood, to instead becoming one of America's most esteemed women Impressionists. The artist was born on May 1st, 1855, in Philadelphia and is considered one of the finest portrait painters of the late 19th and early 20th centuries.
Cecilia Beaux, Mrs. Theodore Roosevelt and daughter Ethel, 1902
Beaux was left by her widowed father to be reared by relatives in New York and later West Philadelphia. She was educated at home and for two years at a Philadelphia finishing school. At 16 she took up the study of art. Under the tutelage of her cousin, Catherine Drinker Janvier, an artist and writer of some note, and later of Adolf Van der Whelen and William Sartain, she rapidly developed into a skilled painter. In 1883 she opened a studio in Philadelphia.
Her first major work, a full-length portrait of her sister and nephew entitled Last Days of Infancy, was exhibited in 1885 at the Pennsylvania Academy of Fine Arts and in 1886 at the Paris Salon. During the years 1888–89, the artist was traveling and mastering her art in Europe, most of the time spending in Paris and taking instruction at the Académie Julian in Paris and from several leading artists, including William – Adolphe Bouguereau and Tony Robert Fleury. Looking closely at her Paris period, what experts know is that the artist traveled to Paris accompanied by her cousin May Whitlock, ignoring the wishes of her family to marry and settle as a housewife.
Cecilia Beaux, Last Days of Infancy, 1885
Remembering this time of her life she wrote: "Fleury is much less benign than Bouguereau and don't temper his severities…he hinted of possibilities before me and as he rose said the nicest thing of all, 'we will do all we can to help you'…I want these men…to know me and recognize that I can do something" Though advised regularly of Beaux's progress abroad and to "not be worried about any indiscretions of ours", her aunt Eliza repeatedly reminded her niece to avoid the temptations of Paris: "Remember, you are first of all a Christian, then a woman and last of all an Artist."
When Beaux arrived in Paris, the Impressionists begun their own series of independent exhibitions from the official Salon in 1874, were beginning to lose their solidarity. Also known as the "Independents" or "Intransigents", the group which had as members Degas, Monet, Sisley, Pissarro, Renoir, Mary Cassatt et Berthe Morisot has been criticised for several years, as their art has been quite different quite the opposite as style and technique compared to the classical art taught by the French Academy.
In the summer of 1888, with classes in summer recess, Beaux worked in the fishing village of Concarneau with the American painters Alexander Harrison and Charles Lazar. She tried applying the plein-air painting techniques used by the Impressionists to her own landscapes and portraiture, with little success. Unlike another female artist Mary Cassatt, accepted to a great extent the Impressionists techniques, Beaux had an artistic view too precise and true to observation to become completely absorbed by the Impressionists movement and thus she remained rather a realist painter. Beaux mostly admired the classic artists Titian and Rembrandt. Her European training did influence her palette, however, and she adopted more white and paler coloration in her oil painting, particularly in depicting female subjects, an approach favoured by Sargent as well.
Cecilia Beaux, Man with the Cat (Henry Sturgis Drinker), 1898
After returning to her Philadelphia studio, the artist earned a reputation as one of the city's best portrait painters and achieved considerable success over the next several years. In 1894 she was elected an associate of the National Academy of Design (she would be elevated to full academician in 1902).
In 1895 she became the first woman instructor at the Pennsylvania Academy of the Fine Arts, and in 1896 she exhibited six portraits at the Paris Salon — Matthew B. Grier, A Lady from Connecticut, Sita and Sarita, Cynthia Sherwood, The Dreamer and Ernesta Drinker. On the strength of her showing at the Salon, she was elected to membership in the Société Nationale des Beaux-Arts that same year.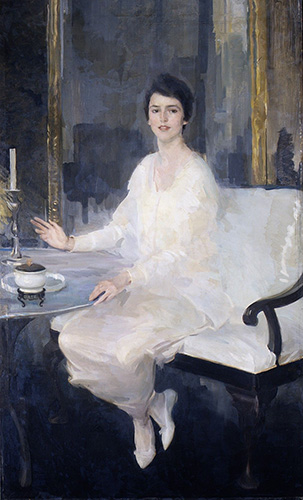 Cecilia Beaux, Ernesta, 1914
By 1898, when she completed her work Dorothea and Francesca, a compositionally complex double portrait, Beaux had proved herself the rival of John Sargent in the art of fashionable portraiture. The artist was influenced by the French Impressionists, but her work was not imitative of any master. After moving to New York in 1900, she received a series of important commissions, including portraits of the wife of the president of the United States Mr. Theodore Roosevelt, Edith and her daughter Ethel, Richard Watson Gilder, and, for the National Art Committee's project on World War I Leaders, Admiral Lord David Beatty, Georges Clèmenceau and Cardinal Mercier. Following an injury in 1924, the artist was painting less and in 1930 she published an autobiography entitled Background with Figures. Beaux was elected to membership in the American Academy of Arts and Letters in 1933, and two years later the academy presented a retrospective exhibit of some 65 of her canvases.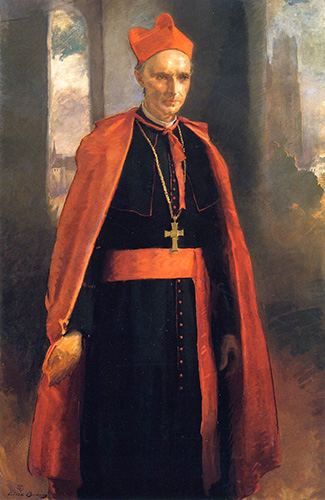 Cecilia Beaux, Cardinal Mercier, 1919
Cecilia Beaux, Admiral Sir David Beatty (also known as Lord Beatty), 1920
Cecilia Beau passed away at the age of 87 on September 17, 1942, in Gloucester Massachusetts. The artist was included in the 2018 exhibit Women in Paris 1850 – 1900 at the Clark Art Institute. Though Beaux was an individualist, comparisons to Sargent would prove inevitable, and often favourable. Her strong technique, her perceptive reading of her subjects, and her ability to flatter without falsifying, were traits similar to his.
Cecilia Beaux, Reverend Matthew Blackburne Grier, 1892
Although the artist was in a way overshadowed by Mary Cassatt and relatively unknown to museum-goers today, Beaux's craftsmanship and extraordinary output were highly regarded in her time. While presenting the Carnegie Institute's Gold Medal to Beaux in 1899, William Meritt Chase says: "Miss Beaux is not only the greatest living woman painter, but the best that has ever lived. Miss Beaux has done away entirely with sex [gender] in art."
Cecilia Beaux, Dorothea and Francesca, 1898