A strong sales week makes records at Sotheby's
ArtWizard 17.05.2021
An "epic" week of auctions bringing together a stellar of artists is reported by Sotheby's this past week.
On 12th of May, Sotheby closed one of the most successful week of auction sales of memorable artists such as Monet, Basquiat, Picasso and Cézanne. As the art world is slowly opening after the pandemic, the Sotheby's evening sales in three consecutive evenings brought together a total of $596.8 million from Modern and Contemporary Art.
The live-stream event featured in-room bidders in New York, telephone bidders in London, Hong Kong and New York, and online bidders from around the world, who all focused on stunning artworks by Monet, Picasso, Warhol and Basquiat, and many other exceptional artists of the 20th and 21st centuries.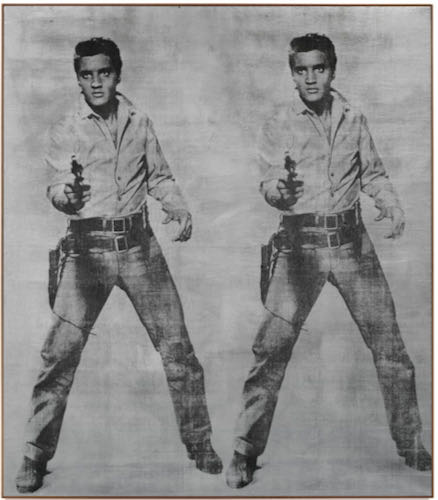 Andy Warhol, Elvis 2 Times, 1963
The sales were dominated by the display of several luminous works pertaining to different private collections, setting a somewhat record sales prices. One such remarkable collection was the Collection of Mrs. John L. Marion, an American philanthropist and arts patron.
Amounting to $157.2 million, the sale featured works representing the height of achievement in the American Abstract Expressionist and Pop art movements. Among the highlights reported by Sotheby's, was Richard Diebenkorn's luminous Ocean Park #40, 1971, which sold for $27,265,500 – setting a new auction record for the artist. Kenneth Noland, whose 1958 painting Rocker sold for $4,255,000 also reached a record in sales. The sale of Ms. Marion contained also work by Andy Warhol larger-than-life Elvis 2 Times, 1963, which sold for $37,032,000 and PH-125 (1948-No.1), 1948 by Clyfford Still, which achieved $30,712,500.
Jeff Koons, Quad Elvis, 1955
Demand for Contemporary luminaries continued in another evening auction featuring Contemporary Art, dominated by Jean-Michel Basquiat and Cy Twombly, bringing a total of $218.3 million. Top lots from the evening included Basquiat's Versus Medici, 1982, which achieved $50,820,000 and Twombly's Untitled (Rome), 1970, which sold for $41,628,000, reports Sotheby's. The sales contained also a work of Banksy, that achieved a price of $12,903,000 in less than 14 minutes. The artist's work Love is in the Air from 2004. The auction was not without the presence of Jeff Koons also and set a record of the artist for his this time painting and not sculpture, named Quad Elvis that sold for $9.5 million.
Claude Monet, Le Bassin aux nymphéas, 1917-1919
Talking about earlier periods, the week show was stolen by Claude Monet and one of his Waterlilies, that took part in the Impressionist & Modern Art Evening Sale, bringing a total of $221.3 million. Le Bassin aux nymphéas, an exquisite example of Monet's most iconic series, amounted to $70,353,000 as a sale price as a result of a heated bidding battle lasting nearly five minutes between five different bidders.
Pablo Picasso, Femme assise en costume vert, 1953
The result makes the painting among the top five most expensive works by the artist sold at auction. The same evening was featuring other stars in collections, such as the Pablo Picasso's striking portrait of Françoise Gilot, entitled Femme assise en costume vert ($20,946,000); Paul Cézanne's poignant Nature morte: pommes et poires ($19,969,350); and a painting from Amedeo Modigliani's mature period, Jeune fille assise, les cheveux dénoués (Jeune fille en bleu) ($16,350,000).
Paul Cezanne, Nature morte - pommes et poires, 1888-90
Amedeo Modigliani, Jeune fille assise, les cheveux dénoués (Jeune fille en bleu), 1919
The whole Sotheby's experience came to show a new and awakening spring movement of the art market, combining physical presence with online participation and bringing amazing results.
*Courtesy for the images to Sotheby's