The Most Expensive and Influential Women Artists
ArtWizard 13.01.2020
Behind every male artist, there stands a woman denied her fair share of acclaim. Afterthoughts in the histories of the artistic movements they helped to create, prevented from moving freely in the illustrious social circles and institutions open to their male counterparts, and often only finding the financial success they deserve posthumously, these are the incredible women artists both living and dead who have today carved out their places at the most prestigious and expensive auction houses in the world.
Georgia O'Keeffe (1887-1986)
Known as the 'Mother of American Modernism, Georgia O'Keeffe is one of the most eminent representatives of this list. Her painting Jimson Weed/White Flower no. 1, completed in 1932 sold at a Sotheby's New York auction in 2014 for an eye-watering USD 44.4 million. O'Keeffe was particularly well known for her paintings of enlarged flowers, influenced by the evolving form and style of American Modernist photographers, but also dedicated much of her attention to capturing the unique beauty of the northern New Mexico landscape – a favorite travel destination and eventual adopted home. Deeply in tune with the natural world, O'Keeffe's works utilized a musical, emotional and hyper-sensitive approach to the way in which color and form play with and against one another.
Georgia O'Keeffe, Jimson Weed/White Flower No. 1, 1932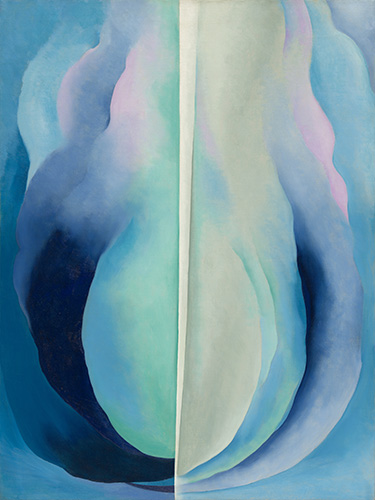 Georgia O'Keeffe, Abstraction Blue, 1927
Louise Bourgeois (1911-2010)
Though the 'feminine' may have been the subject of much of French sculptor Louise Bourgeois's work, producing a variety of sexually-explicit sculptures depicting the female form throughout her career, she consistently resisted the idea that she was a feminist artist. Nevertheless, during the 1970s, Bourgeois became involved with a group of feminist activists named the Fight Censorship Group, challenging restrictive censorship of sexually explicit imagery. Her later work, which she continued to produce right up to her death in 2010 at the age of 98, championed the rights of the LGBTQ community. Bourgeois's most famous works — and the ones that put her on this list— are her giant spider sculptures (named Maman), first cast in 1997 and replicated in various editions and a variety of materials in subsequent years, the smallest adorning a silver brooch and the largest standing at 30ft. Bourgeois claimed her fixation with arachnids represented her relationship with her mother. A bronze version sold at Christie's for USD28.2 million in 2015.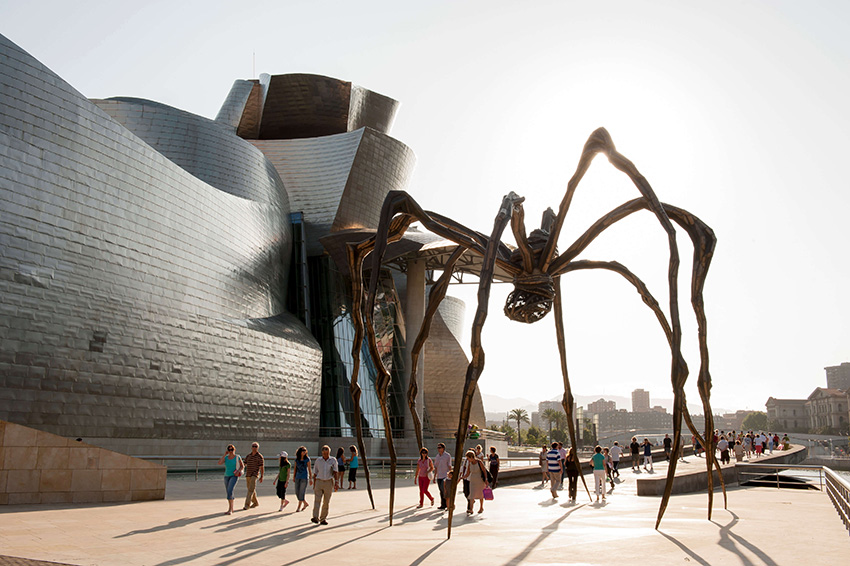 Louise Bourgeois, Maman, 1999
Joan Mitchell (1925-1992)
Chicago-born artist Joan Mitchell tops the list in terms of the overall value of her body of work, her paintings having acquired a cool USD286 million between 2005 and 2015. She also had over 3000 pieces of work sold— over 2,500 more pieces than Cindy Sherman – the next highest-ranking woman artist in volume. Born in 1925, Mitchell was a leading figure in the second generation of American Abstract Expressionists, and one of only a handful of women active in the interdisciplinary New York School in the 1950s. Particularly influenced by the style and sensibility of Van Gaugh in her early years, Mitchell's paintings were characterized by energetic brushstrokes, vivid use of color, and a highly emotional, expressive approach to her art. Her 1960 painting Untitled sold for almost USD12 million in 2014.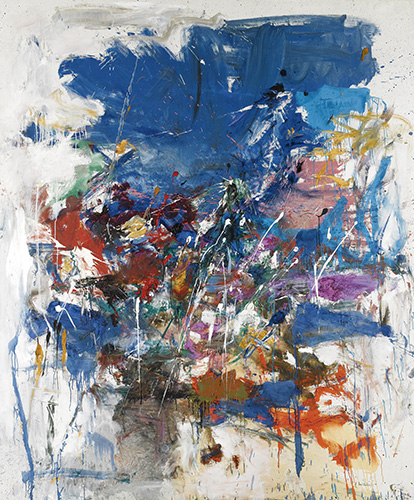 Joan Mitchell, Untitled, 1960
Joan Mitchell, Before, Again III, 1980
Berthe Morisot (1841-1895)
Berthe Morisot was a French Impressionist painter and, along with her sister Edma, a highly-respected talent amongst the Parisian art circles, despite the fact that their gender precluded them from joining official art institutions. One-third of art critic Gustave Geffroy's 'Les Trois grandes dames,' she made her first public exhibition at the highly-esteemed Salon de Paris. During her lifetime, Morisot outsold several huge names from the Impressionist movement, including Monet and Renoir, and exhibited with the Impressionists every year but one from 1874 onward. Her paintings depicted subjects from domestic life in upper-class French society as well as still lifes and rural landscapes. Après le déjeuner, painted in 1881 and sold for USD11 million in 2013, is her highest value work.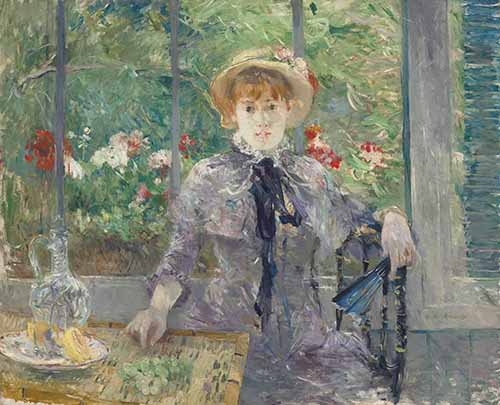 Berthe Morisot, Après le déjeuner, 1881
Berthe Morisot, Dans la véranda, 1884
Natalia Sergeevna Goncharova (1881-1962)
Russian avant-garde artist Natalia Sergeevna Goncharova was a true all-rounder. Artist, painter, costume designer, writer, illustrator, and set designer, Goncharova was a founding member of the Jack of Diamonds school of artists formed in Moscow in 1910. One of the early Russian avant-garde's scene's largest and most influential groups, Jack of Diamonds was formed to challenge the perceived cliquishness of the Russian art scene following the expulsion of several artists from the Moscow School of Painting, Sculpture, and Architecture for emulating the contemporary Western style. Demonstrating a fascination with ethnic Russian Primitivism and folk art during her early career — which perfectly blended with her anti-urban, rural sensibility — Goncharova was to later become a pioneer of the innovative Russian futuristic movement. In 2007, Goncarova briefly became the most expensive woman artist in the world, after her 1909 painting Picking Apples sold for a record-breaking USD9.8 million dollars, with Les fleurs selling for $10.8 million in 2008.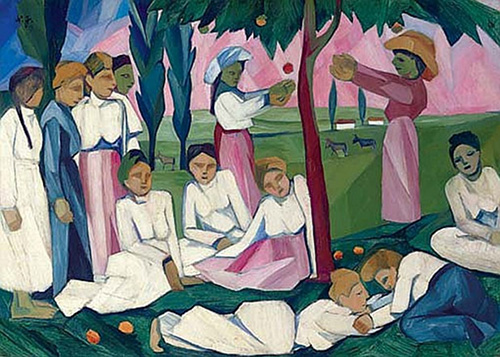 Natalia Goncharova, Picking Apples, 1909
Agnes Martin (1912-2004)
Canadian-American artist Agnes Martin was a prominent figure and one of the few women in the male-dominated abstraction movement. Like Georgia O'Keeffe, Martin settled permanently in New Mexico, with her work taking clear inspiration from the state's environment — through her resultant work is wildly different from the vivid, colorful paintings of the former, choosing instead to channel her inspiration into subtle, delicate and subdued color washes. Having worked exclusively in brown, black, and white prior to her move to New Mexico, there can be no doubt about the part played by the unique and mystical desert landscape upon her body of work. Martin is known for her square paintings filled with pale grids and repeated lines, with her painting Orange Grove selling for USD10.7 million earlier this year.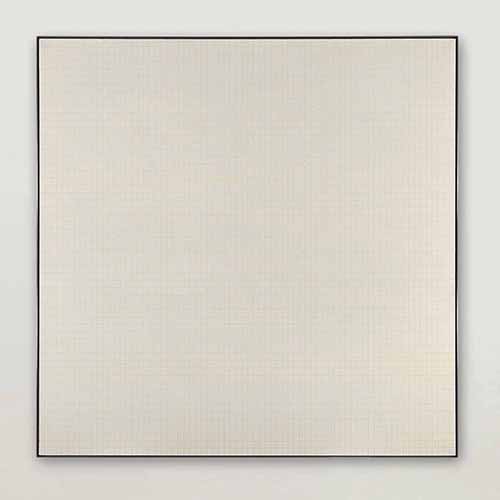 Agnes Martin, Orange Grove, 1965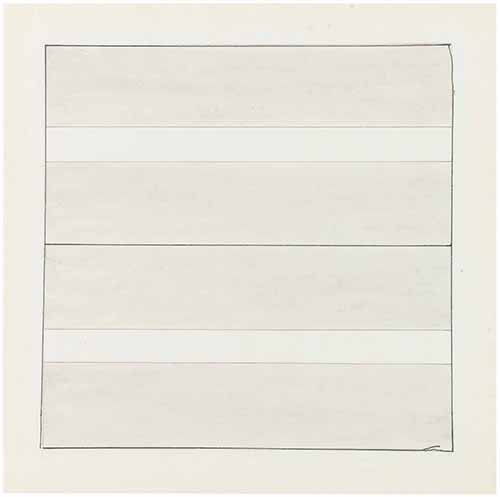 Agnes Martin, Untitled, 1993
Cady Noland (b. 1956)
'The American Nightmare' is the self-professed subject of American postmodern sculptor Cady Noland. Noland uses her medium to launch scathing attacks on contemporary US culture — whether its celebrity obsession, glamour, or the fixation with violence — commenting on what she perceives as the fragmented social identity of America today. Noland's 1989 sculpture Bluewald, which explores the assassination of John F. Kennedy and the subsequent killing of his assassin, Lee Harvey Oswald, sold in 2015 for USD 8 million, earning her a spot as the only living artist on this list. It consists of an image of Oswald in his dying moments blown up and printed on aluminum, riddled with enlarged bullet holes and with a cotton American flag stuffed into his mouth.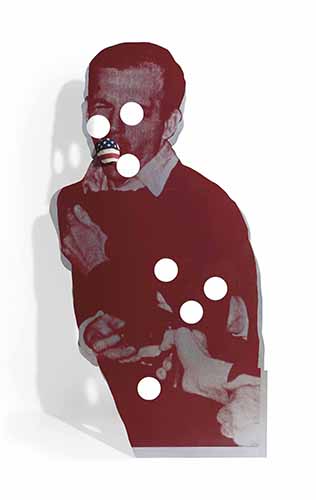 Cady Noland, Bluewald, 1989
Cady Noland, Four in One Sculpture, 1998
Tamara de Lempicka (1898-1980)
Polish Art Deco painter Tamara de Lempicka is often touted as 'the first woman artist to be a glamour star.' Glamour certainly played a prominent role in much of her paintings, with the artist often painting socialites and royals throughout Europe and Northern America, becoming a favorite artist in Hollywood. A refugee from World War I, Lempicka developed a sensual approach to soft Cubism while struggling to make a living in Paris. Lempicka fully embraced the spirit of the 1920s, adopting a bohemian lifestyle, mixing with artists such as Pablo Picasso, and dismissing social mores in order to unashamedly embrace her bisexuality. Lempicka's Le rêve (Rafaëla sur fond vert) sold for USD 8.4 million in 2011, with the painter counting some of today's most famous names among her loyal collectors, including Madonna, Jack Nicholson, and Barbara Streisand.
Tamara de Lempicka, Le Rêve (Rafaëla Sur Fond Vert), 1927
Tamara de Lempicka, Idylle (Le Départ), 1931
Frida Kahlo (1907-1954)
In an incredibly telling comment about the Eurocentric nature of the art market, Mexican painter Frida Kahlo is the only non-Western, non-Russian to feature on this list. Despite a move to the US in her early adulthood, Kahlo would never relinquish her tight grip on her Mexican culture and heritage, struggling to adapt to American life — vivid colors and symbolism associated with traditional Mexican art can be found consistently throughout her work. Kahlo was also highly politically active, and a committed communist. Kahlo is celebrated around the world by feminists in light of her persistent exploration of the female form and self-representation through her many introspective self-portraits, as well as her graphic interrogation of the female reproductive system in light of her own infertility. Her painting Dos Desnudos en el Bosque (La Tierra Misma) sold for USD 8 million.
Frida Kahlo, Dos desnudos en el bosque (La tierra misma), 1939
Emma Hopkins (b.1989)
Focusing almost exclusively on nude portraits and studies of human flesh, Emma Hopkins turned to portrait-painting after graduating with a degree in Make-up and Prosthetics for Performance from the University of the Arts London, where she trained in the design and making of prosthetic body parts for theatre, film, and television. She quickly becomes one of the influential woman artists of this century
Born in Brighton in 1989, Hopkins is fascinated by the themes of anatomy, psychology, and mortality, listing Egon Schiele, Frida Kahlo and Paul McCarthy as influences. She endeavors to 'paint people from the inside out' in a bid to uncover the relationships we have with our body, mind, and emotions.
Employing a variety of materials to create multiple interpretations of her sitters, the work progresses from intuitive studies that teeter on the edges of abstraction and surrealism to emotionally charged oil paintings that are sculptural in style and clinical in detail. Hopkins is a refreshingly explorative figurative painter. Using a palette heavy in red, symbolic as the life-giving color of blood, her work is an unabashed expression of sexuality, empowerment, and emotion. The fragmented cropping of her compositions increases the drama and tension of her subjects.
Emma Hopkins, Defense Mechanisms