Sam Francis, the hottest American painter in Paris...
ArtWizard 25.11.2019
"Painting is about the beauty of space and the power of containment"
Sam Francis was an American artist known for his exuberantly colorful, large-scale abstract painting. Exploring the creative process was his driving force. It impacted not only his art, but his view of human progress.One of the twentieth century's most profound Abstract Expressionists, American artist Sam Francis (1923-1994) is noted as one of the first post-World War II painters to develop an international reputation. Francis created thousands of paintings as well as works on paper, prints and monotypes, housed in major museum collections and institutions around the world. Regarded as one of the leading interpreters of color and light, his work holds references to New York abstract expressionism, color field painting, Chinese and Japanese art, French impressionism and his own Bay Area roots.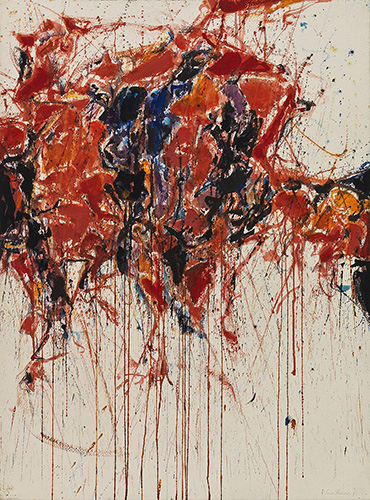 Sam Francis, Untitled, 1958
The artist was born on June 25, 1923, in San Mateo, California. He briefly served in the US Air Force during World War II but was injured during a test flight. Returning to California, he received his BA and MA from UC Berkeley in botany and psychology before beginning to pursue a career in art. Francis began painting in 1944 after being diagnosed with spinal tuberculosis, resulting from a U.S. Army Air Corps accident. In 1947 he studied privately with painter David Park, and soon gave up his intended medical studies, earning a BA in 1949 and an MA in 1950 at the University of California, Berkeley.
Francis experimented with the dominant and emerging styles of the late 1940s, particularly Abstract Expressionism, such as Mark Rothko, Arshile Gorky and Clyfford Still but also form some elements of Surrealism, eventually developing a personal style of abstraction focused on dripping, cell-like forms, an overal instability, and sensitivity to color and light, as in "Opposites "(1950). His loose style was most influenced by the work of Jackson Pollock and that lead to the fact that Francis later became associated with a second generation of abstract expressionists, including Joan Mitchell and Hellen Frankenthaler, who were increasingly interested in the expressive use of color.
The artist spent the 1950s in Paris, and had his first exhibition there at the Galerie Nina Dausset in 1952. While in Paris he became associated with Tachisme, and had his work championed by art critics Michel Tapié and Claude Duthuit (the son-in-law of the painter Henri Matisse ).
In 1950 Francis attended the Atelier Fernand Leger, where he was exposed to the work of Pierre Bonnard and Henri Matisse, which reinvigorated his interest in light and vibrant color, visible in his 1953 painting Big Red. A visit to Japan in 1957 coincided with an opening up of expanses of white space in much of his work, and his subsequent move to a larger studio in Paris resulted in the production of large-scale paintings and mural commissions, including a 1959 painting for the Chase Manhattan Bank, New York.
Between 1950 and 1958 Francis spent time and painted in Paris, the south of France, Tokyo, Mexico City, Bern and New York. His artistic development was affected by his exposure to French modern painting, Asian culture and Budhism in particular. His paintings of the 1950s evolved through a series of stages, beginning with monochromatic abstractions, followed by larger richly colored murals and "open" paintings that feature large areas of whiteness.
Sam Francis, Blue, Yellow and Green, 1958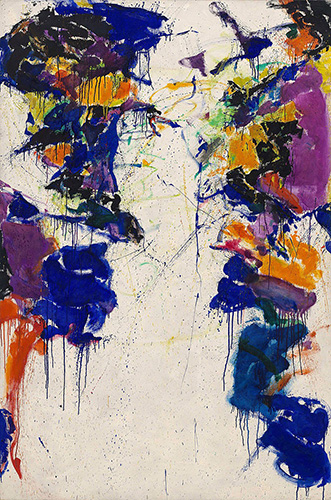 Sam Francis, Shining Back, 1958
After his 1953 painting "Big Red" was included in the 1956 exhibition "Twelve Artists" at the Museum of Modern Art, New York, Francis began a rapid rise to international prominence.
Around 1956 – 1958 Francis painted large murals for the Kunsthalle, Basel and for the Chase Manhattan Bank, New York in 1959.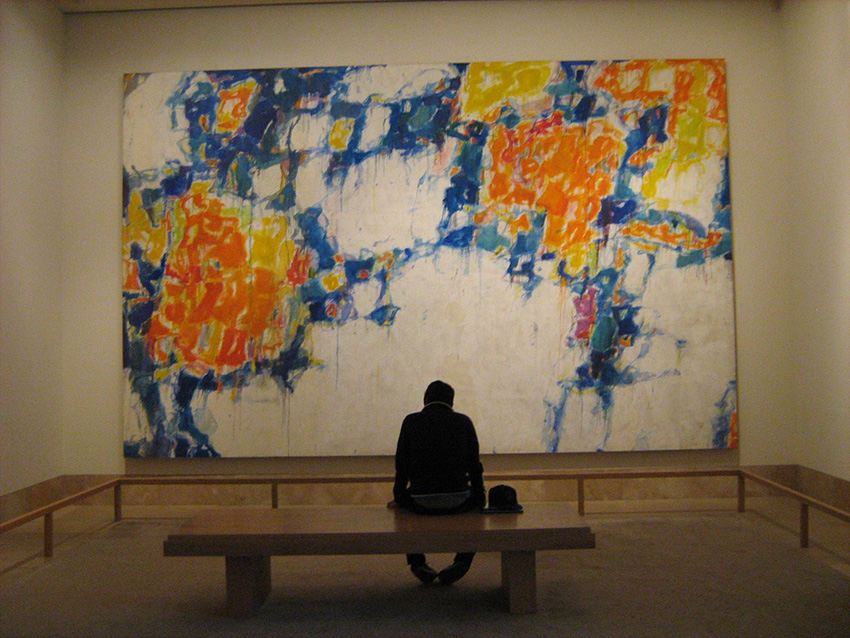 Sam Francis, Basel Mural I, 1956–58 (gallery view)
Between 1960 and 1963 he created several series of works, including the "Blue Balls" series. Consisting of biomorphic predominantly blue forms and drips, these works referenced the pain that resulted from the renal tuberculosis that he suffered in 1961.
Francis returned to California in 1962 and resumed painting with combinations of bright colors. Clement Greenberg's landmark exhibition Post Painterly Abstraction (1964) at the Los Angeles County Museum of Art, which focused on paintings emphasising color over gesture, included works by Francis. In the late 1960s, however, color increasingly vanished from his canvases. In 1965 Francis started a series of paintings that featured large areas of open canvas, minimal color and strong line.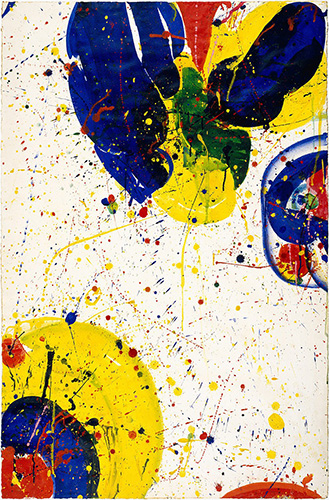 Sam Francis, Untitled, 1964
Francis' works of the early 1970s have been referred to as Fresh Air pictures. Created by adding pools, drips and splatters of color to wet bands of paint applied with a roller, these works re-asserted the artist's interest in color. By In 1973 he formed a lithography production company, which published his own prints. 1974 many of Francis' paintings featured a formal grid or matrix made up of crossing tracks of color. Many of these matrix works were large in scale, measuring up to twenty feet long.
Over the next decades, Francis's style in painting and print production evolved from the depiction of bright, centrally placed shapes evocative of Tibetan mandalas (influenced by Jungian psychology) to his late-1970s exploration of more severe grid structures to a 1980s fascination with snakelike forms and colorful drips.
His final decades of artistic production paralleled a succession of publishing, non-profit, and visionary enterprises: in addition to his lithography studio, Francis formed a wind harvesting and alternative energy company in 1975; helped organise the Museum of Contemporary Art, Los Angeles, in 1980; formed the Lapis Press, which focused on eclectic scholarship, in 1984; created a naturopathy-based medical research center in 1987; and founded the Sam Francis Art Museum in 1990 to perpetuate his artistic legacy and support charitable donations.
His most expensive work at auction sold for over $6 million. The six-foot-tall oil on canvas work, Middle Blue (1957), sold for $6,354,500 at Christie's post-war and contemporary art evening sale in May 2010.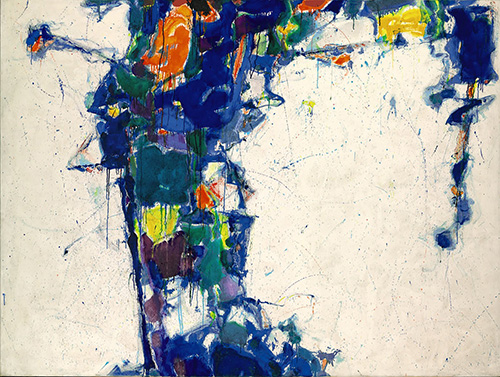 Sam Francis, Middle Blue, 1957

In the last year of his life, Francis, suffering from cancer and unable to use his right hand because of a fall, painted 150 small works with his left hand. The artist died on November 4, 1994, in Santa Monica, California.