The Paris period of Vincent van Gogh
ArtWizard 22.03.2021
"I put my heart and my soul into my work, and have lost my mind in the process".
Vincent van Gogh
It is a notorious fact that Van Gogh was able to make his art due to the support of his brother Theo van Gogh. The latter was an art dealer living in Paris. In February 1986, Vincent was unable to pay his rent in Antwerp, Belgium anymore and decided to move to Paris to live with his brother Teo. What he wrote to his brother before heading to Paris was a hand written note saying: "Don't be cross with me that I've come all of a sudden. I've thought about it so much and I think we'll save time this way. Will be at the Louvre from midday, or earlier if you like.". Although the two brothers have discussed the future possibility of living together in Paris earlier, the answers of Theo have always been too vague. The poverty in which Vincent lived in Belgium prompted him to however go to his brother before they settled this matter, sick and unannounced.
Theo lived in Montmartre that was the artist's quarter in Paris and worked as an art dealer for the company named Goupil & Cie. Although it was a sudden move to Paris, this two-years period marked significantly the art of Vincent and resulted in a transformative shift in his work, marking the transition form the dark, somber colors of his early realist paintings, to colorful, textured flowers and portraits that most people associate with Vincent van Gogh today.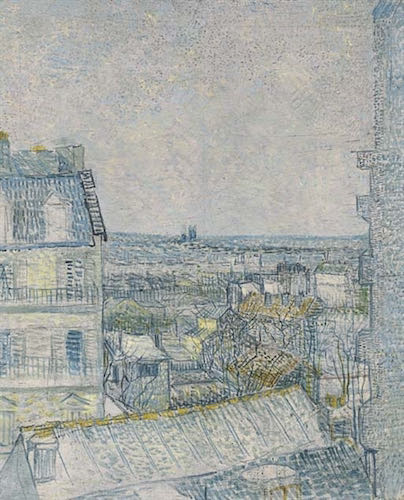 Vincent van Gogh, View from Vincent's Window, 1887
Later this year, Vincent began working in the studio of the painter Fernand Cormon, and this period allowed him to to meet the artists John Russell, Louis Anquetin, Henri de Toulouse-Lautrec, and Emile Bernard.
At the same period, the art dealing company his brother Theo has been working in has been dissolved and Theo began working for another company named Boussod, Valadon &Co. Being close to his brother, Vincent had the opportunity to get acquainted with many members of the central Impressionist circle of the Paris artists, including Degas, Renoir, Pissaro and Monet. He was impressed mainly by the works of Gauguin and Seurat, especially the Pointillist style of Seurat.
That was the first time when Vincent felt he was part of an artistic circle and he was deeply influenced by the Impressionists colors theory and their use of light. This combination, combined with the rising interest in the Japanese prints made his unique mature style. Vincent Van Gogh tried at this period to apply the Pointillist style in his own unique way approaching the canvas in regular, short brushstrokes using heavy impasto technique as if he was seeking to harmonize the brutal extremes and escape the grey harmony but rather exploit vibrant colors.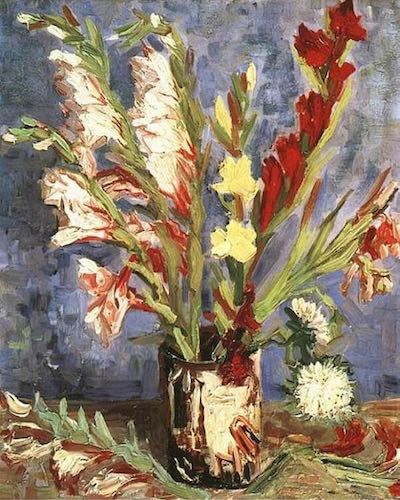 Vincent van Gogh, Vase with Gladioli, 1886
This newly found by the artist style, made him leave the studio of Cormon in August 1886, as Cormon refused to accept the new color theories used by Vincent and the insistence of the latter to paint the outdoors landscapes or nature-mortes in bright colors, rather than live nude models.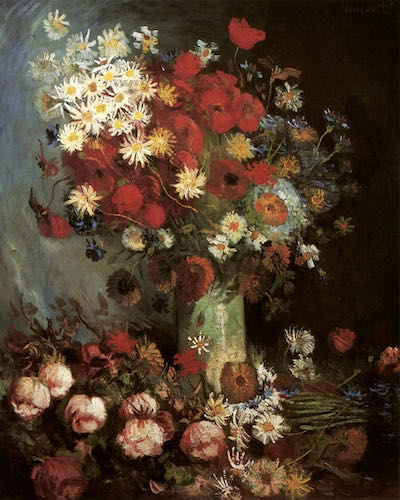 Vincent van Gogh, Vase with Poppies, Daisies, Cornflowers, and Peonies, 1886
In this period, Vincent painted some very emblematic cityscapes, such as the "View from Vincent's Window" and "The Roofs of Paris". The same period was also marked by some remarkable series of nature-mortes, such as "Vase with Poppies, Daisies, Cornflowers, and Peonies" and "Vase with Gladioli", to train his discovery of the powerful color's theory and Impressionist / neo-Impressionist theory.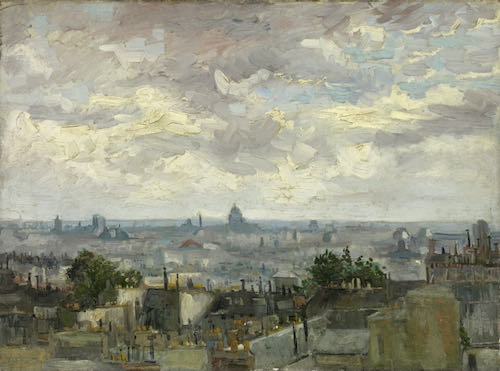 Vincent van Gogh, The Roofs of Paris, 1987
From the same spring, the early spring after arriving in Paris to stay with his brother Theo is also the rare unseen painting "Scène de rue à Montmartre (Impasse des deux frères et le Moulin à Poivre)", belonging to a collector that is to be presented for sale by the Paris office of Sotheby's on the 25th of March.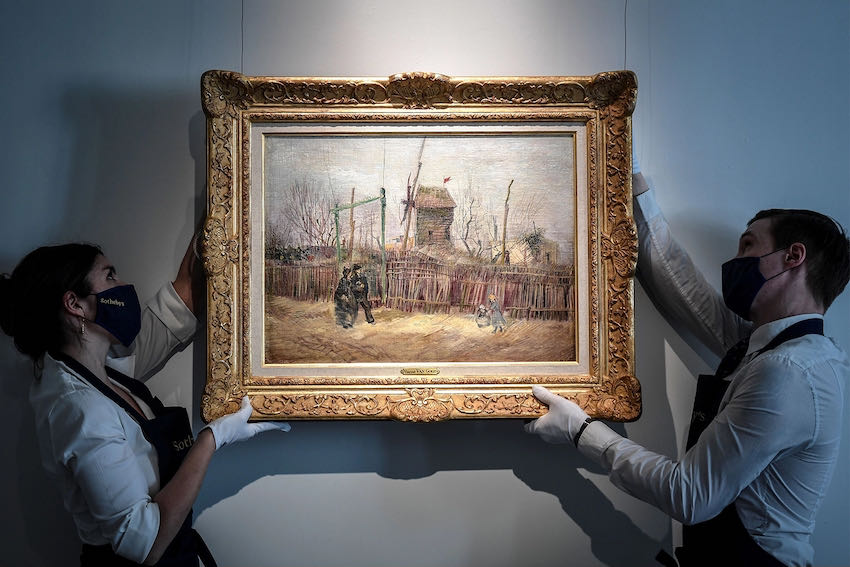 The painting is depicting a couple, dressed in black that is walking past a former pepper mill building that was subsequently transformed to a cabaret. There are two children walking in the opposite direction and a carousel, behind the wooden enclosure on the left side of the painting.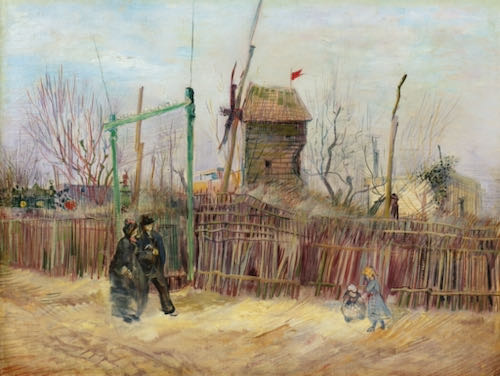 Vincent Van Gogh, Scène de rue à Montmartre (Impasse des deux frères et le Moulin à Poivre), 1887
True to his newly discovered style of bright colors, the painting is part of the series named "Le Moulin de la Galette" where Vincent is portraying the district of Montmartre that was at the time turning into a leisure and tourist attraction. The painting is depicting a luminous sky with vivid use of color and sense of movement.
This painting was one of the 200 paintings the artist made during his two year (1886 – 1888) stay in Paris and according to some art critics, Montmartre was his favored subject. Etienne Hellman, the senior director of Impressionist and Modern Art at Sotheby's in Paris, says the work was executed at a pivotal moment in the artist's career. "After arriving in Paris, Van Gogh discovered the Impressionists in 1886, such as works by Renoir and Toulouse-Lautrec, and he met Paul Signac shortly before making this painting," he says. "In Paris, he discovered the light - in the south of France he discovered the sun."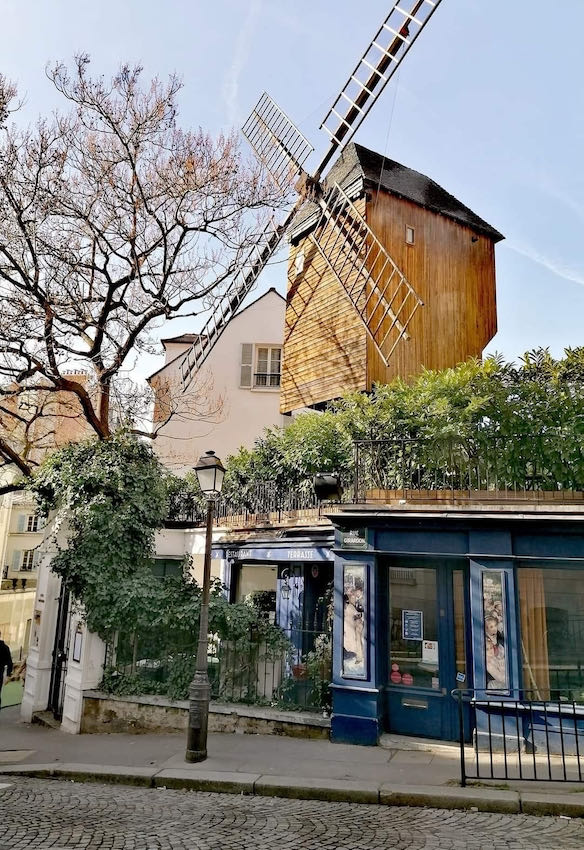 The Pepper Mill in Montmartre in present days