The most valuable Valentine's gift. Interview with Art Dealer Angelina Liakova
Albena Jones 01.02.2021
Finding the perfect Valentine's Day gift for the important person in your life is not an easy task. We always want to give something memorable, impressive and romantic to show our love. Realising it's the first Valentine's Day in pandemic confinement, couples around the world will not be able to enjoy the usual candlelight romantic dinner outing, so the empathies totally falls on the gift. I thought long and hard and came up with the ideal person to present to you not only the most valuable Valentines gift idea but also one of the safest investments during recent times.
My interview is with Arts dealer and on-line Art Gallery owner Angelina Liakova, by profession she is a lawyer who has been working in the digital industry for more than 20-years, she is also very passionate about Arts. At some point in her life Angelina decided to combine art and technologies and created an art platform called ArtWizard, there anyone can purchase artworks, admire art, visit virtual and on-line exhibitions and be part of the art community regardless of their physical location. Enjoy the interview to find out how a piece of art could be the most valuable gift and an investment.
A-CHOICES: Should one buy Art for pleasure or as an investment?
ANGELINA: Art is certainly and always a pleasure, but it depends on how you perceive art, some people simply perceive art as part of their interior, some people are living with art which influences their emotions, behaviour and their inner-selves. So art is not only a pleasure but a way of expression. It's also one of the most stable forms of investment, for many years the artworks of specific artists are regarded as a serious investment, similar to real estate or stock market purchases. So art is for sure a stable investment for your money and a way to make profit in the future. However one should be very careful when deciding to gather an art collection designed to be an investment collection. There is specific advice that one should follow in order to invest in the right artists and in the right artwork.
A-CHOICES: Please share with us your valuable gift idea?
ANGELINA: Art is not only an investment; it can be a wonderful and a very valuable gift. The recipient would not only cherish the gift but would remember you forever. A picture could be a very valuable and precious gift symbolizing love, an excellent present for the people you love – wife, husband, children, mother.
Now would be the best time to purchase artwork as a present for the forthcoming 14th of February St. Valentine's Day.
A-CHOICES: Is one expected to pay any extra costs or fees when purchasing an artwork?
ANGELINA: Besides the artwork price, if bought from a distance or on-line there are transportation costs; there could be an insurance cost or storage cost. If one wishes to keep their artwork in storage, as art bought for investment, which should be kept in special storage conditions in a secure vault under a certain temperature, is at a certain cost per month. ArtWizard can arrange a secure vault for your art investments.
Other fees could be related to art consultancy fees – ArtWizard offers advisory services, as well as valuation and legal services chargeable per hour. If you need an advisor as to where to invest your money, which specific paintings to purchase for your collection, as part of your interior or for investment. You can also benefit from our valuation services – determining the price of any artwork that you already poses and may wish to sell. We can advise on any legal matter, related to copyright, authenticity claims, auction claims or any other legal matters related to art or purchasing of art.
There are also costs if you are an artist that wishes to exhibit, you should rent an exhibition space in a galley or to exhibit on-line, a percentage/commission fee is kept by the gallerist or art dealer. We can help artists exhibit their work; we can provide the editorial content, marketing and advertising campaigns. The work of a gallerist is not only to sell, but to also promote the artist in the artistic world and among art collectors.
A-CHOICES: What has been the role of art during the COVID-19 pandemic?
ANGELINA: Art and performing arts are one of the worst-hit sectors by the pandemic, being left without the possibility to physically exhibit artworks at fairs and exhibitions, the role of visual art is enormous when people are forced to stay-at home, the beauty of art is keeping our sanity and spirits up. Most galleries have opted for virtual exhibition tours which are a big step towards spreading art across borders through digitalisation.
A-CHOICES: What are the benefits of purchasing Art online?
ANGELINA: Buying art online is making it more accessible to much more people. As we know if a gallery is representing a specific artist one needed to physically go and see it, but exhibiting art online makes it accessible and visible from anywhere in the world, no matter whether you are in Hong-Kong, New York or in London you can see, admire or buy artwork from your sitting room or office. That makes much more art and artists available to a much wider range of collectors which is very beneficial for the artists as they become globally renowned and seen. So the whole exchange between the art makers and the art lovers is now made easy through digital communications and technologies. Purchasing Art online is easy.
A-CHOICES: What are your top tips for Art buyers?
ANGELINA: First, a buyer should get the right advice to be able to carefully select the art work according to their needs and budget.
Then they should choose the correct art platform, of course – ArtWizard is one of the reputable platforms, we offer a unique and one a kind scaled performance that helps the art buyers visualize artwork in a specific space to make the best choice.
Buying from a trusted platform in a secure way related to the payment is very important.
And remember that in the art world paintings costs can range from 100 EUR – 35,000 EUR. It is not customary to buy very expensive paintings online. For such requests please contact us directly, we will gladly assist.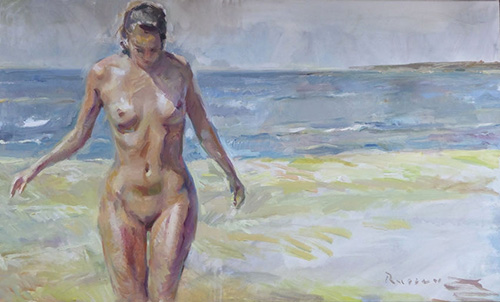 Published without abbreviations from A-CHOICES Magazine