The most expensive works by Yayoi Kusama
ArtWizard 19.04.2021
"I am now determined to create a 'Kusama world' which no one else has ever done and trodden into."
Yayoi Kusama
In May 2018, an Untitled Yayoi Kusama painting from 1962 was expected to bring between $7 million and $10 million when it hit the auction block at Sotheby's contemporary evening sale in New York. The price for this work brokeKusama's auction record, which was set two years ago at Christie's in New York, where her 1960 canvas White No. 28 was sold for $7.1 million. That sale made Kusama one of the world's most expensive living female artist in terms of auction results.
Like much of Kusama's work, Untitled 1962 showcases her interest in repeated patterns, which, she has said, can partly be attributed to her obsessional neurosis. Produced shortly after Kusama arrived in New York, the painting features egg crates arranged side by side, with upholstery stuffing in between the cartons and ink splattered on top of them. It is one of just a few works Kusama ever made using egg cartons. Another similar work resides in the collection of the Blanton Museum of Art in Austin, Texas, USA.
According to Sotheby's, the work has being sold by an "important private collector." It was notably included in Kusama's traveling retrospective, which made stops at the Museo Nacional Centro de Arte Reina Sofía, Madrid, Tate Modern in London and the Whitney Museum of American Art in New York, and was also shown in the 2009 Solomon R. Guggenheim Museum, New York exhibition "The Third Mind: American Artists Contemplate Asia, 1860–1989."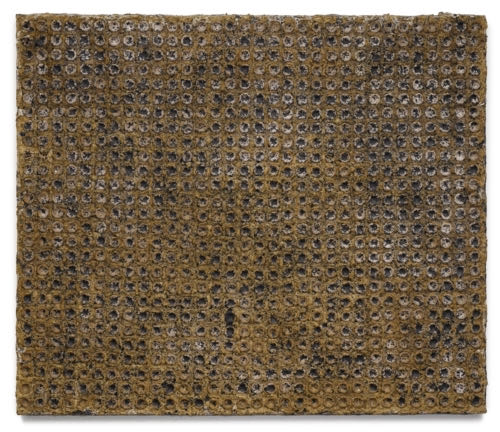 Yayoi Kusama, Untitled, 1962
Yayoi Kusama was made the most expensive living female artist of all time with the $7.1 million sale of White 28 from her iconic Infinity Nets series in 2018. The Louis Vuitton collaborator topped a record set three years earlier with the $6.6 million sale of Cady Noland's Oozewald at Christie's.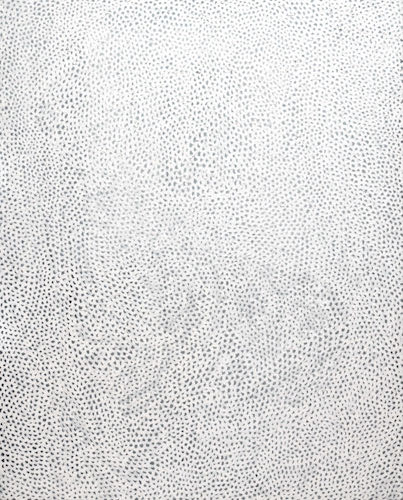 Yayoi Kusama, White No. 28, 1929
Mirroring the quiet repetition that went into its making, White No. 28 stimulates introspection and transcendence, and lulls its viewers into a meditative state.

Painted in 1929, White No. 28 is an early work in Kusama's groundbreaking series of Infinity Nets, and dates to a formative period in the artist's career when she first developed the motifs and themes that would come to define her oeuvre. Kusama moved to New York two years earlier, in the summer of 1958.
Kusama settled in New York with a collection of small drawings and gouaches, produced in Japan, that largely consisted of still lifes, flowers, portraits, polka dots and patterns, and which hinted at her academic training in Japanese nihonga painting. As she began working in New York, however, in the heyday of Abstract Expressionism and alongside emerging artists like Donald Judd, Claes Oldenburg and Eva Hesse, the format of Kusama's paintings grew in size and started to combine the principal of all-over composition with repeated marks and patterns. Undoubtedly influenced by the move from her small Japanese town to the pulsating metropolis of New York City, her new surroundings fired Kusama's creative passions and inspired her to create a body of work that responded to her new home.
Yayoi Kusama holds the auction price record for any living female artist also because the real sales prices of her works exceeded their pre-sale estimates. Her yellow and black Pumpkin painting from 1990 sold at the Phillips auction house for a hammer price of £170,000, or £206,500 including buyer's premium, well above the high estimate of £70,000. Two days before that, her Infinity Nets (KWOPH) painting from 2006, estimated to fetch up to £350,000, sold at Christie's for a hammer price of £400,000, or £482,500 including the premium.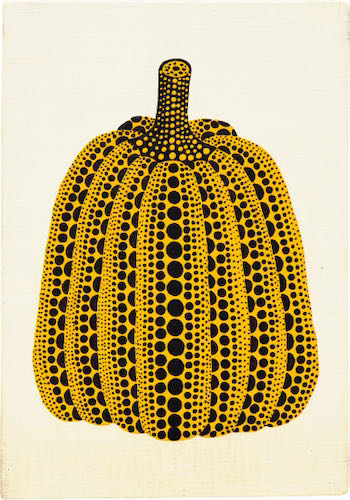 Yayoi Kusama, Pumpkin 1990
The love of Kusama for pumpkins is unique for her art and psychological feeling for the outside world, as the pumpkin evokes an illusion of depth through strong lines and contrasting colors. The combination of black-yellow and red-white are both iconic color choices that are strongly associated with Kusama's prolific oeuvre.
Blurring the boundaries between representation and abstraction, Kusama's iconic polka dot pattern is mottled ever so carefully to evoke the ribbed texture of pumpkin skin. Recalling seventeenth-century still life studies of everyday fruit, vegetables and flowers, Kusama pushes the boundaries of this age-old genre by embracing the "pop" aesthetic of commercialized Japanese art. By reconciling contrasting cultural contexts through a painstaking technique, Kusama demonstrates her obsessive patience and ability to transcend genres.
The total turnover for Kusama's works is $194,977,508 as of Jaunary 2021, with the majority being sold between $100k and $500k, a total of 174, while 40 sold for between $1m and $5m and 3 sold for over $5m. Her most expensive work ever sold is Interminable Net #4 from 1959, sold for $6,751,634 at Sotheby's Hong Kong in 2019; followed by the $6,064,460 No. Red B from 1960, sold at Sotheby's Hong Kong in 2015; Pumpkin (Twpot) from 2010, sold for $5,859,909 at Sotheby's Hong Kong in 2019; and Untitled from 1972, which went for $4,608,432 at Sotheby's Hong Kong in 2017. She sold the biggest number of artworks in 2016, a total of 184, while in 2019, she sold 135.
* More details Yayoi Kusama – The Infinity Net

** Courtesy for the images to Sotheby's and Christie's