Behind the drawings of Federico Fellini
ArtWizard 18.02.2022

"Why I draw the characters of my films? Why do I take graphic notes of their faces, of the noses, of the moustaches, of the ties, of the bags, of the way to cross the legs, of those people that come to visit me in the office? Perhaps I have already told that it is a way to start watching the film in face, to see the type it is, the attempt to fix something, even though minuscule, to the limit of the nothingness, but that seems to have something to do with the film, and covertly it speaks to me."
Federico Fellini
Fellini is considered one of the great masters of filmmaking. We know him through his many films and masterpieces, but we know less about his talent as a draughtsman.
Federico Fellini was born in Rimini, on the Adriatic coast. During his youth, he was marked by power, the church and fascism. Attracted by journalism and press cartoons, he moved to Rome in 1939, where he was hired by a large humoristic weekly magazine. He made his debut in the cinema as a scriptwriter and as assistant scriptwriter to Roberto Rossellini for the film "Rome, Open City" / "Roma città aperta" in 1945.
In 1952, he directed his first film, "The White Sheik" / "Lo sceicco bianco", and in 1953 he made "The Bullocks" / "I vitelloni", which definitively established the Fellinian universe. However, Federico Fellini owes his international success to "The Road" / "La Strada", in 1954. "The sweet life" / "La Dolce Vita" in 1960, which won the Palme d'Or at the Cannes Film Festival, was also a turning point. The enormous success of the film, whose music by Nino Rota was to travel the world, enabled him to make his most personal and ambitious film, «8½», three years later.
After the excessiveness of his "Fellini Satyricon" in 1969, based on the work of Petronius, Fellini delved into his childhood memories with "The Clowns" / "I clowns" in 1970, Fellini Roma in 1972 and, above all, "Amarcord" in 1973, which evokes his adolescence in Rimini, his home town. With "Fellini's Casanova" / "Il Casanova di Federico Fellini" in 1976, he momentarily returned to the lavish baroque of "Satyricon".
His intimate vein for the cinema took over again, with a new TV film that was shown in several cinemas, such as "Orchestra Rehearsal" / "Prova d'orchestra" in 1979, "City of Women" / "La Citta' delle Donne" 1980. This was followed by "And the Ship Sails On" / "E la nave va..." 1983, a real funeral opera, and "Ginger and Fred" / "Ginger e Fred" in 1985. Fellini's film career came to an end with "The Voice of the Moon" / "La voce della Luna" in 1990.
Fellini published his first cartoons in 1937, at the age of 17, in his native Rimini. That same year, while still in high school, he opened a "portrait shop" with a friend to attract holidaymakers and earn some pocket money. Drawing would always be an integral part of the Italian master filmmaker's frenetic creative life.
Arriving in Rome in 1939 to become a cartoonist, Fellini met the cinema and soon discovered that it allowed him as much freedom as the pencil. Once he became a director, he abstained from filming for a while to give his characters a new life by sketching them with a cheerful touch. Outside of filming, he would give free rein to his imagination, to his ironic and burlesque vision of the world with more complex, more elaborate drawings.
The medium of drawing, as we know today thanks to the collections of Daniela Barbiani and Vincenzo Mollica - and recently with the publication of Fellini's "Book of Dreams" / "Il libro dei sogni", was the privileged means by which he expressed his visions, his dreams, his anxieties: after the grandiose Fellini demiurge, the intimate Fellini can be seen in his drawings.
Federico Fellini, A Dream
Photo Credit: Fondazione Federico Fellini, Rimini
On the 30th of October 2008 for the first time, a museum (Musée des Beaux-Arts de Nancy, France) took an interest in this aspect of the filmmaker's work and organised an exhibition that brought together a rare collection of nearly 80 drawings of Fellini. From caricature to erotic drawing, the whole Fellinian universe was presented at this exhibition: exuberant and extravagant characters, fetish actors, recurring themes directly evoking his filmography. An exhibition that revealed a more intimate Fellini, revealing his fantasies, dreams and anxieties.
Federico Fellini, Anita / Riccardo, 1961
Photo Credit: Fondazione Federico Fellini, Rimini
Drawing is "an instrument, a means, a ring in the chain by which fantasy and imagination are united in a cinematic result. (...) It is the professional habit of immediately giving visual materialization to an emotion; it is the materialization of an image that is passing, or of an idea that is working on me" says Fellini.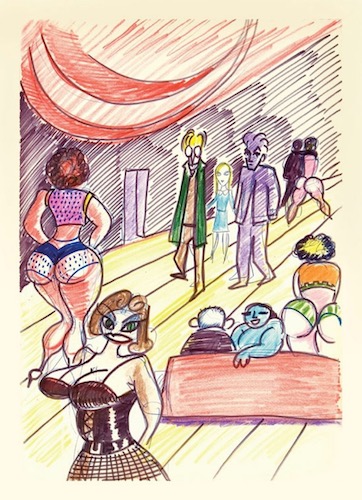 Drawing published in Federico Fellini's The Book of Dreams
Photo Credit: Fondazione Federico Fellini, Rimini
Fellini exhumes from his imagination a series of creatures that he materializes on paper. His thoughts become drawings, scribbles, pencils, colours, paper, and then a film material. He gets to the heart of the film through drawing. He says it himself: "It's a way for me to start looking the film in the eyes." Before or during the shooting of his films, Fellini frequently drew the characters of his movies.
The drawings correspond to a pre-cinematographic visualisation through their spontaneity. The strength of the image in Fellini's films comes from the aggressiveness of journalistic graphics. They are sketches taken from the moment of vision. If the script represents the literary and verbal phase of the film, the drawings translate its expression, its general idea. They play the role of signposts which are then used to guide his collaborators such as the set designers, costume designers and make-up artists.
Federico Fellini, Untitled (Drawing for Il Casanova), 1976
Photo Credit: Fondazione Federico Fellini, Rimini
Fellini believed in developing a character by drawing that character, a key part of his creative process. The drawing was the first step, and after that, finding the actor to fit the drawing. In his words: "Finding the actor to fit the drawing is more difficult. I look until I find someone who makes me think, 'You, you are my drawing!'."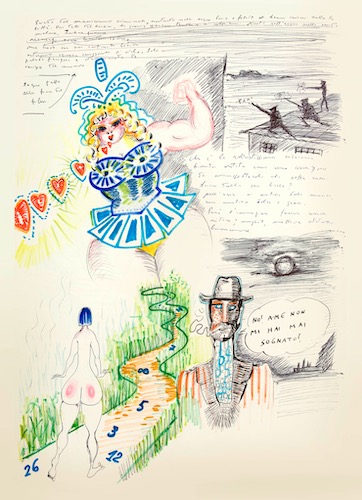 Federico Fellini, Dreams, 1976
Photo Credit: Fondazione Federico Fellini, Rimini
An example of Fellini's sketches is one he did of Casanova while shooting his "Il Casanova di Federico Fellini" (1976). Fellini used the sketch to explore his ideas about the physical appearance of his Casanova character. In another sketch titled "Dream" / "Il sogno", Fellini illustrates the death of the clown, representing the death of the circus.
Using the sketches and drawings Fellini found in the cinema the future of his career and in Mastroianni his true "cinematographic twin". They collaborated on many films: "The sweet life", "Eight and a Half", "City of Women", "Ginger and Fred" and "Interview" / "Intervista".
However, not all the drawings of Fellini are related to film characters. From his early childhood, Fellini was fascinated by any form of eroticism and he loved to draw erotic images: "Sometimes when I am casting, or in pre-production, or writing, my hand seems to draw without me. In those moments, I am most likely to do enormous female breasts. My second most frequent doodle is excessively large women's behinds. Breasts and asses.", says Fellini.
Federico Fellini, Dream on April 1, 1975
Photo Credit: Fondazione Federico Fellini, Rimini
Fellini drew the majority of his erotic drawings in the last years of his life. Often, they revive favorite characters from his movies, like the robust "Amazonian" woman luring the male hero. Fellini honored this sex symbol in many of his erotic drawings, with her defining features greatly exaggerated. He also liked to draw himself in these compositions, often depicted as a small figure as opposed to the large women figures he imagined.
Federico Fellini, A Drawing, 1960-1968
Photo Credit: Fondazione Federico Fellini, Rimini
On his arrival in Rome, Fellini wrote also texts for radio programs: one of the performers of the sketches was Giulietta Masina. When he met her, it was love at first sight: they got married in 1943. She was to be his favourite actress: "The Road" (a film for which she won the Oscar for best female role), "The Swindlers" / "Il Bidone", "Juliet of the Spirits" / "Giulietta degli spiriti", "Ginger and Fred". Giulietta Masina was also his most favorite character in many drawings made in his late years in life.
* Photo Credits: Fondazione Federico Fellini, Rimini & Federico Fellini's The Book of Dreams 2007, 2008