The Bauhaus style of Oskar Schlemmer
ArtWizard 10.02.2020
"If today's arts love the machine, technology and organisation, if they aspire to precision and reject anything vague and dreamy, this implies an instinctive repudiation of chaos and a longing to find the form appropriate to our times."
Oskar Schlemmer
Oskar Schlemmer (1888 – 1943) is a German painter, sculptor, designer and choreographer associated with the Bauhaus school. In 1923, he was hired as Master of Form at the Bauhaus theatre workshop, after working at the workshop of sculpture. Oskar Schlemmer is known for his abstract yet precise paintings of the human form as well as for his avant-garde ballet productions. His most famous work is Triadisches Ballett (Triadic Ballet), which saw costumed actors transformed into geometrical representations of the human body in what he described as a "party of form and colour".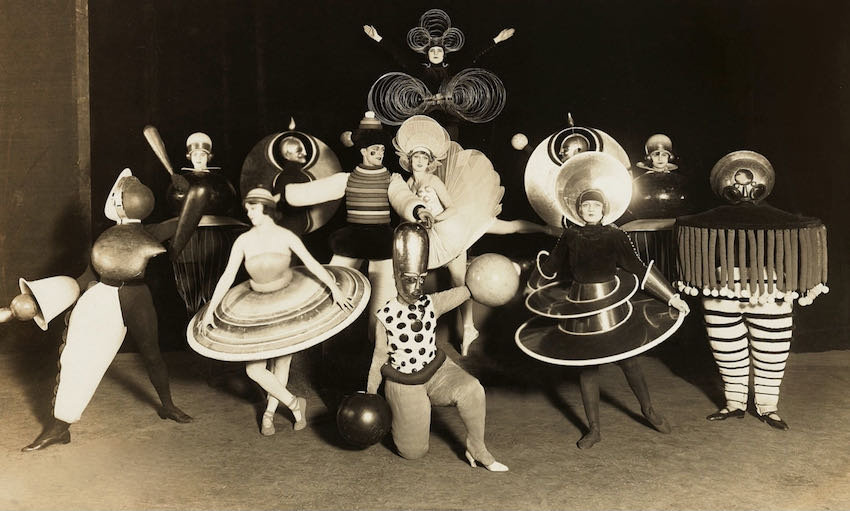 Oskar Schlemmer, Bauhaus teatre, Triadisches Ballett, 1923
Born in September 1888 in Stuttgart, Oskar Schlemmer was the youngest of six children. His parents, Carl Leonhard Schlemmer and Mina Neuhaus, both died around 1900 and the young Oskar lived with his sister and learned at an early age to provide for himself. By 1903 he was completely independent and supporting himself as an apprentice in an inlay workshop, moving on to another apprenticeship in marquetry from 1905 to 1909. During this time, Schlemmer also continued his studies, firstly as a pupil at the Kunstgewerbeschule (School of Applied Arts) in Stuttgart, before winning a scholarship to the city's Akademie der Bildenden Künste (Academy of Fine Art). Here, under the guidance of his teachers Friedrich von Keller and Christian Landenberger, Schlemmer went into the countryside and painted directly onto canvases, in the en plein air approach of earlier avant-gardes.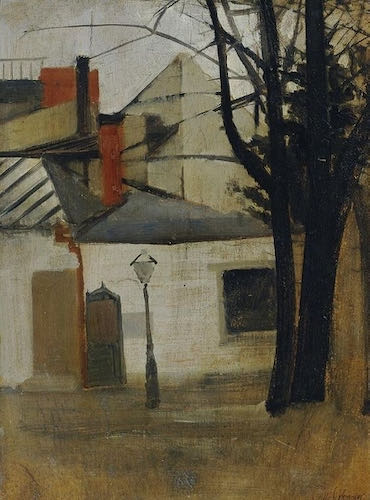 Oskar Schlemmer, Small Houses near Berlin, no date
The artist landscapes at this period became increasingly geometric, particularly following his discovery of the work of Paul Cézanne. After a brief stint in Berlin in 1911, Schlemmer moved back to Stuttgart, where he became master student of the abstract artist, Adolf Hözel. Schlemmer continued to explore the relationship between form and color, and moved more towards Cubism.
As an apprentice in the shop producing marquetry, Schlemmer was also exposed to design theory at a young age. He took classes at the Kunstgewerbeschule (School of Applied Arts) in Stuttgart, and a scholarship allowed him to further his studies at the Stuttgart Academy of Fine Art (1906–10). He spent a year in Berlin, familiarizing himself with new trends in art by German artists. He returned to Stuttgart in 1912 and became a student of the abstract artist Adolf Hölzel.
After the World War I, the artist helped spearhead a movement to modernize the curriculum at the Stuttgart Academy of Fine Art, that also involved serious effort to attract Paul Klee as a professor at the faculty there, and, more generally, to bring modern art exhibitions to Stuttgart. Schlemmer was restless in organizing early exhibitions, which featured his own works, as well as that of Paul Klee, Willi Baumeister, and others.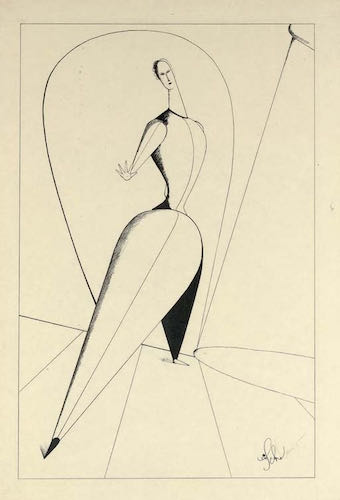 Oskar Schlemmer, Tänzerin, lithograph, 1923
Throughout the 1920s Schlemmer was commissioned to paint several murals in both private residences, such as the home of architect Adolf Meyert in 1924 and public spaces, such as the former Bauhaus in Weimar (1923), which the Nazis destroyed in 1930, and the Folkwang Museum in the city of Essen, Germany (1928–30), which the Nazis vandalised, dismantled, and removed in 1933. Schlemmer left Bauhaus in 1929.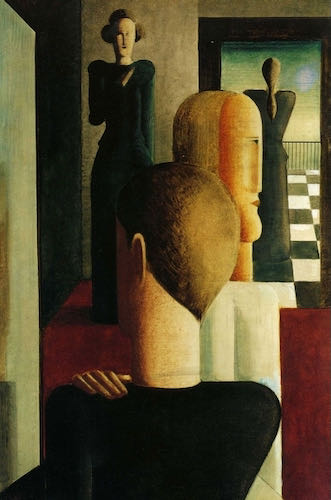 Oskar Schlemmer, Römisches, Vier Figuren im Raum, 1925
During the 1920s, Schlemmer was one of the Masters at the progressive Bauhaus school, working and teaching across a range of mediums. The Bauhaus revolutionised the way in which art was taught and created and Schlemmer is seen as a key figure in shaping its forward-thinking and collaborative ethos.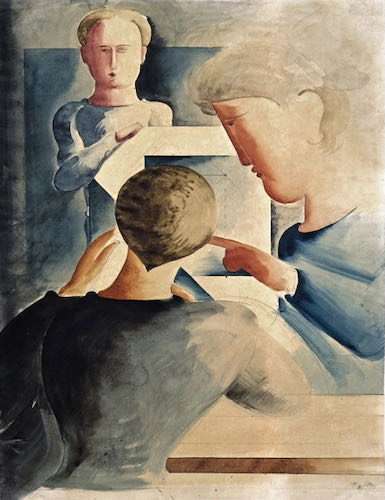 Oskar Schlemmer, Unterweisung, 1932
From the Bauhaus, Schlemmer moved to Breslau, another German city, where he continued to work in theatre and teach (State Art Academy). He also continued to paint, and in 1932 he created his well-known work "Bauhaus Stairway". Without warning the Nazi regime dismissed him from his teaching position in 1933. Schlemmer moved to Switzerland for a brief time with his wife and children and painted portraits and landscapes.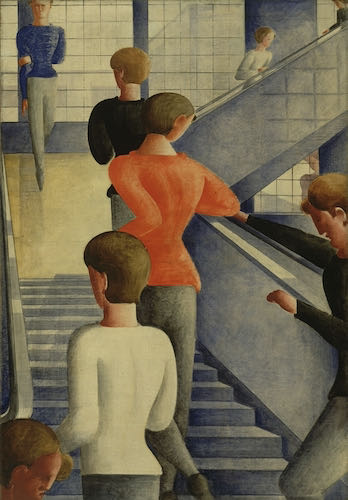 Oskar Schlemmer, Bauhaus Stairway, 1932
The last decade of Schlemmer's life was marked by the Nazi dictatorship and defamation of his life's work. In 1937 five of his works were included in the organised by the Nazi "Degenerate Art Exhibition" in Munich. He continued to exhibit his work when possible and participated in major exhibitions in London and New York in 1938. Schlemmer was reunited with Baumeister and other artists in 1940 when he moved to Germany, where he earned a living by working at a lacquer factory. He passed away not so many years later.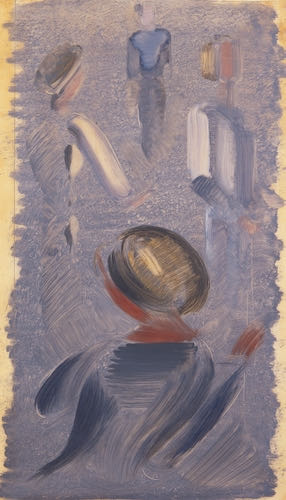 Oskar Schlemmer, Composition with Four Figures, 1936
Schlemmer's "Triadic Ballet" was revived on a number of occasions in the late 20th century and was performed with the original, restored costumes. Those costumes, however, were the only original elements remaining. The music and the choreography associated with Schlemmer's production were lost. A volume of his diaries and letters edited by his wife was published in 1972 and an English translation by Krishna Winston was issued in 1990.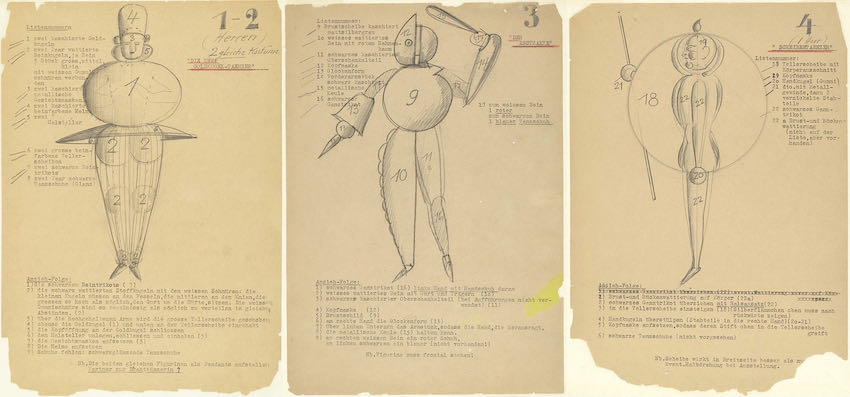 Sketches and movement studies for Das Triadisches Ballett, by Oskar Schlemmer, late 1910s
During his lifetime, Schlemmer's work was exhibited widely and achieved acclaim both in Germany and abroad. He was regarded as an inspiring teacher of avant-garde art and a pioneer in many fields, including painting, sculpture, and theater.
He is best known for his works investigating movement, form, geometry, and rhythm, most prominently his Triadic Ballet (Triadisches Ballett) which toured extensively during the early-to-mid 1920s and is seen as a forerunner of contemporary choreography. Although the original choreography of the ballet was later lost, it was reconstructed by Ulrike Dietrich and Gerhard Bonheur in 1977 and has been performed a number of times since, most recently in Munich in 2014.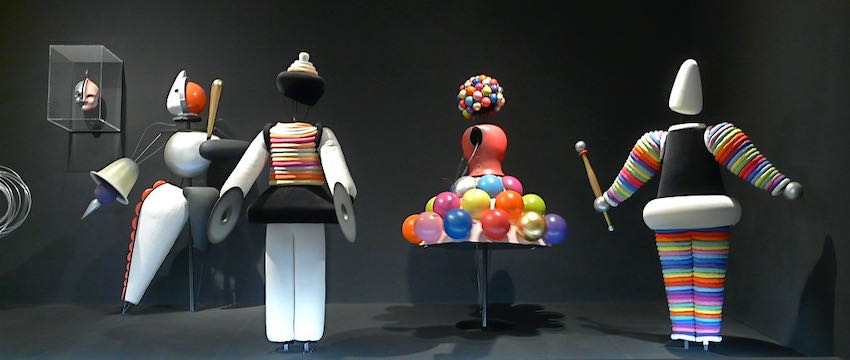 Costumes for Das Triadisches Ballett, by Oskar Schlemmer
Furthermore, his close professional relationships and friendships with other artists of the era have helped to shed light on the activities of the Bauhaus, for example his letters to Willi Baumeister reveal how staff and students reacted to changes at the institution.

In the years after his death, there were memorial exhibitions held in Berlin, Munich, Stuttgart, and Frankfurt. This was followed by a large-scale exhibition at the Württenbergischer Kunstverein in Stuttgart to mark the ten-year anniversary of his death. Schlemmer's wife, Tut, ensured that his literary estate went to the Staatsgalerie Stuttgart, where it joined the largest collection of his artworks to create the Archiv Oskar Schlemmer. More recently, Schlemmer's use of dance and design has influenced popular culture, including the music videos of New Order, Lady Gaga, and David Bowie and the fashion designs of Hussein Chalayan and Alexander McQueen. Schlemmer has also been a key influence on contemporary designers particularly Eric Roinestad, whose ceramic work directly references Schlemmer's costume designs.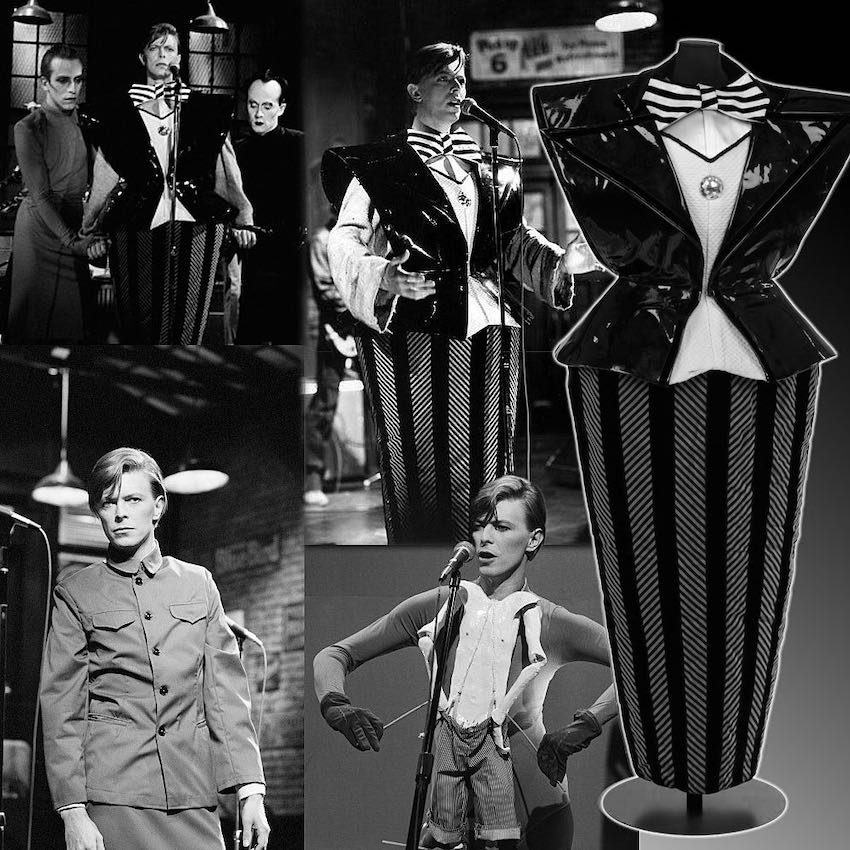 The Man in the Machine, David Bowie, 1979