Black and White with Franz Kline
ArtWizard 24.02.2020
"The final test of a painting, theirs, mine, any other, is: does the painter's emotion come across?"
Franz Kline was an American Abstract Expressionist known for his distinctive monochromatic black and white paintings. Employing black brushstrokes on white canvases, Kline created specific compositions distinct from the other artists of his generation, pertaining to the New York School.
Born on May 23, 1910 in Wilkes-Barre, PA, Kline studied painting at Boston University and illustration at the Heatherley School of Fine Art in London during the 1930s. After moving to New York in 1938, he befriended the artist Willem De Kooning, who introduced him to abstraction. Kline, along with other action painters like Jackson Pollock, Robert Motherwell, John Ferren, and Lee Krasner, as well as local poets, dancers, and musicians came to be known as the informal group, the New York School. Although he explored the same innovations to painting as the other artists in this group, Kline's work is distinct in itself and has been revered since the 1950s.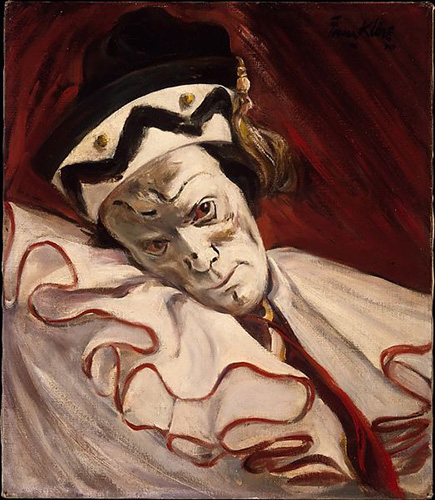 Franz Kline, Nijinsky, 1940
Starting in the late 1950s, Kline executed a series of monumental works, known as the "wall paintings," and began to reintroduce color to his black and white color palette.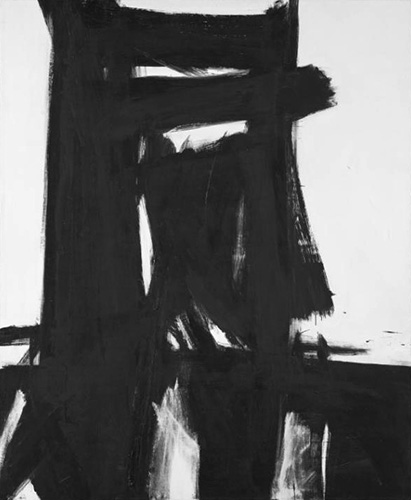 Franz Kline, Meryon, 1960-1
More specifically, Kline's mature works, such as Nijinsky (1950) and Mahoning (1956), are characterized by thick layers of black and white paint, applied with aggressively energetic lines.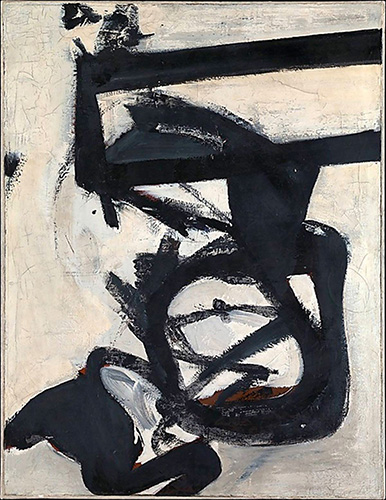 Franz Kline, Nijinslky black and white, 1950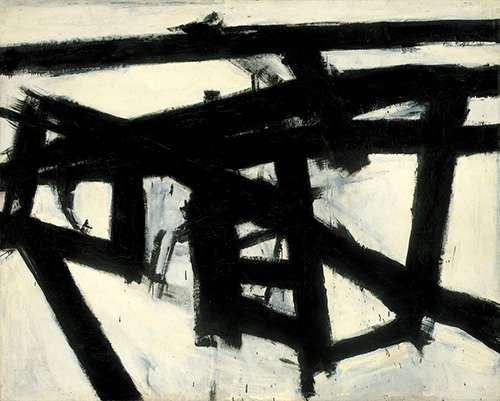 Franz Kline, Mahoning, 1956
It is widely believed that Kline's most recognizable style derived from a suggestion made to him by his friend and creative influence, Willem De kooning. Elaine, the wife of Willem de Kooning remembered the time where in late 1940s, de Kooning advised the artistically frustrated Kline to project a sketch onto the wall of his studio, using a Bell-Opticon projector. Kline described the projection as follows:
"A four by five inch black drawing of a rocking chair...loomed in gigantic black strokes which eradicated any image, the strokes expanding as entities in themselves, unrelated to any entity but that of their own existence."
As Elaine de Kooning suggests, it was then that Kline dedicated himself to large-scale, abstract works and the black and white color palette. Even though Willem de Kooning recalls that Kline delved into abstraction "all of a sudden, he plunged into it", he also concedes that it took considerable time, stating that "Franz had a vision of something and sometimes it takes quite a while to work it out." Over the next two years, Kline's brushstrokes became completely non-representative, fluid, and dynamic. It was also at this time that Kline began painting only in black and white. He explained how his monochrome palette was meant to depict negative and positive space by saying, "I paint the white as well as the black, and the white is just as important." His use of black and white is very similar to paintings made by de Kooning, as well as those of Jackson Pollock during the late 1940s. In Kline's black and white paintings, he also referred to the Japanese calligraphy, as Kline was part of the Japanese calligraphy group named Bokujinaki.
Kline's first one-man show took place on October 16-November 4, 1950, at the Egan Gallery, 63 East 57th Street, New York. The show consisted of eleven abstract paintings. Color was a rare element in the paintings: brown underpainting near the bottom of Nijinsky and fleeting hints of green in Leda. The works shown by Kline displayed a variety of compositions and moods, but they all had one defining trait: Kline's signature style of black on white. Thirteen years earlier in London, Kline had called himself a "black and white man" but not until this show had the accuracy of this phase become clear to others. Because of Kline's impact and his concrete style, Kline was dubbed the "black and white artist", a label which stuck with the artist, but by which he was occasionally restricted by.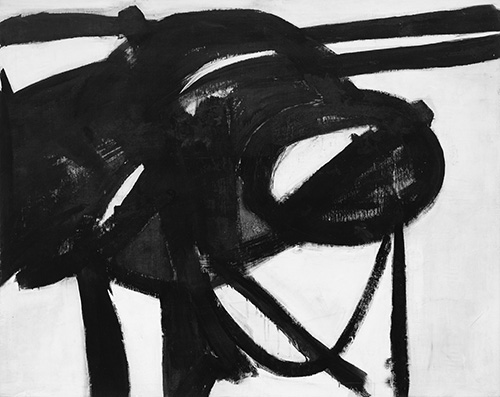 Franz Kline, Chief, 1950
Kline was married to a ballet dancer, Elizabeth Parsons, who, like the famous Russian dancer Nijinsky, suffered from schizophrenia. Kline made several portraits of Nijinsky during his early years, when he worked as a commercial illustrator. This work, however, does not depict the dancer. It is one of the first in Kline's mature style, developed over the winter of 1949–50. During a visit to de Kooning's studio, Kline saw one of his own sketches enlarged with an overhead projector. For the first time he saw that his calligraphic studies, which were made on the pages of a telephone book, worked well as large pictures.
This canvas was included in Kline's first one-man show at Charles Egan's gallery. The titles were created, more or less arbitrarily, by a committee composed of Egan,Elaine and Willem de Kooning, and Kline. The zig-zag line at bottom left may have reminded Kline of the ruff that Nijinsky wore in an earlier portrait of him as Petrouchka.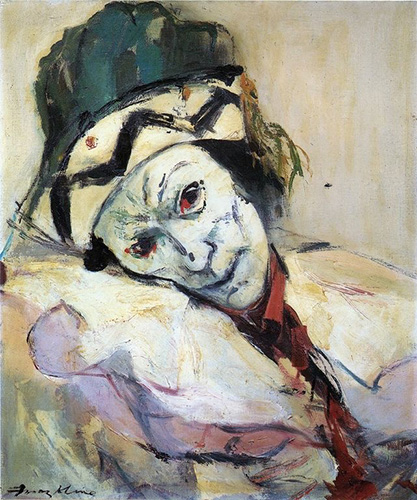 Franz Kline, Nijinsky as Petrouchka, 1948
The works of Franz Kline are shown today as some of the most valuable examples of American abstract expressionist art of the 20th century. In 2012 a San Francisco financier sold a nearly ten-foot wide, untitled black-and-white work from 1957 at Christie's, New York. The painting went to a telephone bidder for USD36 million, or USD40.4 million with fees (Christie's guaranteed the seller an undisclosed minimum), a record price for the artist at auction and more than six times the previous record, which was set in 2005 when Christie's sold Crow Dancer (1958) for USD6.4 million.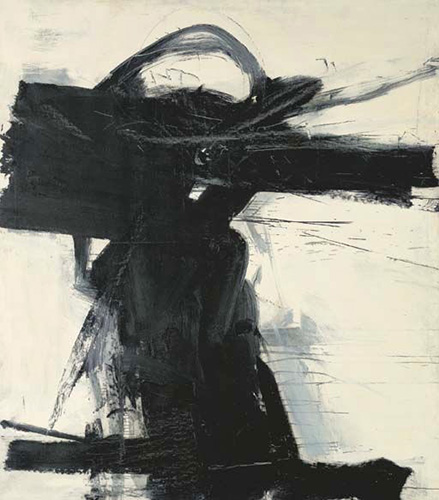 Franz Kline, Crow Dancer, 1958
Kline passed away on May 13, 1962 in New York, NY of heart failure at the age of 51. Today, the artist's works are held in the collections of The Museum of Modern Art in New York, the Art Institute of Chicago, the Peggy Guggenheim Collection in Venice, and the Tate Gallery in London, among others.