Digital technologies and the Metaverse in art, shown in Dubai, the City of the Future
ArtWizard 18.03.2022
Art Dubai, the largest international art fair in the Middle East, featured non-fungible tokens for the first time from 11-13 March 2022. This year's fair launched the Art Dubai Digital section to explore the growth of NFT, crypto-currencies, video art and virtual reality since digital art first emerged in the 1980s.
As the "City of the Future", Dubai always took the lead to technologies and innovation, opening it's "Museum of the Future", where the visitors can step into the year 2071 and re-imagine the future through the themes of space, humanity and wellness, admiring the stunning architecture of the museum itself: an all white oblong-shaped futuristic shape with striking calligraphy panels all around.
Along the Museum of the Future, the Dubai Expo, the event dedicated to the future of digital technologies, showcases a variety of innovative ideas from 192 participating countries, ending on 31 March after six months of activity. During this same period, when Dubai focuses on digital technologies in general, Art Dubai opened its doors at its usual venue in Madinat Jumeirah for its 15th edition, showing how technology goes hand to hand with art.
Art Dubai aimed to exhibit and advertise the creative ideas of artists from around the globe, with four main gallery sections present at the fair: Contemporary, Modern, Bawwaba, and Art Dubai Digital. Among those four, the digital section has been one of the interesting additions to the fair, with the NFT works having a serious presence. The most eminent presenters of titles of digital and NFT artworks include DASTAN X NFTation, Keumsan Gallery, Emergeast, Cyber Baat and Institut.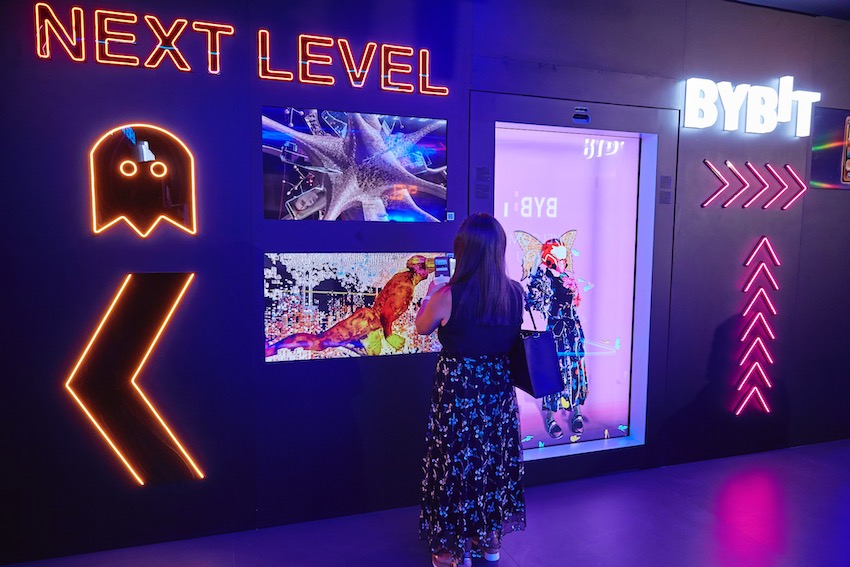 Art Dubai Digital 2022
Photo Credit: ITP Media Group/Adel Rashid
In addition to the four section of the fair, the exhibitions also featured artworks from Asian communities, such as NFT Asia, being an open and inclusive community, aiming to inspire Asian-based artists and creators.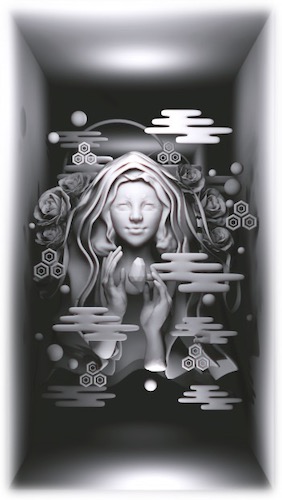 Eri Harigai, Blank, 2021, 3D/2D Video
Photo Credit: Eri Harigai
The Art Dubai Digital section was curated by Chris Fussner, a New York-based cultural researcher and member of the Tropical Futures Institute.
Seventeen galleries and platforms presented works in this section. The curatorial platform NFT MORROW Collective, which was founded at the time of the March 2021 NFT boom, featured artworks by 35 artists with prices shown in cryptocurrency, ranging from 0.8ETH to 10ETH (£1,800 to £23,000 approximately).
"We ensure a dedicated VR display, showing our gallery spaces across different metaverse platforms, and we are also proud of our physical sculpture in the centre of the stand, produced by 3D printing from an NFT counterpart," explains MORROW Collective co-founder and curator Anna Seaman.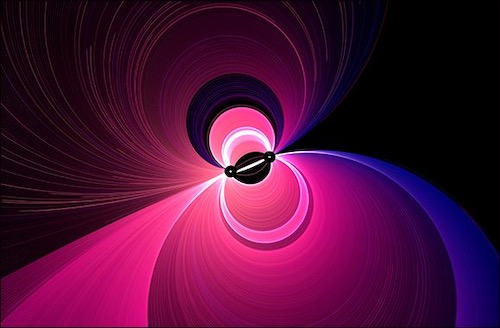 Joon Moon, Magnetism, 2019, Single Channel Video, 4k
Photo Credit: Joon Moon
Emergeast, an online gallery dedicated to emerging and mid-career artists from the Middle East and North Africa, participated in the digital section with works ranging in price from 0.8ETH to 8ETH (£1,800 to £18,000). One of the works on display is CarpETHereum (2021) by Mazyar Kamkar and Reza Vojdani, which shows an Ethereum currency sign wrapped in a Persian carpet - an ode to the birth of Web 3.0 in the Middle East. Some other Emergeast artists who participated in the exhibition were Hana Shahnavaz, Muhcine Ennou, Mays AlMoosawi, Tarik Chebli and Parsa Mostaghim.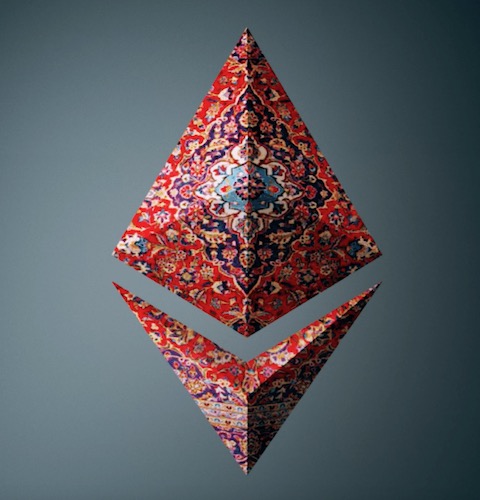 Mazyar Kamkar, CarpETHereum, 2021, NFT Animation
Photo Credit: Emergeast
Other sections of the fair were also showing how the metaverse would look like. Campus Art Dubai, an educational platform for artists, featured NFTs created by the 12 artists participating in this year's edition. In addition, another educational platform - the Global Art Forum, presented as series of lectures, dedicated to "digital artefacts and crypto-economies", with an additional focus on "the basics of crypto-currency, digital media and NFT art", sponsored by crypto-currency exchange Bybit.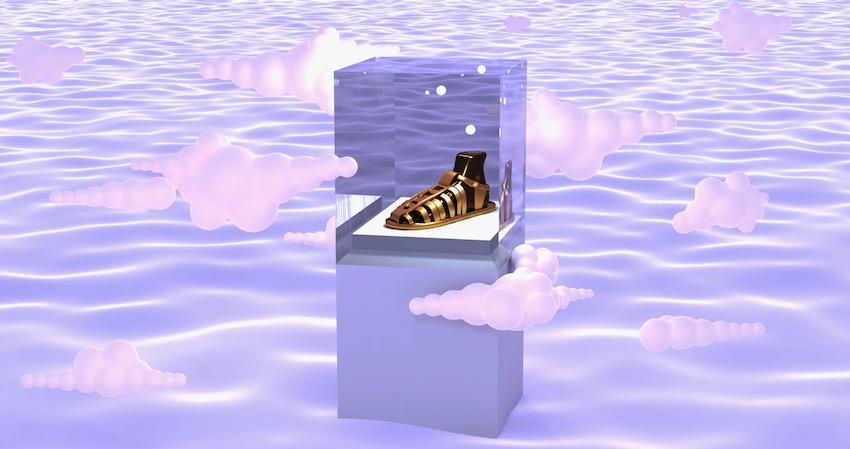 Abieyuwa, Papa, 2022, 3D Animation
Photo Credit: Cyber Baat
This edition of Art Dubai became bigger than ever, with 100 exhibitors from 44 countries, including over 30 first-time exhibitors. But while there will still be crypto-free corners of the fair, such as the modern section and accompanying conferences, they are few and far between.
The fair's artistic director, Pablo del Val, believes the move to digital technologies in art, as in all other trades, is natural: "For over 15 years, Art Dubai has been a place to discover and celebrate new trends, creating and facilitating conversations." Dima Abdul Kader, the co-founder of Emergeast, adds that "an NFT/crypto orientation for any art fair and institution is a natural extension of the contemporary art market."
But as Dubai becomes a crypto hub, could this edition mark a more permanent digital focus for Art Dubai? "Almost every week I hear of someone else moving to Dubai to start a crypto or NFT business," says Seaman. " It's geographically central and technologically advanced enough to feed the blockchain space." Ultimately, it will all come down to sales. As Nikki Meftah, Abdul Kader's founding colleague, said before the art fair: "We have no doubt that the fair will welcome a whole new crowd this year in addition to traditional art collectors."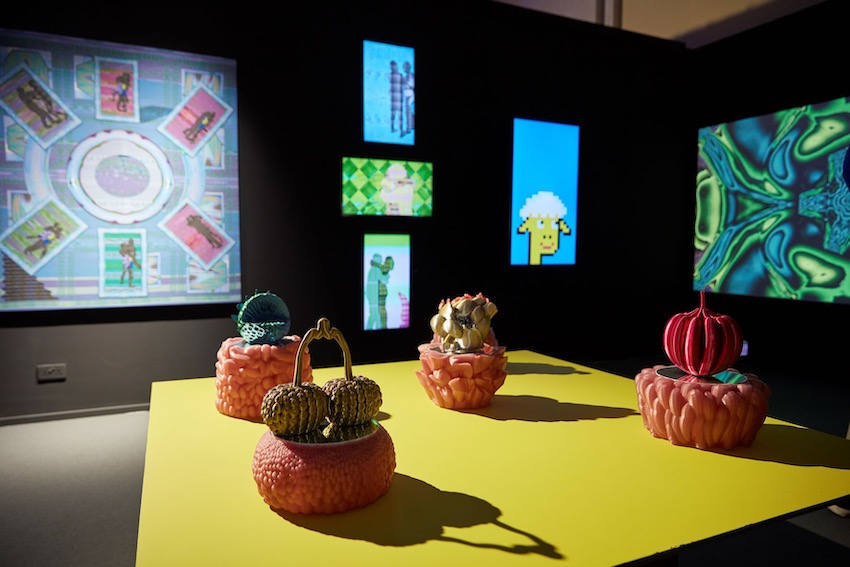 Art Dubai Digital 2022
Photo Credit: ITP Media Group/Adel Rashid
In addition, The Singularity in Heritage collection used Middle Eastern carpet designs to create generative patterns. It was expected to release 333 NFTs, sold in three to six figures in euro currency.
Surprisingly, this edition of Art Dubai was meant to be the largest ever with over 100 exhibitors from 44 different countries. Moreover, as the event launched digital art and the viewers were captivated, as people explored NFT, crypto-currencies, Metaverse, video art and virtual reality creatives in the exhibition.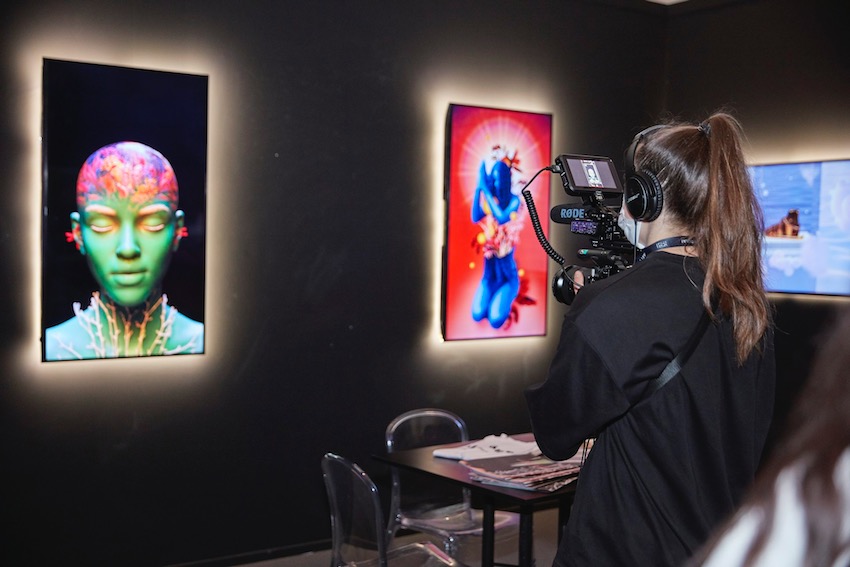 Art Dubai Digital 2022
Photo Credit: ITP Media Group/Adel Rashid
It remains to be seen whether Art Dubai takes on a more permanent digital flavour in the future. Sales and digital presentation of works most likely determined the trajectory of Art Dubai, as a place for digital art and presentations. In any case, Dubai's geographical centrality and digital infrastructure bodes well for anyone looking to start a crypto-currency-related business there, including in digital art and NFT.