Édouard Manet - the first modern artist
ArtWizard 10.05.2021
"Color is a matter of taste and of sensitivity..."
Édouard Manet
Édouard Manet is the first modern artist, who played a pivotal role in the renewal of the pictorial system of Western art. With several paintings that have inspired young artists during that era, he revealed how innovation is not always welcomed by the society, but it is one's gateway to the future. Being at his time, one of the most controversial artists, Manet lived through numerous criticisms to bring himself at the pinnacle of is success.
Born on January 23, 1832, in Paris, Edouard Manet was blessed to be a part of a rich and intelligent family. His grandfather, Clement Manet, was a landowner who built dams. The artist's father, Auguste Manet, was educated as a lawyer and worked as head of the Department in the Ministry of justice of France, was an adviser at the court. His mother, Eugenie-Desiree Fournier, was from an intelligent family. Her father, Jose-Antoine-Nemo Fournier, was Consul in Gothenburg, and her godfather was king Charles XIII of Sweden, and she was therefore of royal ancestry.
At a very early stage in his life, Manet was drawn to art and very soon he decided to become an artist. The artist loved his home and especially the moments when his uncle, Colonel Edmond-Edouard Fournier, came to visit his family. The Colonel was a good-natured man having the habit of taking out a notebook and make small sketches of the people sitting by the fire. Edward watched his uncle, even daring to make a few strokes on the paper himself. His parents wanted Edward to continue his father's way and build a career as a lawyer. However, the only thing that attracted young Manet was painting. His father accepted that the eldest son did not want to become a lawyer, and chose the lesser of two evils – it is better to go to a naval school than to become an artist.
The artist passed the entrance exams to the Maritime school, but failed. He decided that he would prepare more well and enter next year. As a preparation, he was allowed to go on a study trip and this way he found himself attending a drawing class, that was part of it. To further broaden his knowledge and artistic skills, Manet travelled to several parts of the world including Italy, the Netherlands and Germany. In December 1848, Manet went on a sailing ship in Guadeloupe. Swimming across the Atlantic Ocean. Visiting Brazil has completely changed his perception of the world. Manet's entire upbringing took place in a bourgeois environment under a smoky Parisian sky. He had never seen such a riot of color in his life. At that time, the artist realized that he would like to learn how to transfer everything seen in real life – on canvas.
After viewing his son's drawings, which he brought back from a trip, the artist's father stopped doubting his artistic talent. He advised Edouard to go to study at the school of fine arts in Paris. But young Manet was afraid that the teaching would be boring, academic, and tough. However, in 1850, he began to take painting lessons in the Studio of the fashionable French artist-academician Tom Couture. But after a few years of training, differences began to arise between Manet and Couture.
In 1856, he left the academic studio and took up self-education. He often visited the Louvre, where he studied paintings by famous artist and traveled a lot in across Europe. The early works of Manet were inspired by Gustave Courbet, who was a realist artist. Most of Manet's artworks during the mid 1850s depicted contemporary themes and everyday life situations including bullfights, people in pavement cafes, singers, and gypsies. His brush strokes were also rather loose, and the details were quite simplified and lacked much transitional tones. However, he progressed from these themes and created artworks that were more of historical and religious in nature. To raise everyday life to a new level, Manet turned to the artistic formulas of the old masters: Rembrandt, Rubens, Titian, Correggio and Caravaggio. In their language, he spoke of modernity, of the Paris that was around him. His appeal to the old masters gave rise to accusations of plagiarism and some critics have even written that, alntohgh Manet was a very talented artist, he was completely deprived of imagination and was stealing composition techniques from the old masters.
In order to be recognized in Paris, it was necessary for the artists to present their works at the Salon. Such presentation was not easy to achieve, since Salon juries were so strict and meticulous in selected the artworks that were to be exhibited. Fortunately, Manet gained the approval of juries when he submitted his paintings Le Chanteur Espagnol /The Spanish Singer/, and that exhibition was a success in the Salon for Manet.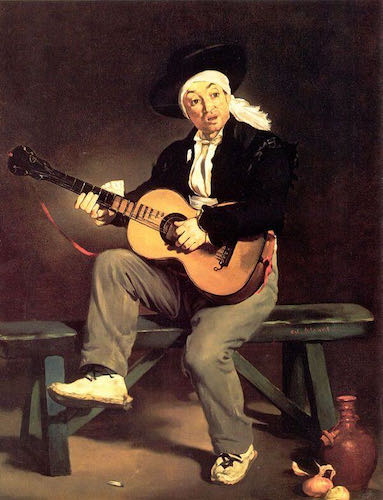 Manet, Le Chanteur espagnol, 1860
However, Manet came across numerous critics during the 1860s. When the "Salon des Refusés" was formed, he decided to display some of his paintings that shocked several people. In 1864, Manet submitted more of his paintings to the Salon, yet these were all harshly criticized by fellow artists and intellectuals. One of his most criticized and controversial, but famous paintings is Olympia that is said to have disappointed most art critics not only because of the theme but Manet's way of presenting the subject. The image of a nude woman in that painting did not seem acceptable or decent enough to the eyes and perception of these critics. While Olympia was the subject of caricatures in the popular press, it was championed by the French avant-garde community, and the painting's significance was appreciated by artists such as Paul Cézanne, Claude Monet and Van Gogh.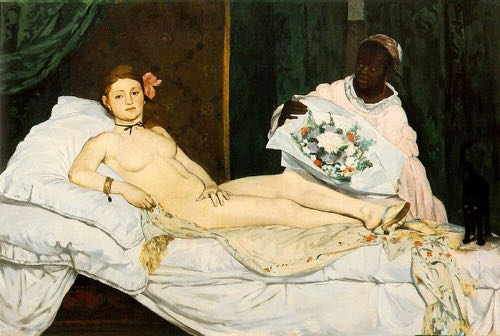 Manet, Olympia, 1863
Another very controversial, but also very known painting of Manet, Le Déjeuner sur l'herbe / Luncheon on the Grass/, exhibited in 1863 at the "Salon des Refusés", aroused the hostility of critics and the enthusiasm of the young painters who later formed the core of the group of the Impressionists. The painting became scandalous with the depicting of two nude women, standing along two fully dressed men. The women are said to be the man's Muses in the painting, however their direct staring at the spectator and the way their bodies are painted was something that was unseen at the Salon at the time.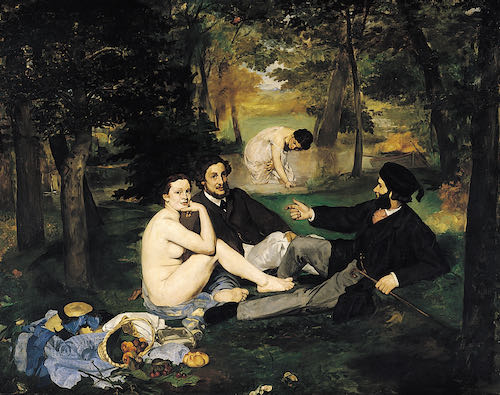 Manet, Le Déjeuner sur l'herbe, 1863
Despite of the many critics received, Manet succeeded to impress the art public in Paris. His last work, called Un bar at the Follies-Bergère /A Bar at the Follies-Bergère/, was displayed at the Salon in 1882. Prior to that year, Manet received a special award from the French Government, which was the Légion d' honneur. It was one of the highest forms of recognition that he has received throughout his life.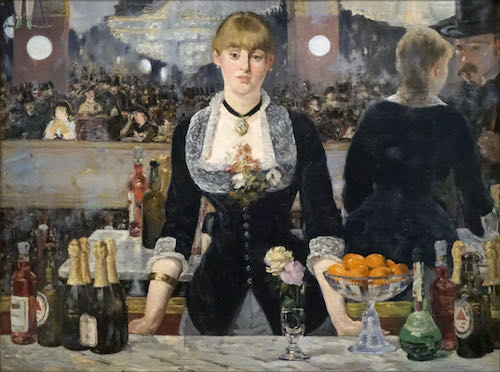 Manet, Un bar aux Folies Bergère, 1883
Since 1880, Manet suffered from serious medical conditions, which was also one of the reasons why he was forced to receive treatment at Bellevue. Thus, he decided to rent a villa in the quieter side of Paris' suburbs. He remained passionate about art even until his untimely death, in 1883. Besides 420 paintings, Manet left behind a reputation that would forever define him as the first of the moderns, and a bold, influential artist. At Manet's funeral, Edgar Degas noted that his gigantic scale as an artist could not be conscious by contemporaries.
Manet had numerous followers, and his influence and inspiration helped future impressionists refine their style. Among the artists who were deeply influenced by Manet included Eva Gonzales, Paul Gauguin and Berthe Morisot. Together with Manet, they shared similar styles that have reinvented the concept of art.