Yayoi Kusama – The Infinity Net
ArtWizard 09.11.2020
"My art has its roots in my hallucinations, which only I see. I translate hallucinations and obsessive images, that irritate me, into paintings and sculptures. All my pastels are products of obsessive-compulsive neurosis and are therefore inextricably linked to my illness. But I create something even when I don't see hallucinations."
Yayoi Kusama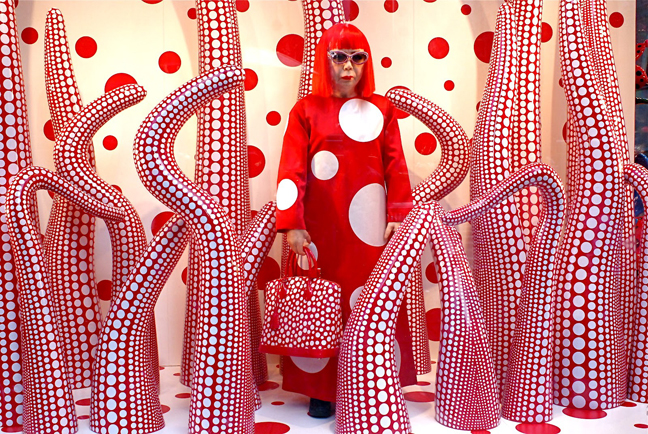 Yayoi Kusama in the window of Luis Vuitton boutique at the opening of her own collection, 2012
As one of the most recognizable and famous artists of the 20th and 21st centuries, the Japanese Yayoi Kusama, born more than 91 years ago, is developing her own creative language, which she speaks in the world not only of contemporary art, but also of fashion, design and literature, and even politics. Recognizable by the "preserved" ornament of multicolored or monochrome circles, which is why she received the nickname "Polka Dot Queen", as well as by legendary pumpkins and famous large-scale installations - today it is not so easy to find a person who at the sight of these creations not to exclaim: "Oh! Kusama!"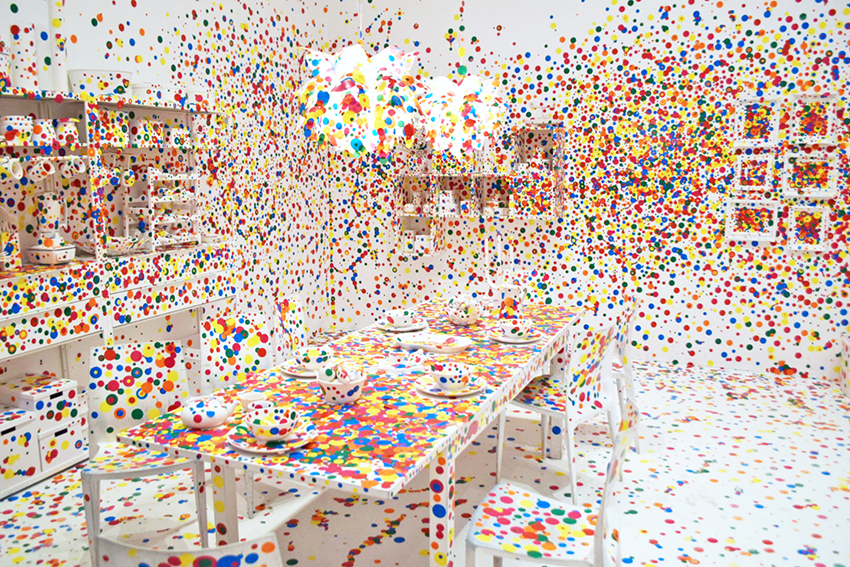 Yayoi Kusama, The Infinite Room
Yayoi Kusama was born in Matsumoto (Nagano, Japan) on March 22, 1929 to a conservative family. From her childhood, abused by her mother, she began to suffer from hallucinations, obsessive images and thoughts. On the advice of a psychiatrist, she began painting as a child and began to depict the same dots on different types of surfaces, which later became her most recognizable image: white dots on a red background. The transfer of this style to painting, interior design and clothing in the United States is partly seen as a form of minimalism, and the artist herself prefers the term "an infinity net."
In 1948, Yayoi left home to enroll at the Kyoto School of Arts and Crafts, where she studied the Nihonga style (literally translated from Japanese as "Japanese painting") for a year. She later said, "When I think about my life in Kyoto, it starts to make me sick," and recalls that she hates the so-called "Iemoto", i.e. the traditional Japanese educational system, which presupposes a certain subordination and the "master-student" relationship.
After a year at the art school, Kusama began experimenting with styles, and by 1950 she was painting her famous white circles on a red background, which she said were derived from her hallucinations. She later recalled: "Once I was looking at a tablecloth with a red flower. Looking up, I suddenly saw the same flowers covering the ceiling, the windows, the walls, the whole room, my body, and the Universe. I felt that I was destroying myself, dissolving into the infinity of time and space, becoming Nothing. I realized that this was not happening in my imagination, but in reality, and I was scared."
The American artist Georgia O'Keeffe had a huge influence on the work of the young artist, whose works impressed Yayoi so much that she wrote several letters to her idol and unexpectedly received a response. As a result of this correspondence in 1957, the 27-year-old Japanese woman arrived in the United States, although her mother strongly opposed it, saying that she should never return. Kusama lied to the Japanese authorities that she was expected in the United States for her first solo exhibition, and due to a ban on the country exporting large sums, she sewed some of her money into the lining of her dress and shoved the other into the toes of her shoes. The artist proudly set foot on American soil with more than 2,000 of her works and 6 dozen kimonos.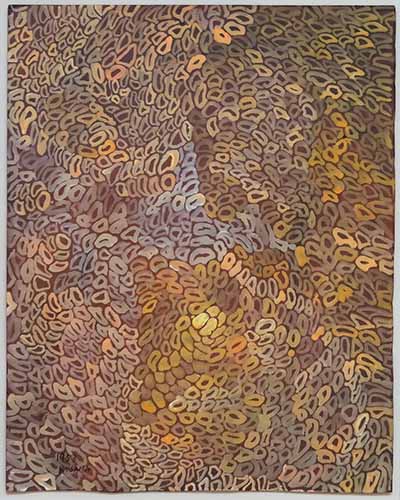 Yayoi Kusama, Untitled, 1953
Already in America, she destroyed her early works, which reminded her of the past, leaving only those she hoped to sell. The unknown young Japanese artist faced many problems, had no money, knew no one but O'Keeffe. After an unsuccessful attempt to organize an exhibition in Seattle, returning to New York, Kusama met art dealer Edith Halpert. This affected her financial situation, and she herself began to make acquaintances and found her place in the artistic life of the United States, often moving in the company of Andy Warhol, Roy Lichtenstein and Mark Rothko and did not stop painting. Her art braught her fame but no money and she lived on the brink of survival. At the same time, she began studying at the League of Arts Students in New York, which she attended for almost a year.
Yayoi Kusama, The Infinite Room of Mirrors - Phallus Field, 1965
In the 1960s, Yayoi Kusama found herself at the center of the so-called first hippie generation, which is characterized by a pronounced pacifist attitude and a tendency to eccentric behavior. The artist was called one of the leaders of the avant-garde, and her ethnic origin, belonging to an "exotic" culture and mental state, made the public pay attention to all her unusual performances. In the second half of the 1960s, Kusama organized a series of anti-war events that took place in public places and included naked people (Wall Street Anatomical Explosion, Self-Destruction, Brooklyn Bridge Anatomical Anti-War Explosion). At this time, Yayoi Kusama began to create the so-called "Mirror rooms", ie. special art spaces that, thanks to the mirrors and the unified design, create a visual illusion of infinity in front of the viewer and immerse him in an unusual, surreal environment.
Yayoi Kusama, Accumulation No1, 1962
In the early 1960s, Kusama increasingly included phallic symbols in her work, and one of her iconic works was "Accumulation №2" from 1962 - a sofa wrapped in "protrusions" of various fabrics, which seemed absurd and threatening. The subtext of this work is more related to sexuality and identity than to painting, say researchers of her work. These strange "additions" covering the object seemed more like a parody of the so-called "phallic power". Phalluses are also present in the design of furniture (for example, the Cluster, 1966), clothing (hat with phalluses) and spaces (The Infinite Room of Mirrors - Phallus Field, 1965), interpreting this as a manifestation of feminism and the search for a woman identity. Later, the artist herself noted that she had an inexplicable fear of the genitals and, bringing the symbol itself to absurdity, tried to work with "forbidden" forms for herself.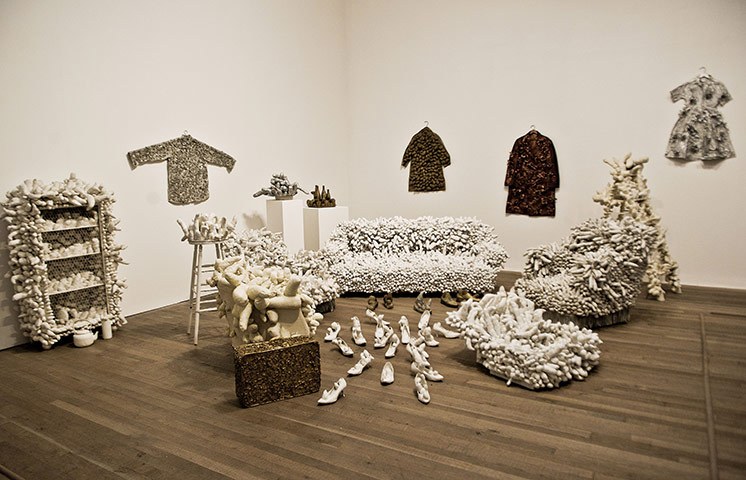 Yayoi Kusama, Accumulation on Cabinet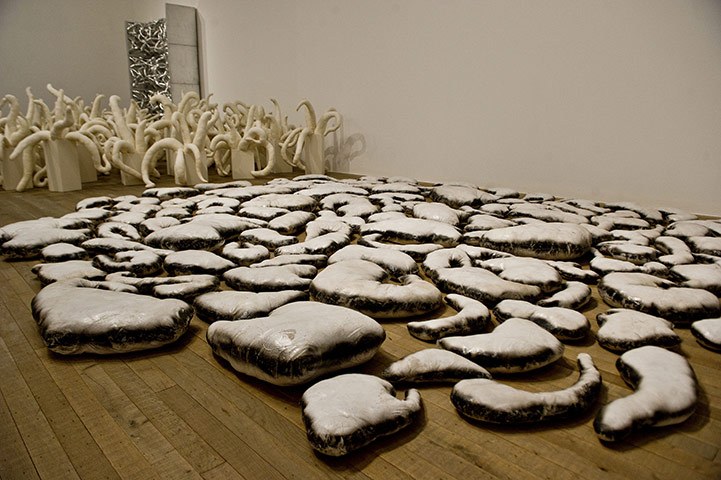 Yayoi Kusama, The Clouds, 1984
Like many of the other motifs that inhabit her work, her love of pumpkins has roots in her childhood. It was then that she first encountered a pumpkin that spoke to her. Kusama discovered that pumpkins are "so delicate to the touch, so appealing in color and shape," and passionately embarked on reproducing them, exploring their every shape and feature. Today, her pumpkins can't be confused - brightly colored and always covered with black dots. "I encounter the spirit of the pumpkin, forgetting everything else and focusing entirely on the form in front of me ... I've spent a whole month in front of a pumpkin."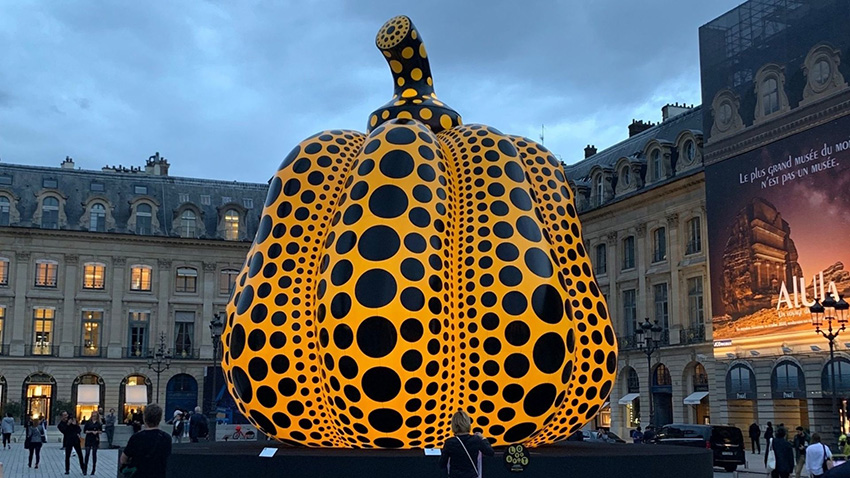 Yayoi Kusama's Giant Pumpkin at The Place Vendôme, Paris
In 1966, Yayoi Kusama had the opportunity to participate in the Venice Biennale, but due to her scandalous reputation was not allowed. Although Kusama is not an official participant in the event, she received moral and financial support from Lucio Fontana (an artist and sculptor in love with Kusama's creativity) and the benediction of the president of the Biennale. Kusama responded to the hypocritical art elite by placing an installation on the grass in front of the Italian pavilion right in front of the building where the Biennale is held. The work consists of a field with 1'500 plastic mirror balls and a sign with the inscription: " Your Narcisium [sic] for Sale " (the spelling is deliberately by mistake.) The balls give the impression of being multiplied to infinity Inviting the audience to look at their own reflection through the Narcissus Garden, and Kusama confronted visitors with concepts such as ego and vanity. The installation aroused great interest, but was a cause for scandal: dressed in a golden kimono, Yayoi standed in his "garden" next to the sign and selled his silver balls to visitors for $ 2. Too bold way to integrate the idea of ​​economic exchange between art production, circulation and consumption. Kusama was asked to leave the Biennale, but the Narcissus Garden remained.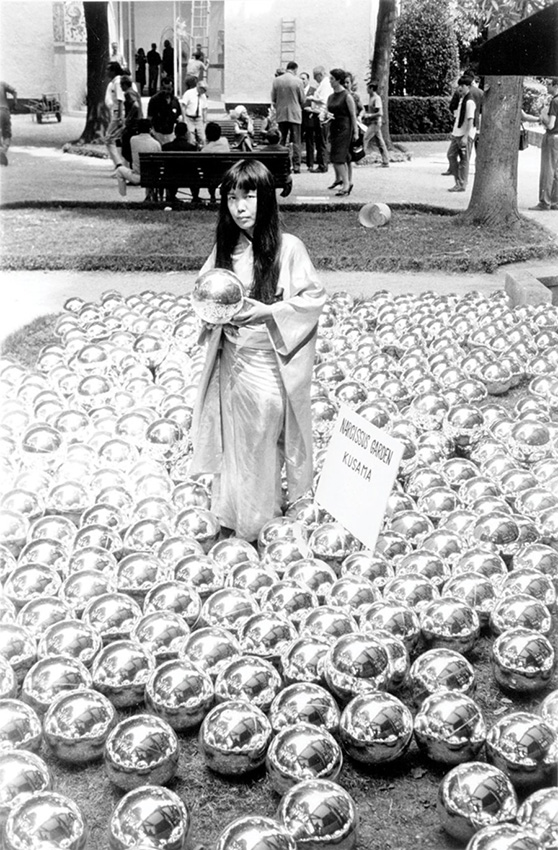 Yayoi Kusama's Narcissus Garden in Venice, 1966
By the end of the 1960s, Yayoi Kusama was already referred to as a complete scandalous artist with her "preserved" images and signs. Themes that also begin to characterize the artist's work appear. The most important concept is that of self-destruction. The term "self-obliteration" occurs in the names of many of her works, and in her own words derives from the Japanese concept of "ego kayaks" (literally translated as "eternal repetition"). At this time, Kusama began making political statements, the most famous of which could be considered the burning of the Soviet flag in protest of the invasion of Czechoslovakia and a proposal to Nixon (then President of the United States) to have sex with him if he agreed to withdraw his troops from Vietnam.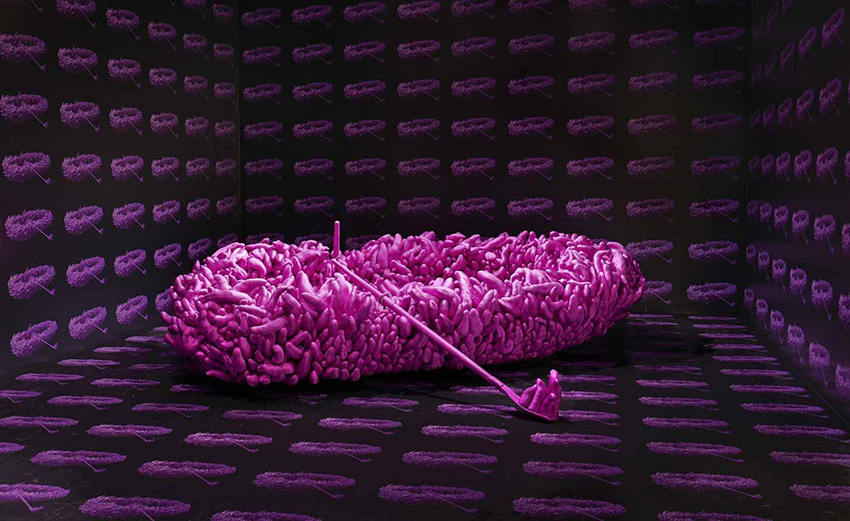 Kusama has always spoken out against the elitarism of art, saying that "art must be placed next to supermarkets to attract people outside the creative elite." This position in the American art circles of the 60's made it so that at some point from avant-garde leader Yayoi Kusama became a pioneer of American pop art. Although the artist herself hadnever considered this as her direction, as she has always had a very negative attitude towards the positioning of pop art, as a "national style of the United States", and also considered the repetitions characteristic of artists from this direction, for something soulless and cold. Moreover, seeing Andy Warhol's installation of walls covered with cow-faced wallpaper, she accused him of plagiarism, saying it was a repeat of her "Cluster of Thousands of Boats", where the image of a boat was simply replaced by a head per cow. Interestingly, a little later Claes Oldenburg, another classic of pop artist was also accused of plagiarism, and in his case everything was so obvious that his wife was forced to apologize.
1968 was especially fruitful for the artist and she made her own label Kusama Fashion Company Ltd., which she sold in the famous department store Bloomingdale's.
Her name became extremely well known, high-ranking people reacted to her "antics" and as a result began to detain her quite often. Curiously, during one of the detentions, the station guard recognized Kusama and admitted to her that he was her fan, after which he gave her a cake, and one of the girls in the next cell expressed a desire to take part in any future action of the artist. At the same time, in Japan, Yayoi Kusama's work was viewed extremely negatively. She wascalled shameless and there was even a collection of signatures at the school she studied in Kyoto to exclude her name from the alumni list.
In the early 70's Yayoi continued to be active and appeared on the covers of various magazines much more often than any other artist at the time. She was accused of self-promotion and noted that it was difficult to determine where eccentricity and mental characteristics end and advertising begins, "speculating with her own madness." But more often she was worshiped for her ability to tame her madness through art.
Kusama never married, although she lived in New York for 10 years with artist Joseph Cornell. In 1973, a year after his death and another suicide attempt, she decided to leave the United States and return to her homeland. "I hated sex, and he was impotent, so we fit in," he told Art Magazine. At that time, her health was deteriorating sharply and doctors in Japan have found that she has diffuse goiter and uterine fibroids. Her hallucinations increased, and her psychological condition generally worsened. After undergoing treatment, Yayoi Kusama tried to sell paintings to Western masters, but soon the oil crisis began and this business became fundamentally impossible. In March 1977, Yayoi volunteered for the Saveva Psychiatric Clinic due to her apparent obsessive-compulsive disorder.
Yayoi Kusama spent the next ten years in Japan and her name was gradually forgotten. The "return" of the artist took place in the late 80's, when several retrospectives of her work were held in Europe. In 1993 she was entrusted to officially represent Japan at the Venice Biennale, and in the following years she represented her country twice more (1998, 1999) at this prestigious event in art.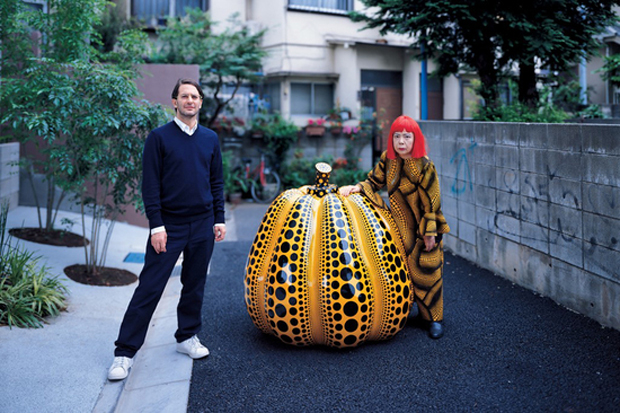 Yayoi Kusama and Marc Jacobs, 2012
In 2011, Yayoi Kusama collaborated with Marc Jacobs and Issey Miyake to create an unprecedentedly successful collection for Louis Vuitton in 2012, which has repeatedly been called the most successful project at the intersection of fashion and art of all time. Mark Jacobs himself claims that he thought of working with the Japanese artist a few years earlier, even in 2006 he visited her studio in Japan. The publication of the collection is accompanied by an advertising campaign, which includes a competition in which the winners receive the book "Alice in Wonderland" designed by Yayoi Kusama. At the time, the Selfridges department store decorated all 24 Kusama-style glass windows.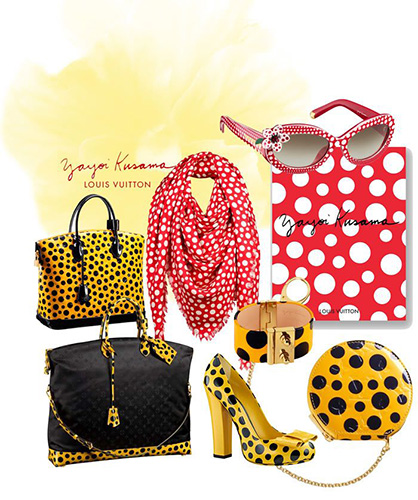 Part of Yayoi Kusama collection for Luis Vuitton, 2012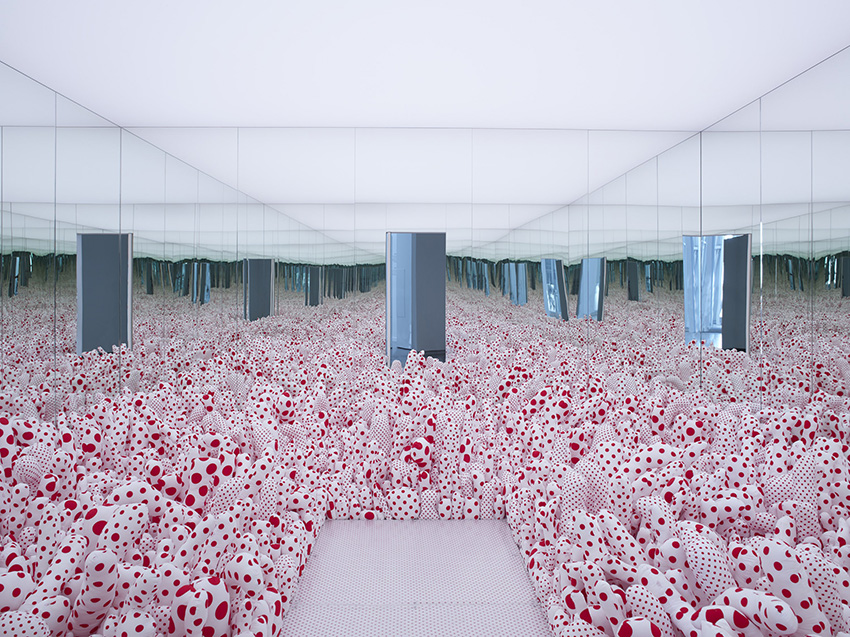 Yayoi Kusama, The Infinite Room
An unexpected role in the fate of the artist is played by social networks - "Mirror Rooms", installations with circles and large-scale psychedelic sculptures turn out to be ideal material for Instagram. The Japanese girl outsider, who dreamedof conquering New York and the world, not only realized her dream, but also became a living myth of her time. Opened in Tokyo at the end of September 2017, the Yayoi Kusama Museum, dedicated to her entire work, is attesting once again. There are no queues in front of the strange building, but the reason for this is that you can only get inside by pre-booking, and tickets are bought months in advance. Her exhibitions have been a huge success at the Pompidou Center, MoMA and others. In the 1960s, Kusama was the "disgrace of the city" and was even removed from the school list, and today students at Matsumoto are studying her work.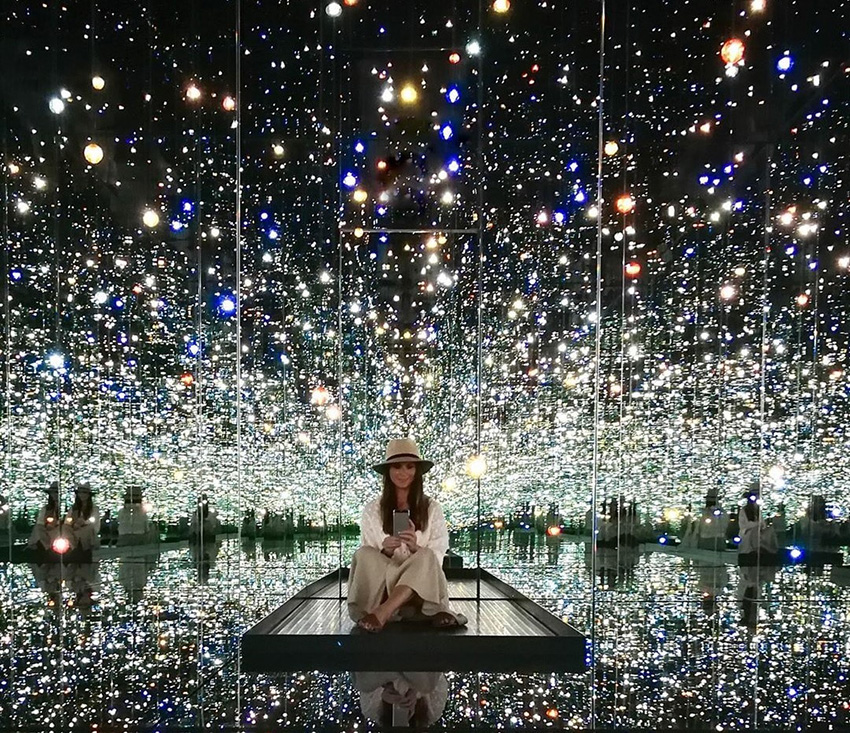 Yayoi Kusama, The Infinite Room
In the fierce struggle of her life, pressed to a point on the edge of Nothingness, Kusama always manages to tame the infinity. With her frantic productivity and enviable aesthetic control, for more than 60 years she has transformed the disturbing illusory invasions of her brain into art.
Yayoi Kusama herself invariably appears in public in a neon wig with a straight bangs, a colorful dress of her brand and playful sunglasses in colored plastic frames. Today, at the age of 91, she continues to paint 3-4 hours a day. She does it herself, with her assistants laying only the primer on the canvases. She recently extended her work week from five to six days, keeping Sundays for writing, reading, talking on the phone and drawing smaller pictures. She arrives at her studio in a wheelchair, paints, and then returns to the psychiatric clinic two blocks away, which is her home.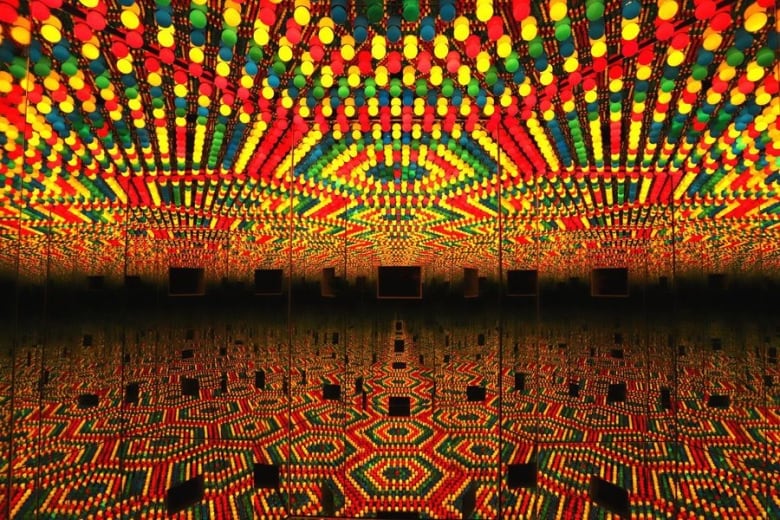 Yayoi Kusama, The Infinite Room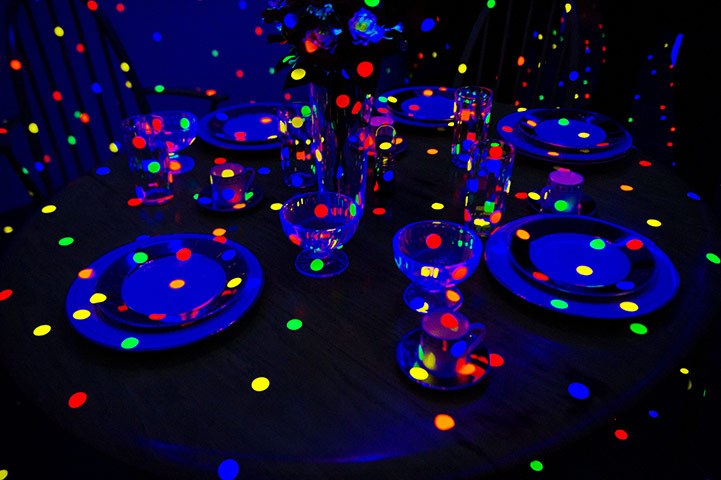 Yayoi Kusama, Im Here But Nothing, 2000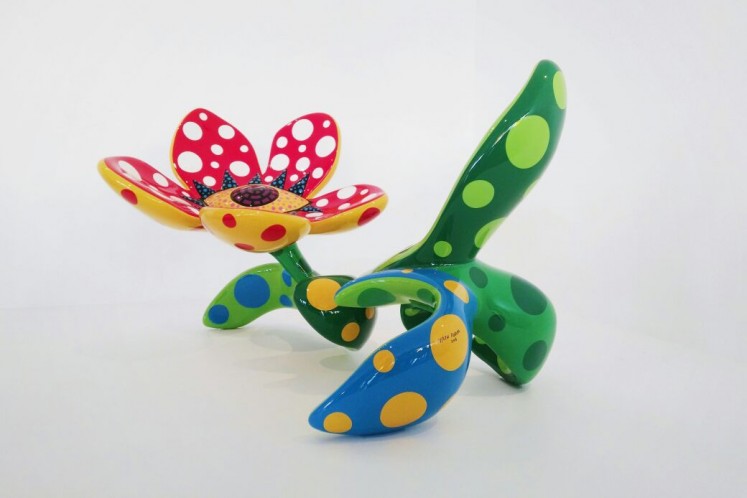 Yayoi Kusama, Flower by Yayoi Kusama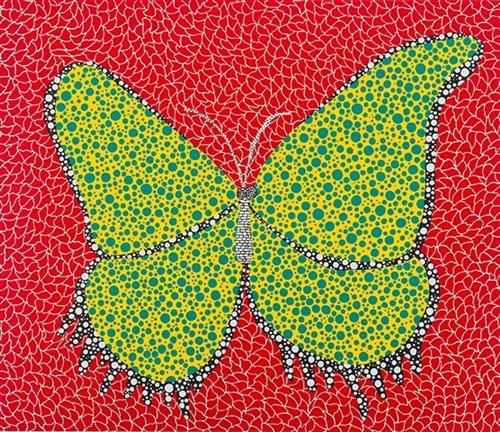 Yayoi Kusama, Butterfly, 1988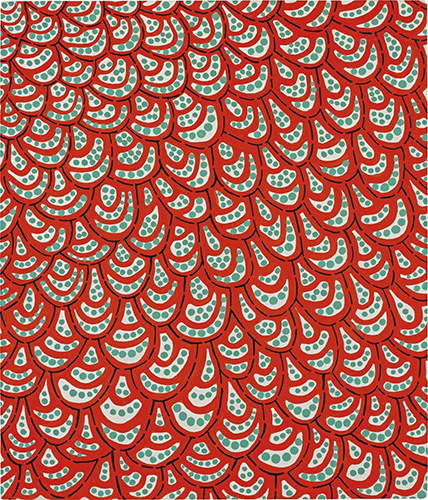 Yayoi Kusama, Petals, 1988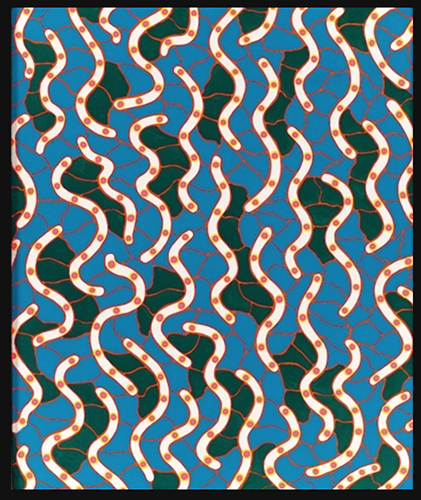 Yayoi Kusama, Waves on the Hudson River, 1988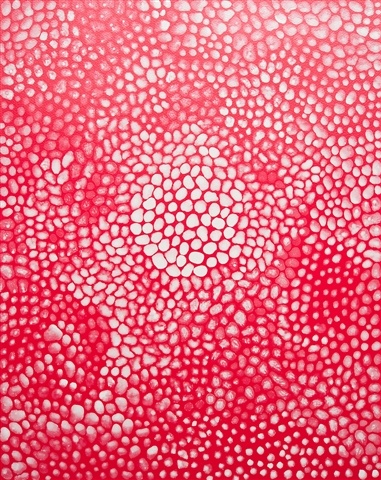 Yayoi Kusama, Sunlight, 1998