Tapestry goes Pop! by Archie Brenan – with ArtWizard on the Edinburg Fringe Festival 2021
ArtWizard 01.09.2021
"The real characteristic of tapestry weaving - it's complete and you move on, you can't change your mind easily… Its very slowness… is a counter to modern life; you savour every bit of it."
Archie Brenan
Having been to the Stirling Castle in Scotland and exploring the medieval unicorn tapestry, that is characteristic for the time when the infamous and very historic person – Mary the Queen of Scots lived, one can see at the tapestry atelier of the castle, that it took thirteen years to produce the beautiful and unique tapestry that decorate the castle. This was however sometime in the XV – XVI century back in time. What if tapestry can be modern and contemporary and depict the everyday life of today? As an artist can depict anything on the tapestry canvas, much like in the medieval times.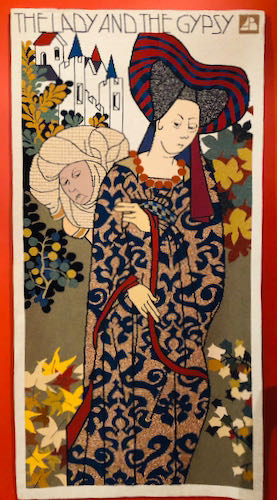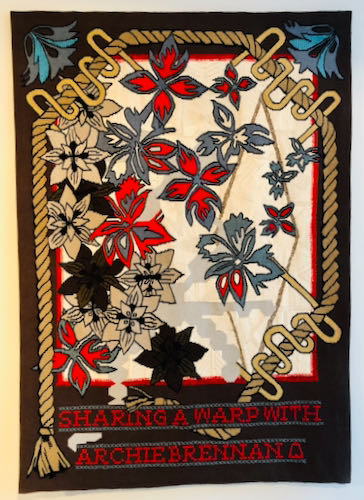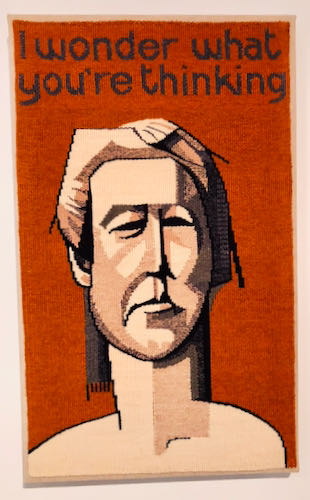 Tapestry by Archie Brennan

This is how Archie Brenan, a pop artist, weaver, and former Mr. Scotland changed the course of modern weaving and is considered one of the greatest unrecognised pop artists of the twentieth century. Why unrecognised? Most likely because his medium of choice was tapestry.
The exhibition of Archie Brennan: Tapestry Goes Pop!, part of the Edinburg Fringe Festival 2021, tells the story of Edinburgh native Archie Brennan (1931-2019) in the first major retrosepctive exhibition of his work. Bringing together over 80 tapestries as well as archive material, this is a chance to delve into the world of a master of modern tapestry. If comparing to the medieval one, the art lover can see the difference – modern tapestry is much more cubical and squared, not so detailed but rather showing some traits of the modern life, still very accurate.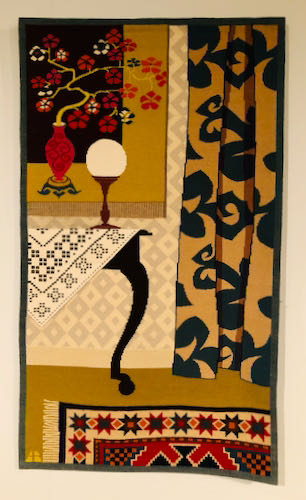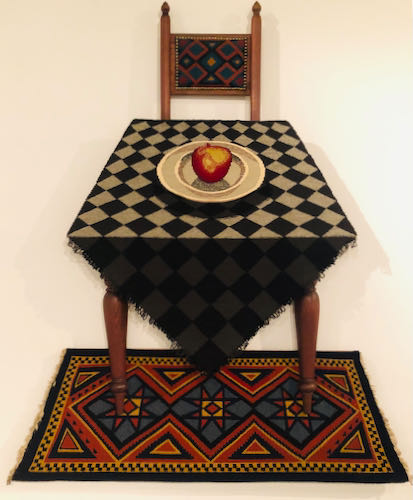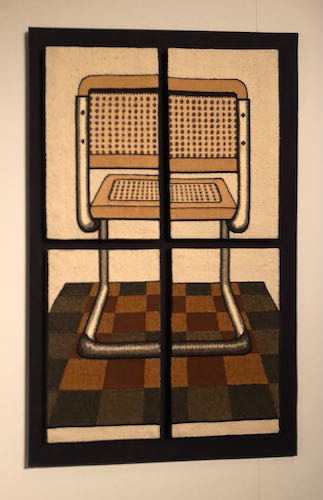 Tapestry by Archie Brennan
Archie Brennan's practice examined contemporary culture through the lens of classical tapestry weaving. His work was firmly rooted in the here and now, but at the same time was indebted to Medieval, pre-Columbian and Coptic tapestry weaving. It was this fundamental understanding of tapestry and respect for its long traditions that allowed Brennan to subvert the conventions and break the rules of tapestry.
A continuing theme in Brennan's work is the depiction of other textiles through the visual language and technical construction of tapestry. By using textile as a subject, Brennan found a fertile source of inspiration. As well as embracing the technical challenges, he could also play with the viewer's perception and expectation of what tapestry could be. Brennan distilled textile elements down to essential forms; making ties, tablecloths or towels the sole focus of a work, or combining textile elements so that clashing patterns, perspectives and trompe l'oeil are employed to create visually arresting compositions.
Much like his peers, Eduardo Paolozzi and Tom Phillips, Archie Brennan was interested in contemporary culture, the everyday, and media imagery. While other Pop practitioners elected to explore these themes through more immediate mediums such as collage, printmaking and casting, Brennan did so within the limitations of classical tapestry weaving. Brennan was fascinated by celebrity imagery and depicted Muhammad Ali on numerous occasions. In these celebrity tapestry portraits facial features are broken down into simple geometric forms, which are, nonetheless, instantly recognisable.

Tapestry by Archie Brennan
Archie Brennan knew Sir Sean Connery, collaborated with David Hockney and his work was bought by The Great British Bake Off judge Prue Leith. Yet the man dubbed "Scotland's Andy Warhol" remains far less well known than some of his famous friends.
"I think it was down to him working in tapestry," says Kate Grenyer, curator of Dovecot Studios in Edinburgh. "When people think of art they think of painting and sculpting. Tapestry was a bit of a niche thing to do."
As well as making tapestries of well-known figures, Brennan was inspired by popular and contemporary culture more broadly.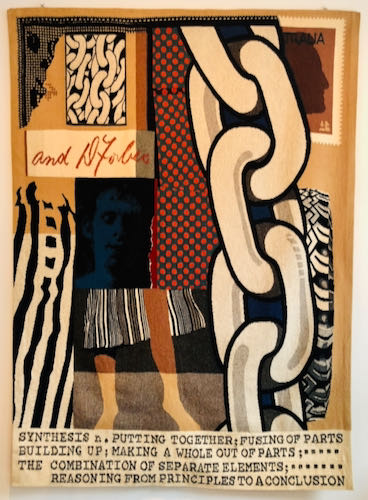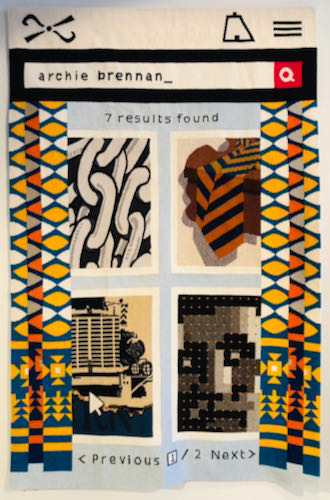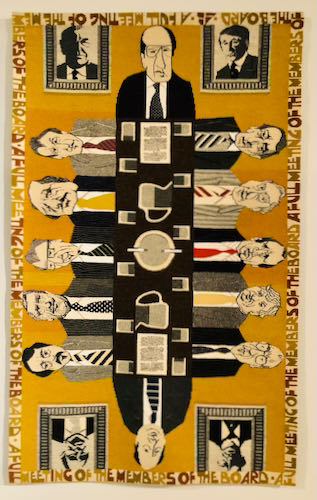 Tapestry by Archie Brennan
"He was a man of his time," says Grenyer. "He did love looking back at those old historic Medieval tapestries and learning from them, but he saw them and thought these were the contemporary art of their day, I'm not going to try to emulate that."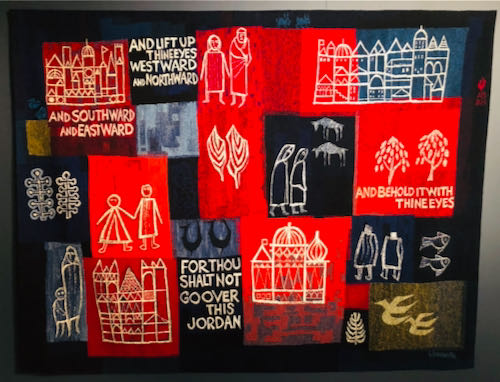 Tapestry by Archie Brennan
Instead, he often chose subject matter "that was quite throw away", and liked the idea of preserving a quick image in the "very slow medium" of weaving. Tapestries could take months, if not years, to complete. But forget knights in shining armour, unicorns and flowers. Brennan made tapestry modern, preferring to weave famous faces, including Princess Diana and the boxer Muhammad Ali.
Archie Brennan was born near Edinburgh in 1931 and served an apprenticeship as a weaver at the Dovecot Studios between 1947 and 1953. After National Service he went to Edinburgh College of Art from 1956 to 1962 and from 1962 to 1977 was director of the Dovecot Studios. From 1962-1973 he was head of the tapestry department at Edinburgh College of Art, and in 1977 was elected Chairman of the British Arts Council and President of the Scottish Society of Artists.
After nearly thirty years of protean work at Dovecot and Edinburgh College of Art, Brennan moved to Australia, New Guinea, Hawaii and finally settled in New York where he lived with his partner the weaver Susan Maffei. Archie Brennan passed away in 2019.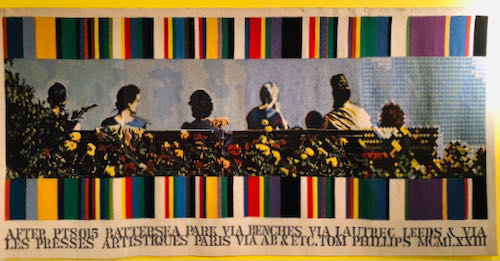 Tapestry by Archie Brennan