Renewing the art fairs and old master sales – Georges de La Tour
ArtWizard 21.07.2021
As a lot of art and Contemporary art fairs like ARCO Madrid, SPARK Vienna and the Salon du Dessin, Paris take place recently, all within the months of June and July 2021, the trade of the old masters is also at pace despite the pandemic.
Some of old baroque masters have been on the market at the end of last year, as this rare Georges de la Tour painting, A Girl Blowing on a Brazier / La Fillette au braisier, 1646 -1648, was sold for a record of €4,3 m, making it the most expensive Old Master painting ever sold at auction in Germany. The 17th century painting of a young girl blowing on brazier by the French baroque painter sold at Lempertz Auction House in Cologne, Germany in the fall of 2020.
Georges de La Tour, A Girl Blowing on a Brazier (La Fillette au braisier), 1646 -1648
A Girl Blowing on a Brazier, which dates to la Tour's late period (1646-48), was last bought at Christie's in London in 1975 by the late German airline owner Hinrich Bischoff for £17,850.
"A towering figure in the history of French art, Georges de la Tour's work is unbelievably rare," says Anthony Crichton-Stuart, the director of Agnew's gallery in London. Only 48 paintings by the artist are known and this intimate oil is thought to be the only candlelit nocturne that are not in a museum. It is also, unusually, signed by the artist.
This is the first La Tour painting to come up for auction since 2008, when the French painter's depiction of Saint James / St. James the Greater that was sold at Sotheby's New York for $3,2 m to a private US collector. It now hangs, fully restored, in the Metropolitan Museum of Art. The previous record for a La Tour painting was set way back in 1991 by A Blind Hurdy-Gurdy Player / Le Vielleur, which sold at Christie's London for £1,8 m.
A Girl Blowing on a Brazier was shown in the Prado Museum in Madrid's major show of La Tour's work in 2016. In February 2020, the first ever exhibition dedicated to La Tour in Italy opened at the Palazzo Reale in Milan.
"The physical condition of de la Tour's paintings is often challenging," Crichton-Stuart notes, adding that this example "looks like it too may have some condition issues." That said, he says, "it's a wonderfully Caravaggesque composition of a young woman blowing on a brazier."
Georges de La Tour was born in 1593 in Vic-sur-Seille, a large market town in the independent duchy of Lorraine, now part of northeastern France, that was the seat of the archbishopric of Metz. His family belonged to the provincial artisanal class: both his father and grandfather were bakers. No documents or information regarding La Tour's early career survive, making any account of his formative training conjectural. His apprenticeship likely began around 1605, perhaps in Vic with Alphonse de Rambervilliers (1560-1633), a writer and amateur engraver close to the bishop of Metz, and he very likely worked in Nancy with the painter, etcher, and draftsman Jacques Bellange (1575-1616). La Tour's low-life subjects and his bold tenebrist manner of painting seem to be heavily indebted to the work of Caravaggio (1571-1610) and his followers in Rome. Caravaggio's influence was spreading throughout Europe in the second decade of the century, through followers as diverse as Bartolomeo Manfredi (1582-1622) in Rome or Gerrit van Honthorst (1592-1656) and Dirck van Baburen (1595-1624), who transmitted their versions of his distinctive style to their native Utrecht. This is why some art historians assume that De la Tour also travelled to Rome, although there is no substantial proof for that.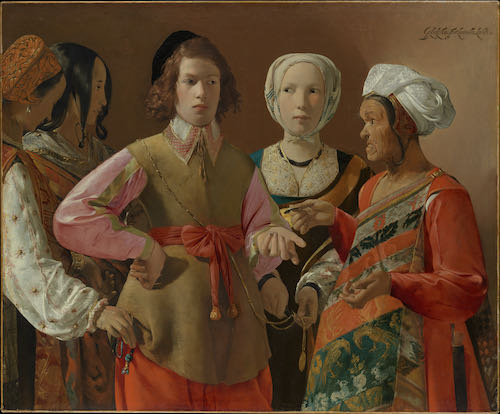 Georges de La Tour, The Fortune-Teller (La Diseuse de bonne aventure), 1630
Artists in Lorraine, such as Bellange and Jean Leclerc (c. 1587-1633), also explored such dramatic effects of light and shade, so it was by no means necessary for La Tour to have made an Italian trip. However, La Tour departed significantly from Caravaggio and his progeny in the north while retaining elements of both. His paintings - largely austere genre and devotional scenes structured by dramatic effects of day and candlelight, such as the National Gallery of Art's The Repentant Magdalen / La Madeleine à la veilleuse - demonstrate powerful introspection and intense spirituality. These qualities may reflect the strong Catholic sentiments of Lorraine, which bordered northern Protestant states.
Georges de La Tour, The Penitent Magdalen (La Madeleine à la veilleuse), 1640
By the 1620s, and for the rest of his career, La Tour enjoyed substantial court patronage in Lorraine and royal patronage in Paris. In successive years, 1623 and 1624 for example, Henri II, duc de Lorraine (r. 1608-1624), commissioned important pictures from the artist. In the late 1630s, during the Thirty Years' War, the French took over Lorraine. In 1638-1639 La Tour spent some time in Paris, having executed works for Cardinal Richelieu (1585-1642), and acquired the title of painter in ordinary to the king. La Tour presented a Night Scene with Saint Sebastian (location unknown) to Louis XIII. Between 1644 and 1651, the marquis de La Ferté-Sénecterre (1599-1681), the French governor of Lorraine, received six of La Tour's paintings as tribute from the cities of the region. La Tour's successful career was relatively short. The artist passed away on January 30, 1652, two weeks after the death of his wife and it is assumed both of them died as a result of a disease very similar to an epidemic flu.
Georges de La Tour, St. Joseph the Carpenter (Saint Joseph charpentier), 1642
The chronology of La Tour's work cannot be stated with precise accuracy, however, the realist daylit scenes, such as The Musicians' Quarrel / Rixe de musiciens, (Los Angeles, J. Paul Getty Museum), are usually dated before 1630. A greater degree of stylization enters into such daylit genre scenes as The Fortune Teller (New York, Metropolitan Museum of Art), which may date from the early or mid-1630s. Only two paintings are dated, the Repentant Saint Peter / Le Repentir de saint Pierre, (Cleveland Museum of Art) of 1645 and The Denial of Saint Peter / Le Reniement de Saint-Pierre, (Nantes, Musée des Beaux-Arts) of 1650. The austere and abstract Newborn Child / Le nouveau-né austère, (Rennes, Musée des Beaux-Arts) is also considered a late work of the artist.
The paintings of La Tour's maturity are marked by a startling geometric simplification of the human form and by the depiction of interior scenes lit only by the glare of candles or torches. His religious paintings done in this manner have a monumental simplicity and a stillness that expresses both contemplative quiet and wonder.
After his death at Lunéville in 1652, La Tour's work was forgotten until rediscovered in 1915 by Hermann Voss, a German art historian. One interesting fact is also that when discovered, the works of Georges de La Tour have been confused with the ones of Johannes Vermeer when the Dutch artist underwent his own rediscovery in the nineteenth century.