Orphism in color by František Kupka...
ArtWizard, 07.10.2019
"Color is, both for the artist who uses it and for the spectator who perceives and assesses it, the vehicle of the impression... (every color) provokes different sensations. Though with identical functions, each color makes itself known by a specific vibration".
František Kupka was a pioneer of Abstract Art and one of the first completely non-representational artists. Along with artists such as Piet Mondrian and Wassily Kandinsky, his mature work formed the foundations for the development of modern art in the 20th century. Although many of his early pieces were figurative or contained realistic elements, he gradually evolved a purely abstract style, seeking to communicate ideas and beliefs without using recognizable imagery but instead conveying them through the use of line, form, and color alone. Whilst he was reluctant to be associated with any particular movement, Kupka worked closely with the Cubists and was instrumental in the development of Orphism, he also drew inspiration from the work of a wide range of other artists including those associated with Futurism and Fauvism.
Self-educated, Kupka read extensively and was notably influenced by ideas relating to Spiritualism, Buddhism and Theosophy. He incorporated religious symbolism into some of his early work and, later, used the philosophies associated with these religions to create his own belief system focused on revealing the unseen meaning hidden beneath the purely visual, a tenet that informed his move towards abstraction. He also investigated concepts relating to creation and the wider universe in his art.
As a young teen he worked for a saddle maker who introduced him to spiritualism and ideas about the cosmos, concepts he would later draw upon in early drawings and paintings that explored the relationship between religion, color, and geometry. Following his training at the Academy of Fine Arts in Prague, and later at the Academy of Fine Arts in Vienna, Kupka moved to Paris in 1896. Inspired by the Neo-Impressionist and Fauvist paintings he saw in Paris exhibitions, he began experimenting with different styles, all while supporting himself as a caricaturist for satirical magazines.
Kupka worked as an illustrator of books and posters and, during his early years in Paris, became known for his satirical drawings for newspapers and magazines. In 1906 he settled in Puteaux, a suburb of Paris, and that same year exhibited for the first time at the "Salon d'Automne". Kupka was deeply impressed by the first Futurist manifesto, published in 1909 in the Paris newspaper "Le Figaro". Kupka's work became increasingly abstract around 1910–11, reflecting his theories of motion, color, and the relationship between music and painting. In 1911 he attended meetings of the Puteaux group. In 1912 he exhibited at the "Salon des Indépendants", featuring also the Impressionists, in the Cubist room, although he did not wish to be identified with any movement.
Kupka was born on September 23, 1871, in Opocno in eastern Bohemia,as one of five children. From 1889 to 1892 he studied at the Prague Art Academy. During this time he painted historical and patriotic themes. In 1892, Kupka enrolled at the Akademie der Bildenden Künste, Vienna, where he concentrated on symbolic and allegorical subjects. He exhibited at the Kunstverein, Vienna, in 1894. His involvement with theosophy and Eastern philosophy dates from this period. By spring 1896 Kupka had settled in Paris, where he attended the Académie Julian for a short time and then studied with Jean-Pierre Laurens at the Ecole des Beaux-Arts.
His first solo show in Paris was held at Galerie Povolozky in 1921. In 1931 he became a founding member of Abstraction-Création Artist Group in Paris, alongside with Jean Arp, Albert Gleizes, Jean Hélion, Auguste Herbin, Theo van Doesburg, and Georges Vantongerloo.
In 1936 his work was included in the exhibition Cubism and Abstract Art at the Museum of Modern Art, New York, and was part of an important show along with Alphonse Mucha at the Jeu de Paume, Paris.
A retrospective of his work took place at the Galerie S.V.U. Mánes in Prague in 1946. That same year Kupka participated in the "Salon des Réalités Nouvelles", Paris, where he continued to exhibit regularly until his death.
Shortly before he died in 1957, František Kupka sold his painting named Mme Kupka among Verticals, a work he had stored in his studio for nearly 45 years after its completion in 1910–11, to The Museum of Modern Art (MoMA) in New York.
In this oil painting, dynamic, fractured strokes of color surround the face of Eugénie Straub Broad, the artist's wife and muse. Eugénie's delicate features: her tilted chin, slightly parted lips, and closed eyes emerge from these irregular, choppy vertical brushstrokes. Reusing an unfinished portrait of his wife, made years earlier when he was working in a Symbolist vein, Kupka transformed her likeness into something barely figural. The result, like many of his important paintings and works on paper, plays between abstraction and portraiture. He would soon tip the balance toward total abstraction, becoming one of the earliest artists to do so.
The painting is vibrantly colored, tightly packed procession of uneven verticals nearly envelops a face painted in markedly non-naturalistic shades of green and purple. Kupka would later say that to make this painting he had reworked an unfinished portrait of his wife, laying in strokes of color around her face until it was all but obscured by their boldly flat pattern, a method suggesting a literal assault on figuration.
During the early 1950s, Kupka gained general recognition and had several solo shows in New York. Kupka died in Puteaux on June 24, 1957. Retrospectives were held at the Musée National d'Art Moderne, Paris, in 1958 and at the Solomon R. Guggenheim Museum, New York, in 1975.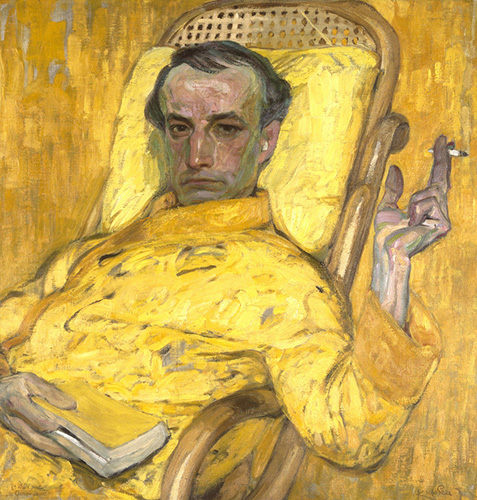 František Kupka - The Yellow Scale, c.1907
František Kupka, Woman licking flowers, 1909
František Kupka. Mme Kupka among Verticals. 1910-11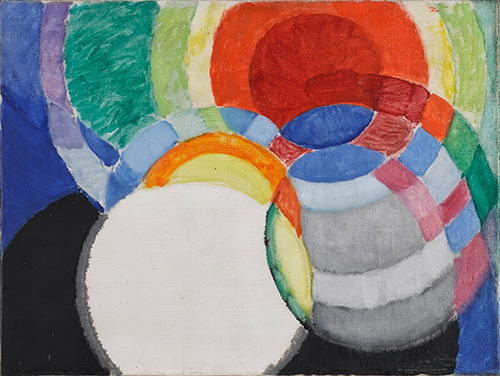 František Kupka, Disques de Newton 1911-1912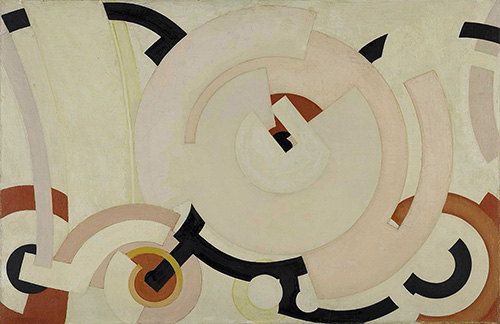 František Kupka, Divertimento I, 1935