Eva Gonzalѐs, the talented Manet student
ArtWizard 25.05.2020
"It is an astoundingly strong statement from such a pretty little author."⠀
Hans Hofmann, 1870, from Review of The Little Soldier
Eva Carola Jeanne Emmanuela Antoinette Gonzalès is a French Impressionist painter, a student of Edouard Manet and very much influenced by his astronomical presence. The artist was born in Paris and became introduced to sophisticated literary and art circles at an early age by her father, the writer Emmanuel Gonzalès. In 1865, at age of sixteen, Eva Gonzalеs began her professional training and art lessons in drawing through her father's connections as a founding president of the Société des gens de lettres. This way the artist met a variety of members of the Parisian cultural elite, and from a young age was exposed to the new ideas surrounding art and literature at the time.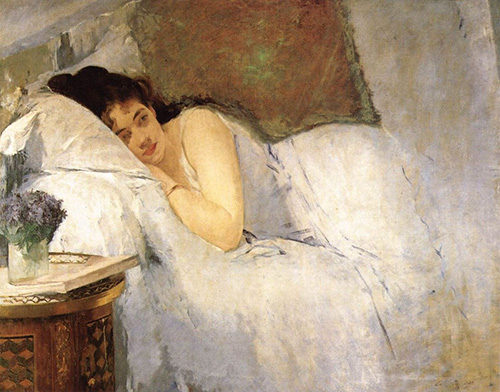 Eva Gonzalès, Morning Awakening, 1876
Like the other women Impressionists, Gonzalès could not attend the Ecole des Beaux-Arts, the prestigious art school as women students were forbidden. Fortunately, her upper-class status provided her with the financial resources to pursue her artistic career and, after training for a while with Charles Joshua Chaplin, a society painter connected to the state-funded French Academy, she met the avant-garde painter, Édouard Manet. By all accounts, he was very drawn to Gonzalès and, in addition to forging a friendship with her, took her on as his student - the only student he ever accepted, although by all accounts the arrangement was not particularly formal. He had met another one of the women Impressionists, Berthe Morisot, and, by all accounts, was equally taken with her, also painting her portrait on multiple occasions as he had Gonzalès's but never taking her on as a student.
Eva Gonzalès, Nounou avec enfant (Nanny and Child), 1877-78
Either way, having the support of Manet was no small thing as he was a major figure in the avant garde art scene. He had challenged the artistic establishment repeatedly, submitting daring, unconventional works like Le Déjeuner sur l'herbe (Luncheon on the Grass, 1862-3) and Olympia (1864) to the official Salon only to have them rejected but gaining public and critical support in the process. Gonzalès never exhibited her work in any of the Impressionist exhibitions but, because of her painting style, she was identified with the group. She and her husband Henri Charles Guérard (the fairly famous and celebrated French engraver and lithographer) were friends with many painters, including Paul Cézanne.
Edouard Manet, Portrait of Eva Gonzalѐs, 1870
At the 1870 Salon de Paris, the artist exhibited her work for the first time. That same year, Manet painted two portraits of her, including the better-known one in which she is shown seated at her easel as she paints a still life. Gonzales' works depict not only her unique vision and talent, but were also a direct response to Manet's work. In 1869, Manet painted a portrait of Gonzales, and Gonzales responded not with a portrait of Manet, but rather with a series of self-portraits. These self-portraits allowed Gonzales to rewrite her identity as an artist, and reimagine her status as a woman Impressionist painter.
Eva Gonzalѐs, Enfant de troupe (The Little Soldier), 1870
Eva Gonzalѐs, Lady with a Fan, 1869–70
The most common themes of Gonzalès's paintings and drawings were portraits, still-lifes, landscapes, domestic scenes of women and children, and portraits. As a woman artist, she was significantly hindered in terms of appropriate subject matter. Unlike her male Impressionist colleagues, she could not wander the modern city seeking out scenes of daily life to paint as they did.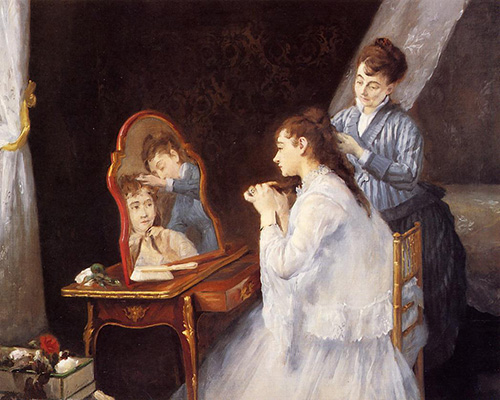 Eva Gonzalès, Le petit lever (The Little Lever), 1875
Eva Gonzalès, Roses dans un verre (Roses in aa Glass), 1880-82
Gonzalès's work faced some critics because of what audiences and critics claimed were over similarities to the style of Manet, which, at that time, was considered somewhat crude. Her painting Une loge aux Théâtre Italiens (1874), in particular, drew that comparison. The composition features a man and woman (modeled by Gonzalès's sister Jeanne with engraver Henri Guérard, whom Eva married in 1879) in a lush box at the opera. Her depiction of the figures with very pale skin set against a dark background recalled Manet's portraits.
Eva Gonzalès, Une loge aux Théâtre Italiens (A Box at the Italian Theatre), 1874
Before dying in childbirth at age 34, the artist showed her work at a number of important art shows. After the artist died, Guérard, her father, and a family friend organized a memorial retrospective of 88 of her works. The many works that did not sell at that exhibition were then put up for auction and thus dispersed. In the late 20th century, though there were many fewer works to show for her short career, her reputation grew beyond her association with Manet to join that of Mary Cassatt and Berthe Morisot.
Eva Gonzalès, The Donkey Ride, 1880