The long nudes by Amedeo Modigliani...
ArtWizard, 21.10.2019
"When I know your soul, I will paint your eyes."
Amedeo Modigliani
Amedeo Clemente Modigliani (1884 – 1920) was an Italian painter and sculptor whose portraits and nudes, characterized by asymmetrical compositions, elongated figures and monumental use of lines are among the most important portraits of the 20th century. Modigliani worked mainly in France.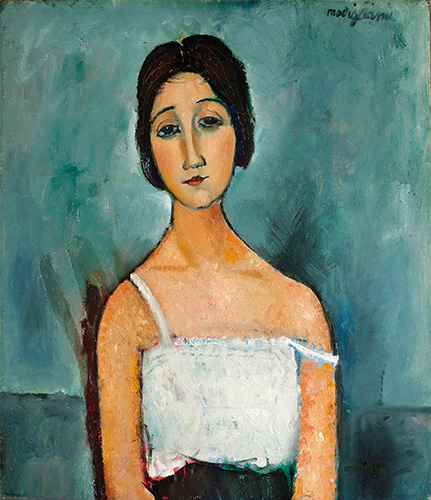 Amedeo Modigliani, Christina, 1916
Amedeo Modigliani, Madame Zborowska, 1918
The artist spent his youth in Italy, where he studied the art of antiquity and the Renaissance. In 1906 he moved to Paris, where he came into contact with some famous artists, such as Pablo Picasso and Constantin Brâncuși.
Modigliani was born and raised in a Jewish family of merchants. As a child, he suffered from pleurisy and typhus, which prevented him from receiving a conventional education. In 1898 Modigliani began to study painting. Having a particularly close relationship with his mother who greatly encouraged him, the young artist became more inspired to pursue his love for art as a primary vocation. The artist was often found to be painting and drawing from an early age, discovering his love and skill in art and this all started even before he pursued formal studies.
When Modigliani was suffering from typhoid fever, he was inspired to visit Florence and view the astounding paintings in the Uffizi and the Palazzo Pitti and expressed his deep desire to visit those places. When he recovered from his illness, his mother took him to Florence to view paintings from the Italian Renaissance.
Aside from taking a tour to this city, he obtained training from Guglielmo Micheli, a painting master in the city of Livorno, where Modigliani was born and spent his years as a child. During the years 1898 to 1900, Modigliani decided to spend some years in the Micheli's Art School.
It was here where he had his formal art instruction. The environment supported greatly his passion for art, and he acquired some very profound skills in the 19th century Italian art. Later on, in his early Parisian works, it was evident that his masterpieces were largely influenced by his knowledge of Renaissance Italian art. Among a few others, his inspirations included Leonardo da Vinci, Peter Paul Rubens, and Caravaggio.
In 1901, Modigliani spent some time in Rome and in this period he was greatly inspired also by the works of Domenico Morelli, whose masterpieces featured scenes and images from the Bible and literature.
After a brief stay in Florence in 1902, Modigliani continued his artistic studies in Venice, remaining there until the winter of 1906, when he left for Paris. His early admiration for Italian Renaissance painting, especially that of Siena was to last throughout his life.
In Paris Modigliani became interested in the Post-Impressionist paintings of Paul Cézanne. His initial important contacts were with the poets André Salmon and Max Jacob, with the artist Pablo Picasso, and later on with Paul Alexandre, a friend of many avant-garde artists and the first to become interested in Modigliani and to buy his works. In 1908 the artist exhibited five or six paintings at the Salon des Indépendants, presenting the Impressionists and Post Impressionists. In 1909 Modigliani met the Romanian sculptor Constantin Brâncuși, on whose advice he seriously studied African sculpture.
To prepare himself for creating his own sculpture, he intensified his graphic experiments. In his drawings Modigliani tried to give the function of limiting or enclosing volumes to his contours. In 1912 the artist exhibited at the Salon d'Automne eight stone heads whose elongated and simplified forms reflect the influence of African sculpture. The experience with sculpture had influence greatly his paintings, as the characteristics of Modigliani's sculptured heads, long necks and noses, simplified features and long oval faces became typical of his paintings.
Amedeo Modigliani, Jeanne Hébuterne with Yellow Sweater, 1918-1919
In 1917 Modigliani began a love affair with the young painter Jeanne Hébuterne, with whom he went to live on the Côte d'Azur. Their daughter, Jeanne, was born in November 1918. His painting became increasingly refined in line and delicate in colour. A more-tranquil life and the climate of the Mediterranean, however, did not restore the artist's undermined health. After returning to Paris in May 1919, he became ill in January 1920, and 10 days later he died of tubercular meningitis. The next day Hébuterne killed herself and their unborn child by jumping from a window.
Amedeo Modigliani, Jeanne Hébuterne (Au chapeau), 1919
Despite his fragile health that was accompanying him during his life, Modigliani became an emblematic figure for the Parisian art scene, along with his fellows Picasso and Constantin Brâncuși. His paintings of woman as nudes and portraits with long figures became charasteristic for his art and left a remarkable trace in the art history.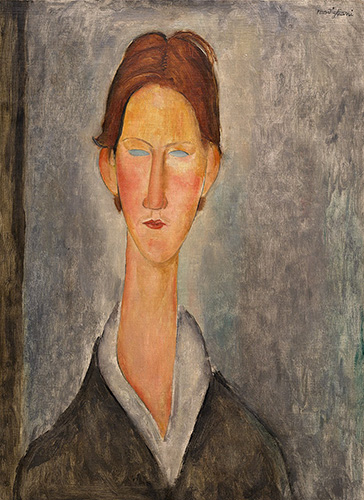 Amedeo Modigliani, Portrait of Student, 1917
Amedeo Modigliani, Nude, 1917