The bright colours of Wassily Kandinsky...
ArtWizard 30.09.2019
"Every work of art is the child of its age and, in many cases, the mother of our emotions".
Wassily Kandinsky
One of the pioneers of abstract modern art, Wassily Kandinsky exploited the evocative interrelation between color and form to create an aesthetic experience that engaged the sight, sound, and emotions of the public. He believed that total abstraction offered the possibility for profound, transcendental expression and that copying from nature only interfered with this process. Highly inspired to create art that communicated a universal sense of spirituality, he innovated a pictorial language that only loosely related to the outside world, but expressed volumes about the artist's inner experience. His visual vocabulary developed through three phases, shifting from his early, representational canvases and their divine symbolism to his rapturous and operatic compositions, to his late, geometric and biomorphic flat planes of color.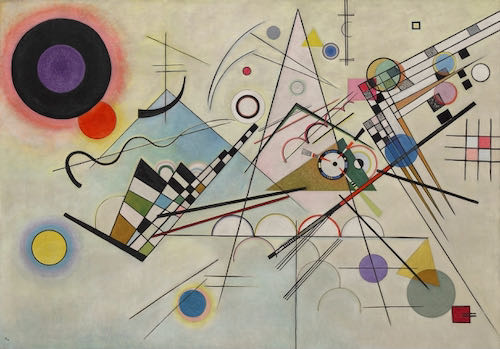 Wassily Kandinsky, Composition VIII, 1923
Wassily Kandinsky was born on December, 16th, 1866 in Moscow, in a well-established family of a businessman and in a very good cultural environment. In 1871 the family moved to Odessa where his father ran his tea factory. There, alongside with attending a classical gymnasium, the young Kandinsky learned to play the piano and the cello and took drawing lessons with a teacher. "I remember that drawing and a little bit later painting lifted me out of the reality", he wrote later on. In Kandinsky's works of his childhood period we can find rather specific color combinations, which he explained by the fact that "each color lives by its mysterious life". Kandinsky's parents saw him in the future as a lawyer. In the year of 1886 he went to Moscow and entered Law Faculty of Moscow University.
Later on Kandinsky recollected two events, which had affected this decision to be a painter: his visiting an exhibition of the French impressionists in Moscow in 1895 and an emotional shock he experienced from Monet's, "Haystacks", and an impression of Richard Wagner's "Lohengrin" at the Bolshoi Theatre.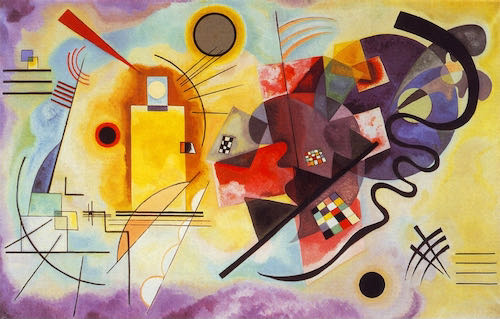 Wassily Kandinsky, Yellow-Red-Blue, 1925
In 1896 Kandinsky left for Munich, at that time considered to be one of the centers of the European art, and entered Anton Azbe's (Yugoslavian artist) prestigious private painting school, where he received the first skills in image composition, in work with line and form. However, rather soon the school ceased to satisfy his needs. Later the artist would write, "Quite often I yielded to a temptation to play truant and to go with a painter's case to Shvabing, to Englishen-Garten, or to the parks on the Isar". In 1900 after a failure of the previous year, Kandinsky entered the Munich Academy of Arts, and studied under Franz Stuck, the "German graphic artist Number One". His teacher was happy. However, he considered his palette too bright, and this is why Kandinsky drew exclusively in black-and-white spectrum, "studying the form as that". During that period Kandinsky got acquainted with a young artist, Gabriela Munter, and in 1903 he divorced his wife, Anna Chimyakina.
The following five years Kandinsky travelled across Europe, being engaged in painting and participating in exhibitions. Having returned to Bavaria, he settled down in a small town of Murnau at the bottom of the Alps. It was the beginning of the stage of intensive and fruitful search. The works of those years were basically landscapes, based on color discords. The play of color spots and lines was gradually superseding images of reality (Akhtyrka. Autumn. A sketch, 1901; Sluice, 1901; Old Town, 1902; Blue Rider, 1903; The Gulf Coast in Holland, 1904; Murnau. The Bailey, 1908). At that very time he turned to Russian fairy epic olden time, creating captivating images (Russian Rider, 1902; Russian Beauty on the Landscape Background, 1904), making mysterious legends about Slavic wooden cities visible (Russian Village on the River with the Shallops, around 1902; To the City, around 1903).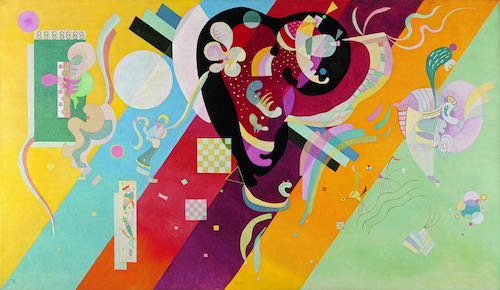 Wassily Kandinsky, Composition IX, 1936
When the World War began, Kandinsky was compelled to leave Germany. He and Gabriela moved to Switzerland where Kandinsky started to work on the book about "point and line". By November of the same year they had parted. Gabriela came back to Munich, and Kandinsky went to Moscow. In the autumn of 1916 Kandinsky got acquainted with Nina Andreevskaya, the daughter of the Russian General, and he married her in February, 1917. During these crisis years of revolution Kandinsky alternated among half-abstract idiom, Impressionist landscapes and romantic fantasies. In his abstract pictures geometrization of separate elements became stronger, the reason for that is, first, the proper process of simplification, and, secondly - the Avant-Garde artistic atmosphere of Moscow of that time.
In Russia Kandinsky was in the vein of the post-revolutionary cultural and political development. From 1918 till 1921 he cooperated with ISO of Narkompros (People's Committee of Education) in the field of art training and museum reform. 1919 and 1921 he published six big articles. As Chairman of the State Purchasing Commission at the Museum Bureau of the ISO Department of Narkompros he participated in founding twenty-two provincial museums. But Kandinsky renders the biggest influence as a teacher of the Moscow Svomas (Free Workshops), and then Vkhutemas. Being its Professor since October, 1918, he designed a special curriculum based on the analysis of color and form, developing the ideas stated in the book "Concerning the spiritual in art" /Über das Geistige in der Kunst/. Then, participating in the foundation and management of the Moscow Institute of Artistic Culture (Inkhuk) he designed a curriculum for it, based on his theory.
However, his opinion differed from the opinion of the Board of the Institute. Kandinsky's opponents - Rodchenko, Stepanova and Popova - are for the exact analysis of materials, for their constructive arrangement and setting. Any display of irrationality in creative process was emphatically denied. Kandinsky, in his turn, vigorously opposed the Constructivist opponents: "Just because an artist uses 'abstract' methods, it does not mean that he is an 'abstract' artist. It doesn't even mean that he is an artist. Just as there are enough dead triangles (be they white or green), there are just as many dead roosters, dead horses or dead guitars. One can just as easily be a "realist academic" as an "abstract academic". A form without content is not a hand, just an empty glove full of air". The unceasing attacks of his colleagues-artists considering his works as "mutilated spiritism" (Punin) were a determinative for Kandinsky to leave Moscow in December, 1921. The pressure of socialist ideology upon the art, which led eventually to appearance of socialist realism, began after 1922. Kandinsky's pictures for many years are put away from the Soviet museums.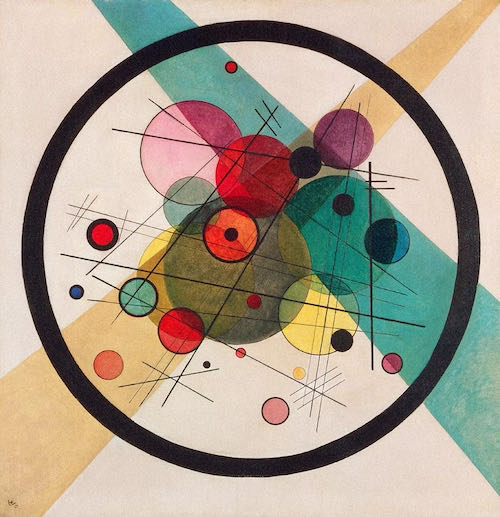 Wassily Kandinsky, Circles in a Circle, 1923
After returning to Germany, Kandinsky accepts an invitation of Walter Gropius, the founder of the well-known Bauhaus (the Higher school of construction and art designing) and he and Nina moved to Weimar where Kandinsky headed a fresco workshop. He again taught and developed the ideas. They dealt, first of all, with the deep analytical studying of separate elements of a picture, which resulted into "Point and Line to Plane" in 1926. Kandinsky also worked much and experimented with color, applying his analytical foundation and the conclusions in his teaching. Kandinsky's works again underwent changes: individual geometrical elements increasingly entered the foreground, his palette was sated with cold color harmonies which, at times, are perceived as a dissonance, the circle is used differently, as a sensual symbol of perfect form. "Composition VIII", 1923 is the main work of the Weimar period. Alongside with conceptual works, at this time he created Small Worlds rich in fantasy for Propilei Publishing House and some chamber, "intimate" pictures, such as "Small Dream in Red", 1925. Also, Kandinsky lectured and exhibited in the USA, having established together with Feininger, Javlensky, and Klee "Blue Four".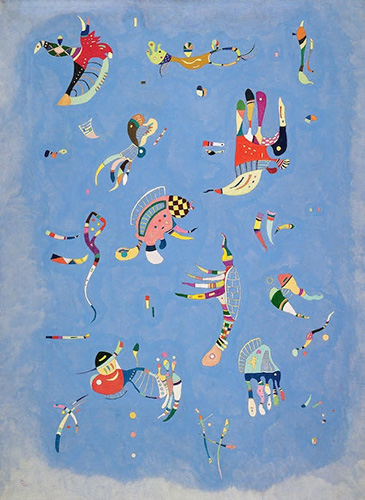 Wassily Kandinsky, Sky Blue, 1940
In 1934-1944 Kandinsky entered his Parisian period. The artist lived and worked lonely, being limited to socialize only with his old friends. At this time the last transformation of his painting system happened. In Paris, Kandinsky did not use a combination of primary colours but worked with soft, refined, subtle nuances of colour. Simultaneously, it supplemented and complicated the repertoire of forms: on the foreground there appear biomorphic elements, which feel at ease in the space of a picture as if floating all over the surface of a canvas. Kandinsky's pictures of this period are far from the feeling of "cold romanticism", in them life seethes and boils (see pictures "Sky Blue", 1940, "Complex-Simple", 1939, "Colourful Ensemble", 1938 etc.). The artist named this period of his creativity to be "really a picturesque fairy tale". During the war-time period because of the shortage of materials the formats of his pictures become ever less, up to that moment when the artist was compelled to be content with gouache painting on cardboards of a small format. And again, he confronted with aversion of the public and colleagues. And again, he developed and improved the basics of his theory: "Abstract art places a new world, which on the surface has nothing to do with "reality," next to the "real" world. Deeper down, it is subject to the common laws of the "cosmic world." And so, a "new world of art" is juxtaposed to the "world of nature." This "world of art" is just as real, just as concrete. For this reason, I prefer to call so-called "abstract art" "concrete art."., he said.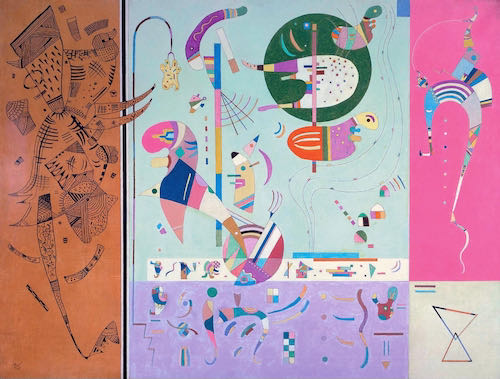 Wassily Kandinsky, Various Parts, 1940